For those of you who have never been to or heard of The Sagamore, it's a resort in Bolton Landing that's mostly popular in the summer, but still absolutely gorgeous in the winter.
My sister, mom and I took a trip there this past weekend to get away for a little R&R and some great food as well.
Before I went, I did my research and tried to look up what I was in for – as far as how people would rate the food there and what they're best known for. It's no secret that I have a hearty appetite, and my sister and mom aren't far behind.
We all love to eat, and this experience was no exception, all the way down to dessert.
So let's talk about my experience at their restaurant, La Bella Vita.
For starters, the dining area is pretty massive, and you can have whatever type of seating arrangement you'd like. It's cozy and when the sun is still up, you get a beautiful view from the windows of the mountains and lake.
As far as their menu goes, I thought it offered the perfect number of options, from pasta to fish to meat options.
There were definitely a few menu items that caught my attention, including the brined chicken, the NY Strip Steak, and the lobster spaghetti. Because my mom and sister love to share, we decided to get all three and pass them around.
I ordered the steak, requesting for it to be cooked medium rare.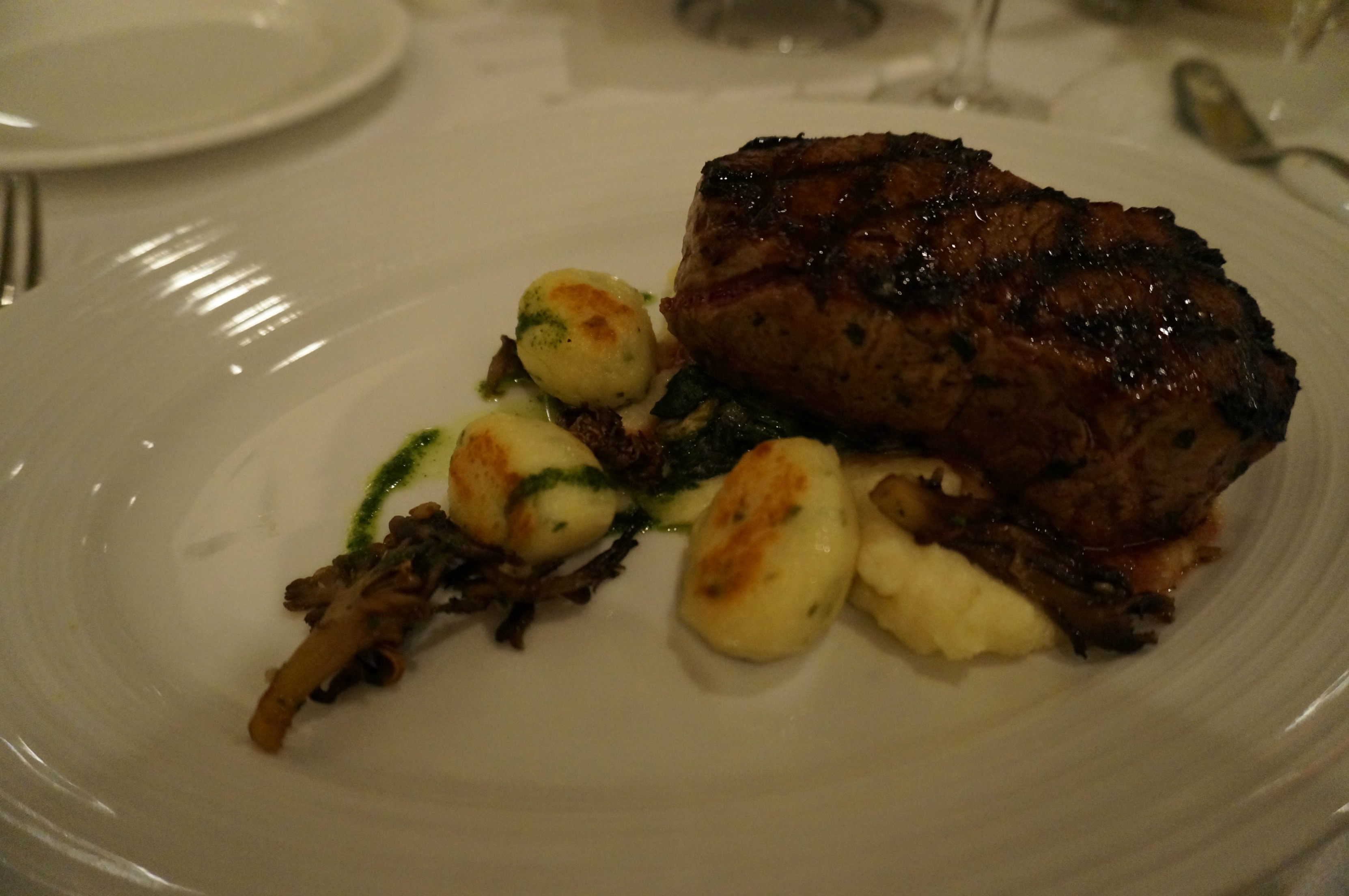 The steak came with crispy ricotta gnocchi, wilted greens, wild mushrooms and velvety mashed potatoes.
Once I cut into the steak, I was pleased to see it was cooked exactly to the temperature I requested, with it's juices running into the mashed potatoes. Ooohh just thinking about it again makes me hungry.
The wild mushrooms were a beautiful addition to the dish, and the wilted greens and ricotta gnocchi were quite heavenly.
Moving on to the lobster spaghetti…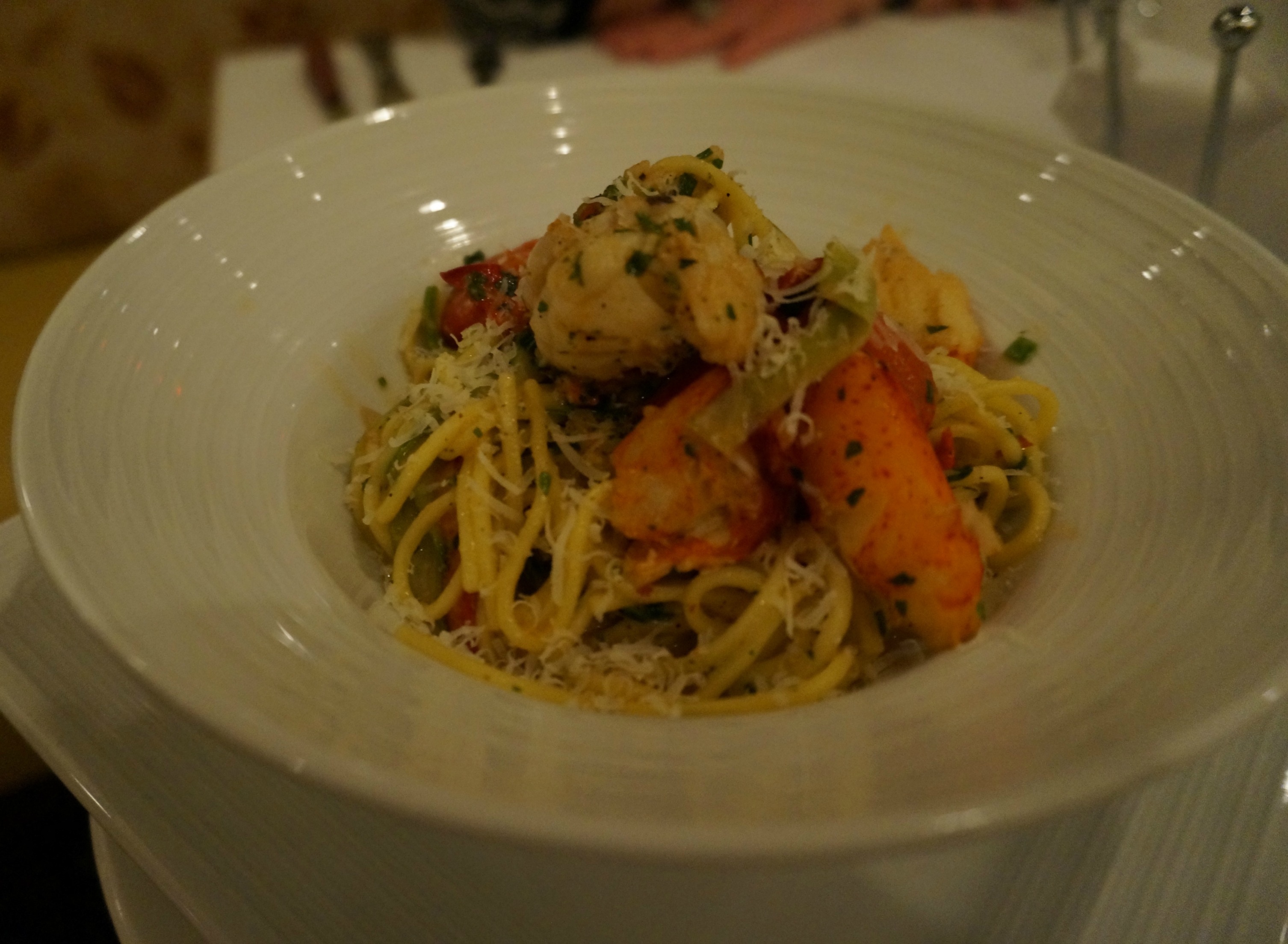 You see those chunks of lobster? This spaghetti was loaded with it!
I never would have expected that a small portion of spaghetti would have this much lobster with it for $20, but it did. What was really interesting about this pasta was the slight kick it had to it, adding a punch to the already flavorful sauce.
So the steak was great, and the spaghetti as well, but the real star of the show was the chicken.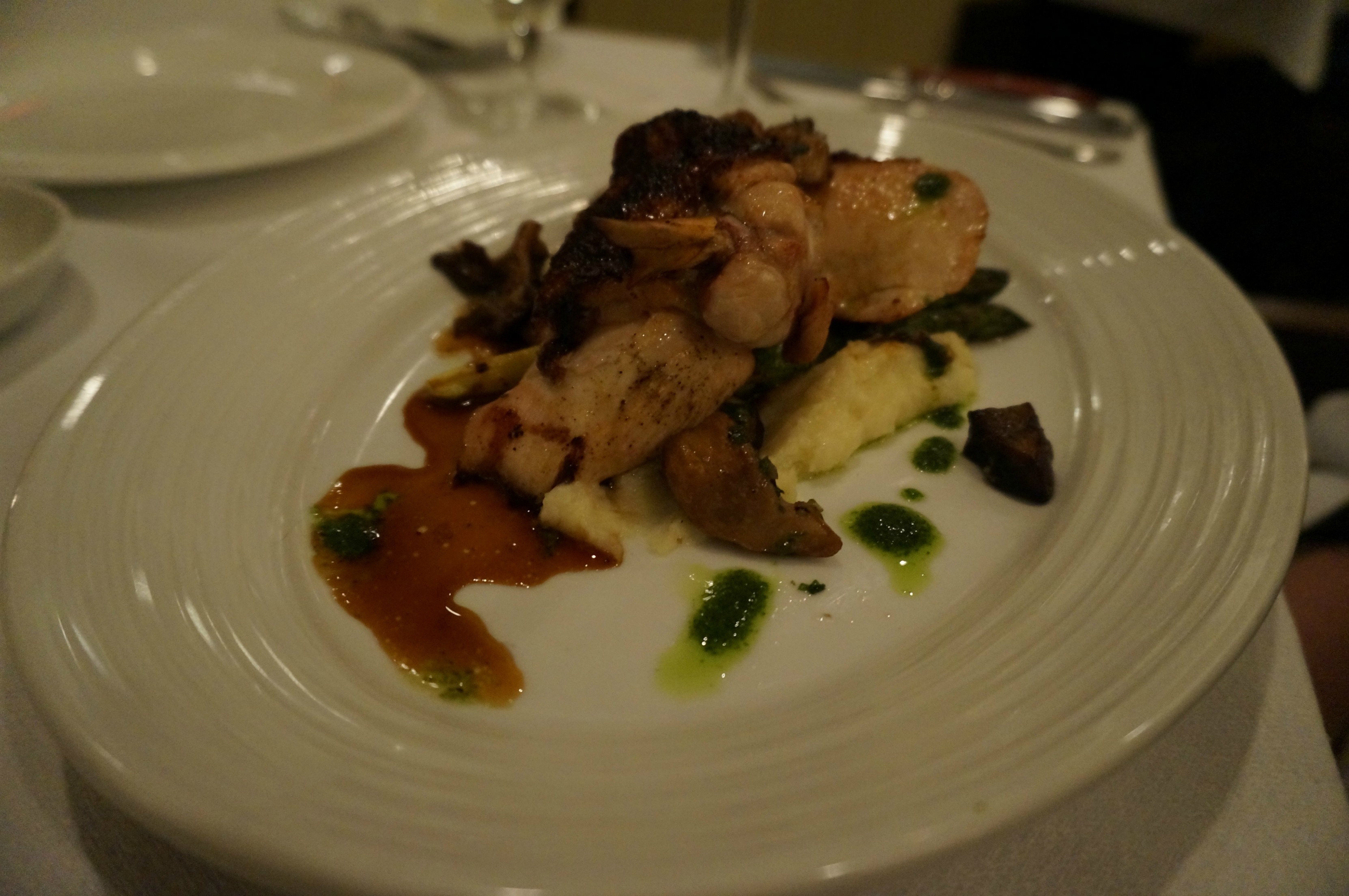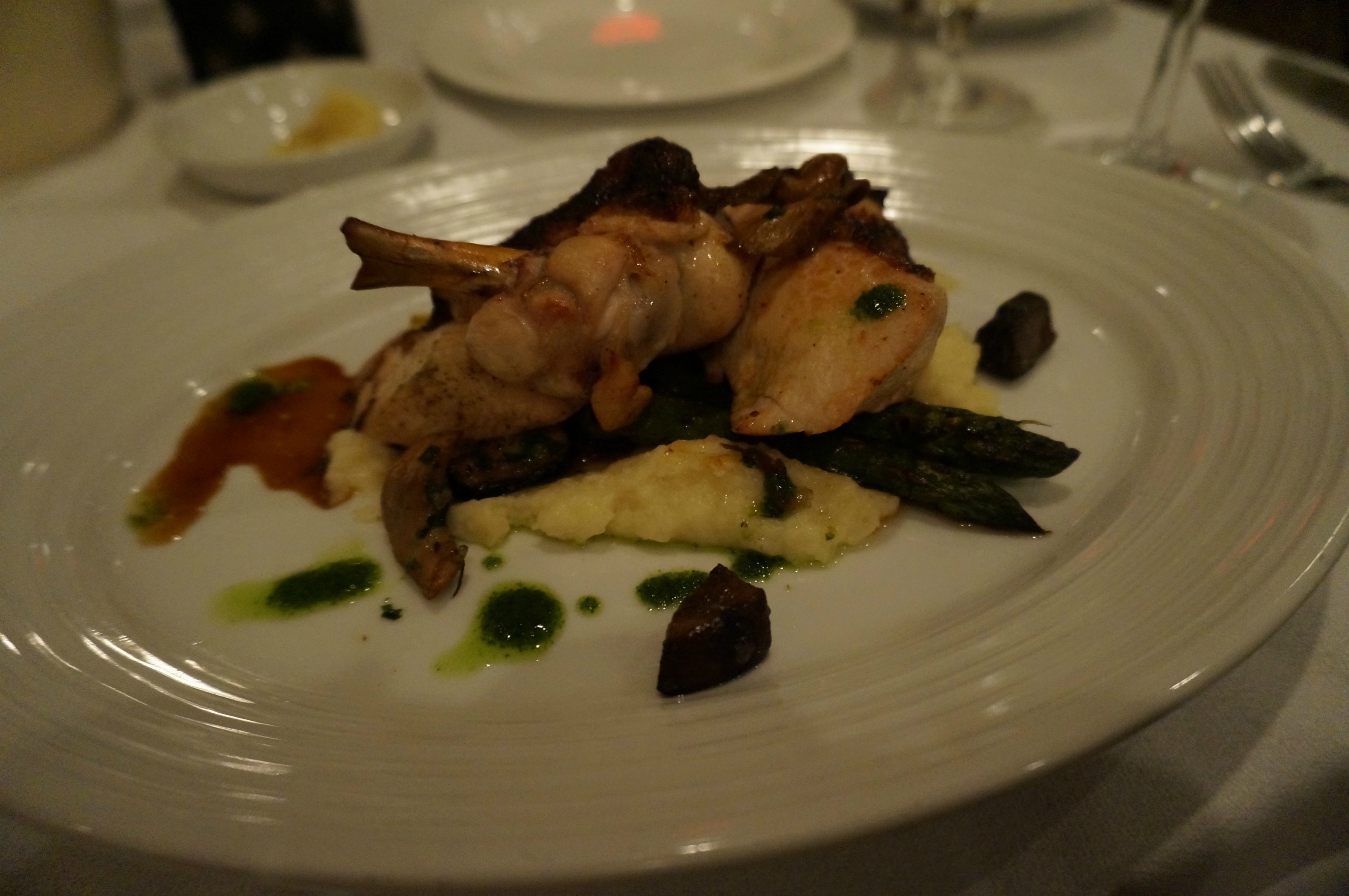 Usually chicken is the easy menu item that's pretty simple and often boring.
At The Sagamore, the chicken stole the whole show. It was the best chicken I've had at a restaurant before, and is totally worth the drive out to The Sagamore just for it.
The brine allowed for a super juicy chicken, and although my sister ordered it technically as her entree, I couldn't stop myself from stealing bite after bite from her. Ugh I want it again.
Don't even bother looking at the menu on their website either, because none of these dishes are on it, trust me I tried!
Anyway, after a meal like that you can't really resist dessert, can you? Well, we couldn't.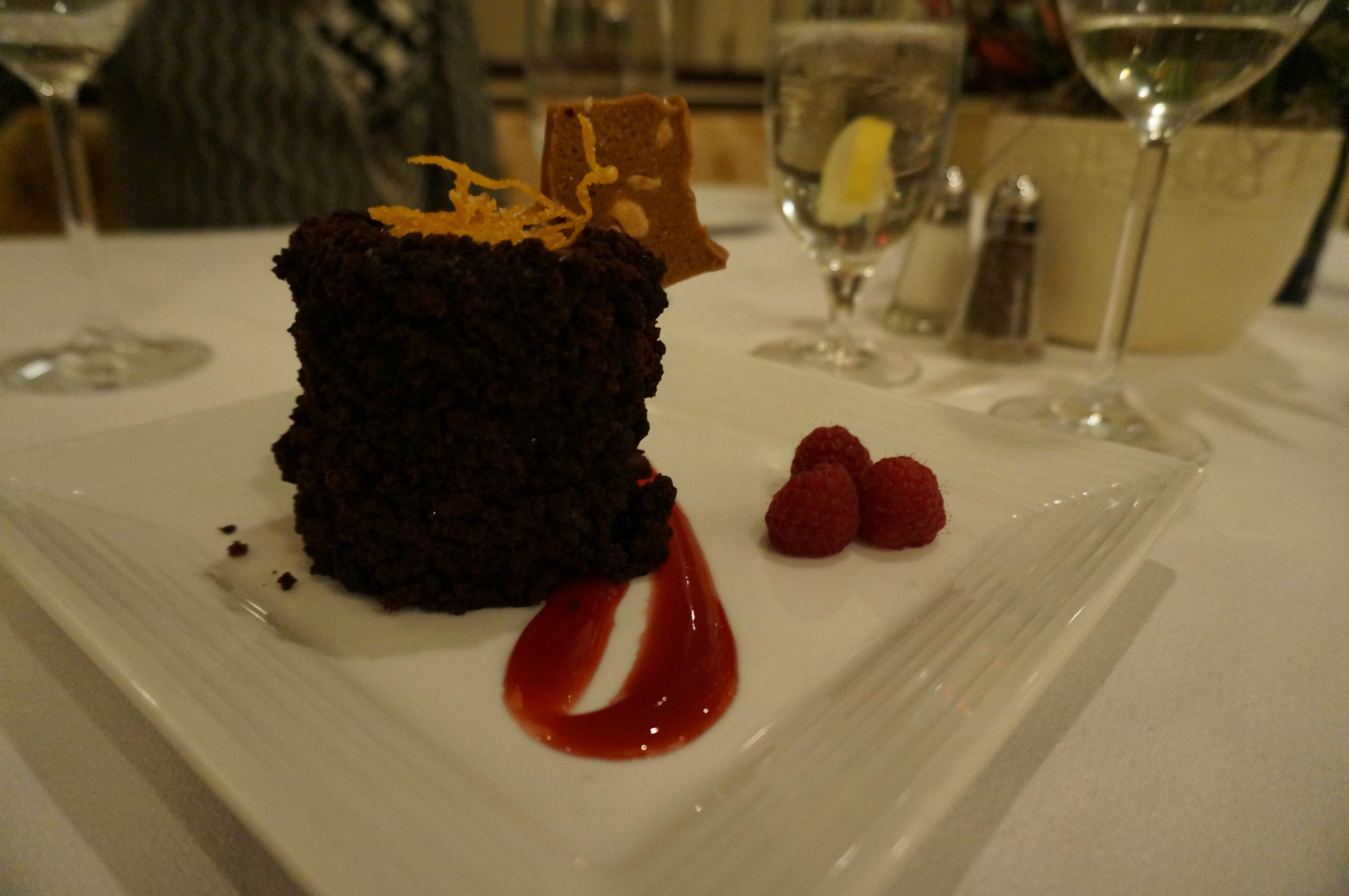 Ahhh chocolate and raspberry – what a beautiful combination.
I love that the cake was encrusted with these crispy chocolate chunks, and then when you break into the center, it's a gooey fudgey chocolate cake.
If you're into that kind of thing, this is the perfect dessert for you. And by into that kind of thing, I mean if you have any sort of infatuation with chocolate.
So without the drinks tab added to the meal, our bill came to just around $100. For three people? Umm… I'll take it.
For a meal like this, I'd so do it again. I'm not sure whether the prices change in the winter from the summer (I'm assuming they might), but this meal was not as expensive as people would assume for a resort like The Sagamore. The meal was outstanding, and the drive really isn't THAT far.
If you're ever inclined to get out of the area for the night and want to enjoy a fabulous meal, I highly recommend visiting The Sagamore. And please, for the love of God, get the chicken.