By this point, it's pretty much a given that all of the top restaurants in Saratoga are fully booked for Travers. And you last minute reservation-makers might be scrambling to figure out WHERE you're going to spend your winnings after the track.
Well I have a few out of the box ideas for you that you just might not have thought of.
Comfort Kitchen Dinner
You read that right… Comfort Kitchen has been serving DINNER during the summer and if it's anywhere as good as their lunch (it will be) then this is a great, casual place to pick up food and eat outside on their deck!
This weekend they're featuring:
HOUSE-MADE GOAT CHEESE RAVIOLI w/ spicy vodka sauce – $14
EGGPLANT PARM SANDWICH fresh mozz, marinara, arugula and herb mayo on brioche – $11
SMOKED CHICKEN MAC N CHEESE w house-smoked Misty Knoll Farm Chicken and local peppers – $13
WATERMELON & FETA SALAD
arugula, jalapeno, mint and citrus vinaigrette – $8
CURRY COCONUT CORN CHOWDER
w. cilantro – $6
Next up, I'd like to offer a newbie to town.
My last blog post was about Tatu (literally right next to Comfort Kitchen) and for a newcomer, this restaurant's got it going on. Despite not having their liquor license yet, you can grab a drink downstairs at Sinclair and bring it right up!
Also, who can say no to tacos after a day of running around the track and betting on ponies.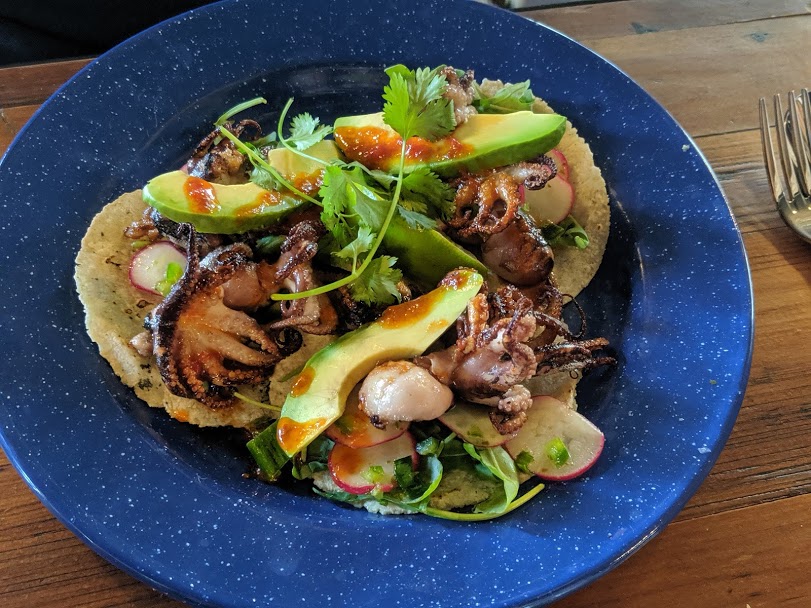 Another idea is to hit up Putnam Market (they close at 7!), grab some sandwiches or items from their hot/cold bar and take them to the park to eat.
Honestly, this idea is TOTALLY something I'd do. In fact, one of my favorite memories from when I went to Italy last year (besides getting engaged) was when Tim and I bought prosciutto, cheese & a baguette and just ate it in a park. It was heaven.
Regardless of what you decide to do, I wish you all a very happy Travers Weekend! Here's to winning the big bucks and eating all the food!