I was so incredibly fortunate to have been invited by America's Best Racing to attend the Travers Stakes with them this year.
As a Saratoga Springs girl, growing up I have SO many memories at the track, and as I got older they became even more interesting and exciting, writing for The Saratoga Special in recent years and getting to learn the ins and outs of horse racing here in Saratoga. Getting access to areas that only few lucky ones do was definitely a perk, too.
But this Travers Day was another new and certainly exciting experience for me, as we walked into the track and up to the d deck of the Turf Terrace, really the one and only area of the race course I had surprisingly never been before.
In fact, it is the only area in the track I've never experienced the races from, so as you could guess I was pretty excited.
Dan from America's Best Racing greeted us at the table and it wasn't long before we got chatting about horse racing with other fellow bloggers/media members at the table. As I sat, overlooking crowds upon crowds of people gearing up for the most sought after race of the year, I felt like I wasn't just at the top of the Saratoga Race Track, but like I was on top of the world.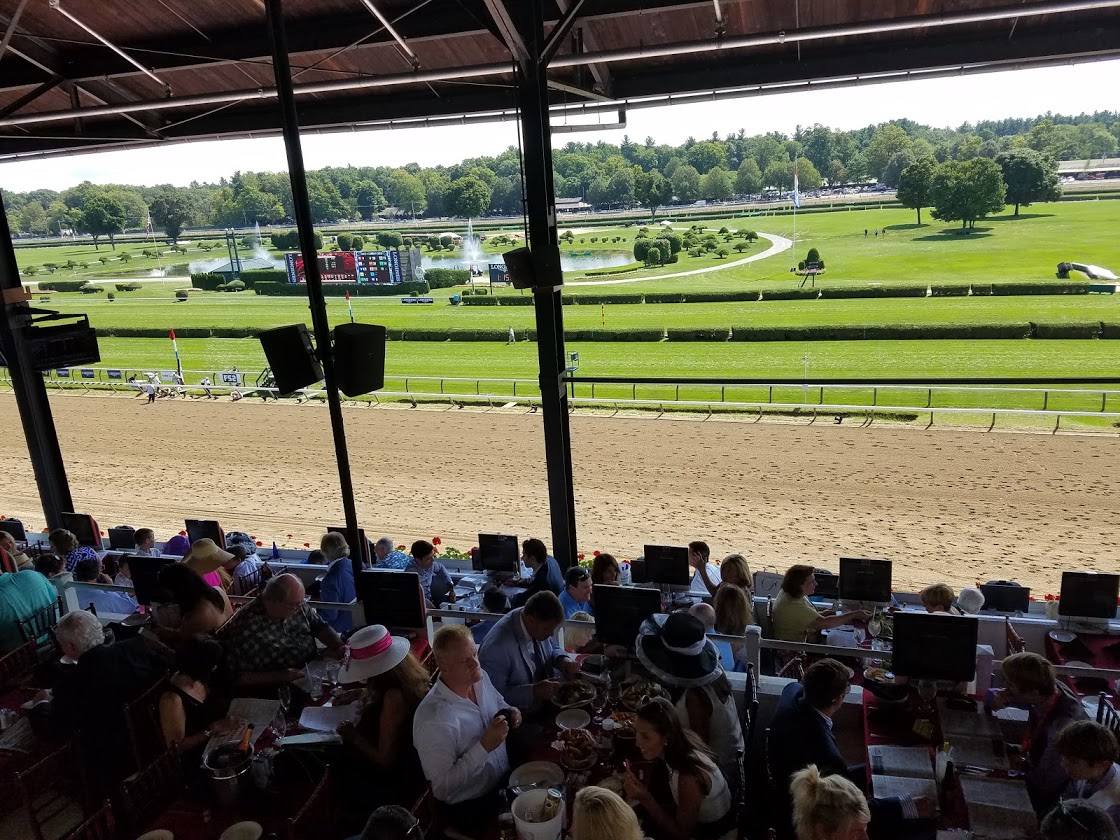 According to their website, "America's best racing is a multimedia fan development and awareness-building platform, created and funded by The Jockey Club, designed to increase the profile and visibility of North America's best Thoroughbred racing events, with a primary focus on the sport's lifestyle and competition."
We visited the paddock between the 4th and 5th races, and I got to get up close and personal with some of the horses, reminding me of times when I would go in there to assess the horses before the race when writing for the Saratoga Special.
This time, however, it was all for fun, and that was a good feeling.
After snapping some photos and looking at the beautiful race horses, we headed back to our seats to bet on the upcoming races.
Now I'll be honest – I made a promise to myself at the end of last year to not bet this year on horses. There are several reasons I made this decision, but one of the reasons is because I literally always lose. Always. And if anyone around me bets the same horses I do, they lose too.
So not only am I personally losing money, but it's influencing others as well.
Well I abstained the entire day, until the Travers race. And then I bet on the longest shot (99-1) and an exacta on a favorite (which ended up in dead last) and one of Chad Brown's horses since he grew up locally and I'm a sucker for stories like that.
I lost. 6 dollars down the drain. Although I will say that it was definitely the most excited I had been all day to physically watch the race. BUT, it was also Travers, and that race is exciting no matter what.
Anyway, I drowned my sorrows in a relatively strong vodka club and watched from above as thousands of people started heading for the exit.
Travers is a really special day at Saratoga, and one that I've been lucky to be a part of for decades now.
Having the experience that I had this year, however, was an experience I will never forget, and I have to thank America's Best Racing for that.
Not only did they treat me to an awesome day at the races with a group of really fun people, but they gave me the opportunity to now be able to say I've sat in every section in the Saratoga Race Course, and I feel like that on its own is a pretty big accomplishment. By the way, I think the Turf Terrace is my favorite. 🙂
An enormous thank you to Dan and America's Best Racing for having us! It is a day I will remember and cherish forever!