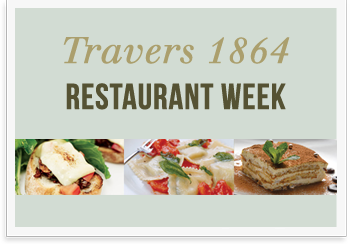 It's almost Travers Restaurant Week in the Capital Region and it's the perfect time for you all to step out of your comfort zones and try a restaurant you've never tried before!
From Sunday, August 18th through Thursday, August 22nd, a number of restaurants in this area will be offering special pricing and menus in celebration of the Travers race! For just $18.64, you can enjoy 3-course meals from the following restaurants:
Angelo's Tavolo in Schenectady
Apertivo Bistro in Schenectady
Augie's in Ballston Spa
Bellini's in Clifton Park
Bookmakers (Holiday Inn) in Saratoga Springs
Buca di Beppo in Colonie
Cafe Nola in Schenectady
Cella Bistro in Schenectady
Charlton Tavern in Charlton
Chez Pierre in Wilton
Cliff's Country Inn in Malta
Cornell's Restaurant in Schenectady
D-Line Pub in Ballston Spa
Dunham's Bay Resort in Lake George
Grandma's Pies and Restaurant in Colonie
Jack's Oyster House in Albany
Karavalli in Saratoga Springs
La Serre in Albany
Manhattan Exchange Restaurant and Pub in Schenectady
The Marriott in Albany
More Perreca's in Schenectady
Nove in Wilton
Paolo Lombardi's in Wynantskill
Pasta Pane in Clifton Park
Peache's Cafe in Albany
Quintessence in Malta
Ravenous in Saratoga Springs
Taj Mahal Indian in Schenectady
Tesoro in Guilderland
The Olde Post Grill in Lake George
The Ripe Tomato in Malta
The Van Dyck Restaurant in Schenectady
The Vista Restaurant in Clifton Park
Valentino's in Amsterdam
Water's Edge Lighthouse Restaurant and Inn in Glenville
Wheatfield's Saratoga in Saratoga Springs
Wheatfield's Clifton Park in Clifton Park
Wine and Roses in Broadalbin
I've highlighted the restaurants that I highly suggest you visit, especially Karavalli in Saratoga! If you're looking to venture outside of the area, I also suggest Angelo's Tavolo and Apertivo Bistro in Schenectady.
For more information on Travers Restaurant Week, visit the NYRA page here: http://www.nyra.com/saratoga/information/travers-1864-restaurant-week/
Don't forget to follow me on Google+ , Facebook and Twitter for updates!