Looking to treat your dad to a special meal, whether that's breakfast, lunch or dinner? You've come to the right place my friends, because I have a pick for each meal! Remember, Father's Day is about showing your appreciation for the man who raised you, and is there really a better way to do this than by buying him a delicious meal? Didn't think so! Here are my top picks for Father's Day and why!
Breakfast: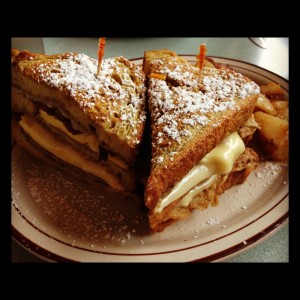 Triangle Diner – Start your Dad off with something hearty and filling! Triangle Diner never disappoints when it comes to breakfast, and if your Dad really has an appetite, he definitely won't be sorry if he orders the french toast club sandwich. If you didn't read my review of this sandwich before, here's a refresher. This amazing breakfast sandwich has three pieces of french toast with a layer of scrambled eggs, cheese, sausage and bacon in between. Oh mylanta is that thing good.
Lunch: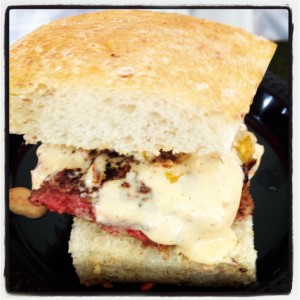 Druther's – Father's Day lunch is simple. Beer and a burger with a little outdoor seating and you've got a happy Dad! Druther's is the perfect place to treat Dad to lunch, especially because they have the nicest outdoor seating in Saratoga and their burgers aren't too shabby either. If it were me, I'd go with the Something Spicy burger and an All-In-IPA. The Druther's burgers are super juicy, and this one specifically has havarti cheese, pickled cherry peppers, Druthers aioli, and pickled jalapeno on it. Don't worry, it's not hot enough to burn your mouth for hours, but it's also not for those with weak palates.
Dinner:
**Note – This is a Hattie's Chicken Shack Sandwich, NOT regular Hattie's restaurant – closest picture I had in my archives!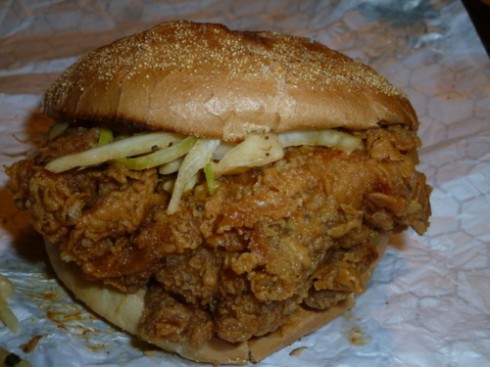 Hattie's – Coming off of their 75th Anniversary party just the day before (Saturday!), there's a reason this southern comfort staple has been around for 75 years. If you want to offer your dad some down home, southern cooking and treat him to some of the best fried chicken there is, definitely bring him here. The best part is that it's a relaxed atmosphere, so no need to throw on those fancy pants or dress shirts for a good meal!
I hope all you fathers out there have a very special Father's Day, especially you Dad – I love you! Happy Father's Day!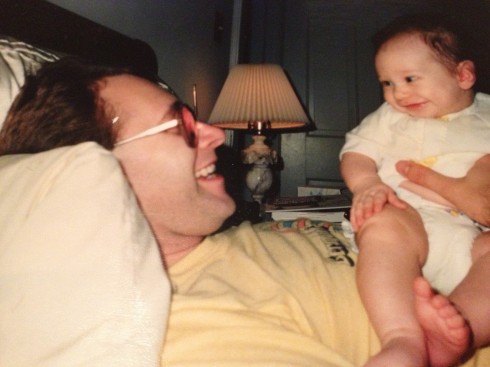 Don't forget, for real-time updates, connect with me on Google+, Facebook and Twitter!