Let's talk strategy.
I mean, let's be honest – unless you have a strategy in mind, Chowderfest on Saturday will turn into you freezing your butt off waiting in line or a day of drinking and probably eating very little chowder.
So this year, I'm mapping out my top 12 spots to hit up, and I figured since I'm a nice girl and I kinda love all of my readers, I'd share them with all of you too!
In no particular order, here are the chowders I MUST have —
1. Esperantos – 6 Caroline St
2. Druthers – 381 Broadway
3. Comfort Kitchen – 454 Broadway
4. The Local – Serving from Celtic Treasures (456 Broadway)
5&6. Fin Your Fishmonger & Moby Ricks – Serving from Saratoga City Center (522 Broadway)
7. Park Side Eatery – 42 Phila St #1
8. Parting Glass – 40-42 Lake Ave
9. Ice House – 70 Putnam Street
10. 7 Horse Pub – 43 Phila St
11. Saratoga Farmers Market – Serving from Saratoga Botanical (80 Henry St)
12. Thirsty Owl – 184 S Broadway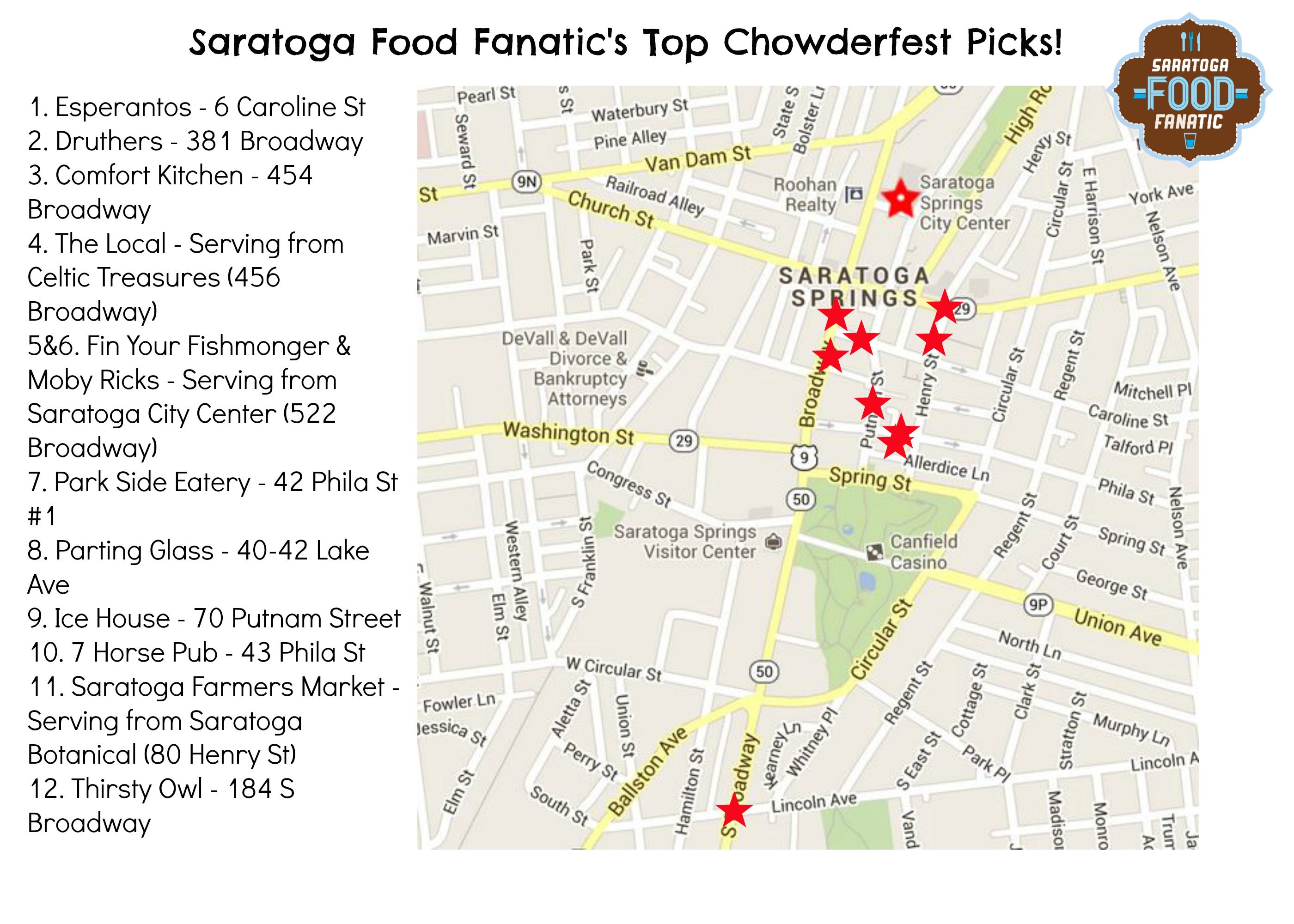 While I don't know exactly what order I'll be going in yet, I have a feeling it's going to be a VERY busy afternoon for me. But don't worry my friends, I assure you I'll be posting updates throughout the day, along with pictures of the chowders and whatever else I come up with.
I'll also be at the awards ceremony at 6:30pm at the City Center – so even if you only tried a few chowders, make sure to check me out on Twitter or Facebook for updates on who wins the top titles for chowder in Saratoga!