I pretty much love cheese any day of the week. Monday night? Sure. Tuesday? Great. Wednesday? Even better.
Basically any day that ends in d-a-y works for me.
But when it comes to putting together a cheese plate, I'm all about finding the right night with friends and/or family to test out different varieties of cheeses and blindly pair them with different wines and let my taste buds do the work.
But how do you go about choosing the cheese?
Well, did you know that Healthy Living Market has a special cheese section that's simply small portions of cheese – perfect for cheese plates? They're kind of like cheese scraps from their cheese counter, and they wrap up what's left over, so you don't have to buy a huge supply of it before knowing if you like it or not.
That's my kind of cheese section. I mean, I don't discriminate against any certain cheeses or large amounts of cheese, but sometimes you get that really stinky one that you weren't anticipating. It's good to try a sample before going in for the real thing.
HLM in general has a great selection of cheeses, but this little "scraps" section is like my dairy dreams on steroids. It's perfect.
So here's the deal. There's a wine store connected to HLM called Divine Wines (same owners).
One day, we bought a bunch of different cheeses, and then we bought a few bottles of wine. Without any research, we just decided we were going to open the wines, open the cheese, and do some taste testing to figure out which paired best with what variety of wine.
I always lean towards red wine, even though I respect white wine, but I knew that this experiment wouldn't be fair if I left out white wine all together.
So I caved, and bought a little of this and a little of that.
In fact, here's exactly the line up.
First, wines:
Babich Sauvignon Blanc
Grayson Cellars Pinot Noir
Columbia Crest Red Blend
Besieged Red Blend (Not carried at HLM)
Second, cheese:
La Marquesa Rosemary Spanish Raw Sheep's Milk ($2.12)
Yanceys Fancy XXX Sharp Cheddar ($1.97)
Old Amsterdam 2yr Aged Gouda ($2.58)
Belletoile French Triple Cream Brie ($1.92)
Cambozola ($3.39)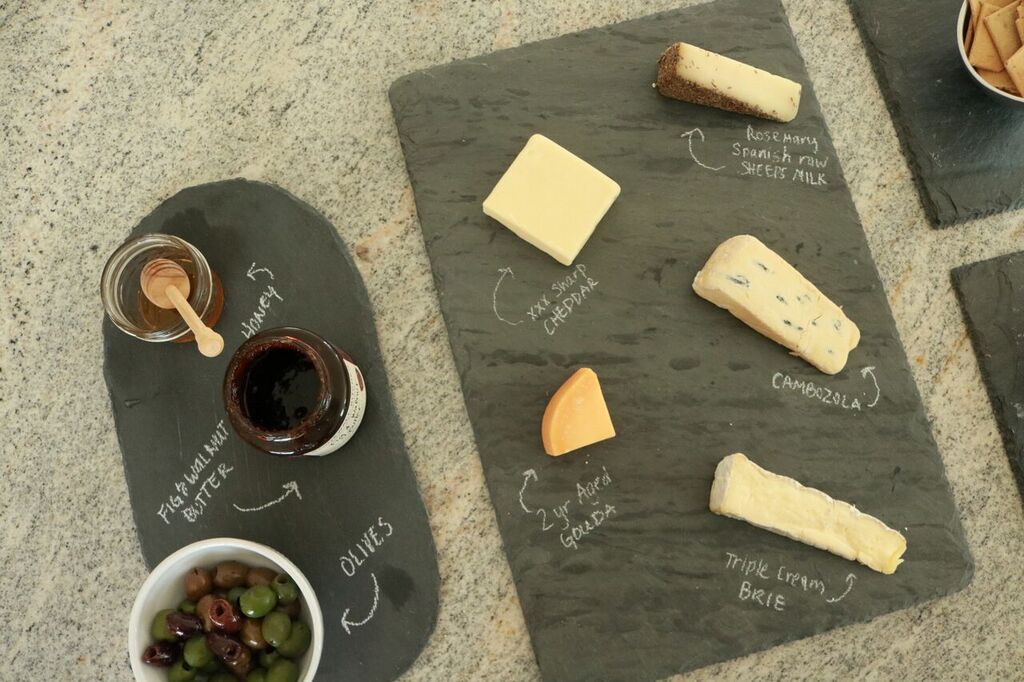 Honestly, I really enjoyed this experiment. I found that the triple cream brie paired nicely with the Sauvignon Blanc because it had an effervescence to it (since it really would have paired best with a bubbly).
The sheep's milk cheese also paired pretty well with the Sauv Blanc, even thought it's a little harder of a cheese.
For the Pinot Noir, we had high hopes as far as pairing goes, but the wine itself was a little too plummy and I didn't care for it at all, so we pushed it aside to focus on the other three.
The Gouda paired nicely with the fruitiness of the Columbia Crest Red Blend, as did the Sharp Cheddar. They also paired well with the other red blend, which were kind of similar (although the Columbia Crest was really delicious).
The Cambozola needed a sweeter wine to pair with it, which we didn't really have, but luckily the Columbia Crest was really versatile so it still worked!
At the end of the day, if you're looking to just eat a lot of cheese and have some wine, that Columbia Crest red blend paired well with almost all of the cheeses. The triple cream brie is always delicious, so if you're really feeling some soft cheese, just look for a lighter white wine with some oak or a sparkling wine to make it really pop.
Even though I feel like I'm giving away one of my favorite secrets from Healthy Living Market, I strongly urge you to get in there and find this special cheese section so you can try some different cheese for a small price.
Happy wine and cheese pairings!