Didn't your mother ever tell you that breakfast is the most important meal of the day?
It's certainly something that I've held on tightly too, regardless of how late I'm running for work or how stressed I might be about an upcoming project.
Honestly, there's nothing more annoying than 10am rolling around and listening to your stomach make outrageous noises, calling out for help and some nom noms.
That's why I've put together a list of delicious morning foods that you can easily make at home, OR find out at many of Saratoga's breakfast establishments.
Let's start here:
Greek yogurt parfait with drizzled local honey, fresh fruit, and a sprinkle of granola
ohhhh yeah, greek yogurt is all the rage, but that typical store bought yogurt's got nothing on the local farm fresh greek yogurt that I get delivered fresh to my doorstep every week. (HOLLA King Brother's Dairy!)
I usually go for the Willow-Marsh Farm plain greek yogurt, but if you're feeling a little adventurous and you're willing to have the extra sugar, the blueberry greek yogurt is unbelievably good as well.
A little honey goes a long way with this too. It adds just a hint of soft sweetness without overwhelming anything. Just enhances! I love to use Gatherers granola, and depending on the type of yogurt, the peanut butter is fantastic.
Fried or poached eggs on avocado toast
Who doesn't love starting the day off with some banging eggs. And avocado toast? STOP it.
Get yourself a nice toasted piece of bread and spread some fresh avocado on it. In fact, mash that baby up onto your toast. Then, add a sprinkle of kosher salt and cracked pepper, and shake some crushed red pepper flakes on top.
Finally, the eggs. Whether you prefer to poach or fry, add the egg on top of the bread and BOOM, there's a great breakfast just begging to be devoured. If you're into that running yolk, make sure you utilize it in this breakfast dish. The creamy yolk makes the avocado really pop with flavor. It's making my mouth water just thinking about it. The picture above also has bacon involved, which is a fantastic addition, but not necessary.
BEC Sandwich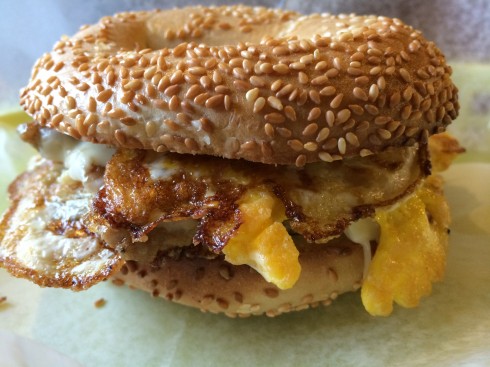 This is what breakfast was made for – the bacon, egg, and cheese sandwich.
I don't think I'd love breakfast nearly as much if this sandwich didn't exist.
Whether it's on an english muffin or a bagel, a breakfast sandwich is a supreme breakfast staple that layers bacon, eggs, and cheese, all cradled between two beautiful pieces of carby goodness.
For me, it's a toss up between english muffin and bagel, all depending on where you get your bagel.
Waffle tower
If you have a waffle iron – good for you.
If you're like me and simply don't have the space, you resort to other methods, like frozen waffles.
Nah, I'm not an Eggo kind of girl.
I love those Nature's Path organic frozen waffles at Healthy Living Market though. Wanna know what I do with them?
I create the ultimate waffle tower where I take one waffle, lather it with peanut butter, then slice fresh fruit, and then stack another waffle on top, and repeat the process.
End result? A crazy good stack of waffles with protein packed peanut butter and fruit!
Green smoothie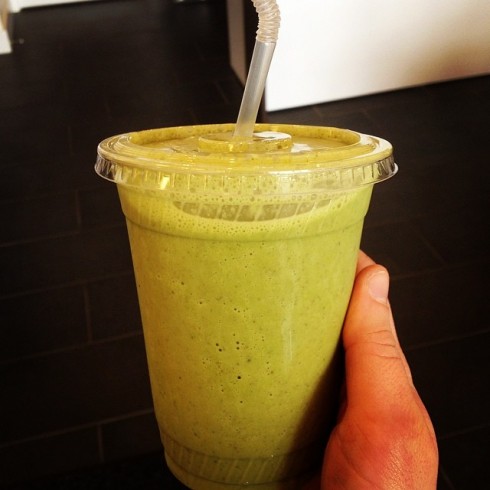 This one is definitely the most lame out of all the foods you can start your day with, but it's also the easiest.
Get yourself a blender and a banana, a handful of spinach, some rolled oats, flax seed, almond milk, and greek yogurt and you're golden.
The spinach will add a beautiful, light green color to the smoothie, but chances are you won't even be able to taste it. You'll find that the banana is the star of this show, and your breakfast could even taste a little more like dessert.
Love yourself a good breakfast? Share what you're go-to breakfast food is below!