The idea of having soup when you're sick is a no-brainer, but what about eating soup for overall wellness?
That's exactly the idea behind Soups4You, a new business by Nancy Holzman (previously of Good Morning Cafe) and Susan Garth (previously of Dish Bistro in Greenwich).
Soups4You is a small batch soup company that is specializing in deeply nourishing, healthy & delicious soups and sauces using organic and natural ingredients that are high in antioxidants, vitamins & minerals. These soups are also low in sodium and rich in flavor. Bonus: Their recipes are dairy free and gluten free unless otherwise noted.
Something really unique that they offer is a special "catering" service called Sunday Soup Suppers where they prepare a menu with their recipes and come to your house to serve you.
After a long day of looking at wedding venues (HALP!) Nancy and Susan were kind enough to drop by and serve us an amazing meal so that I could just sit back and relax.
The menu included a beautiful charcuterie board with artisanal cheeses, uncured serrano ham & salami, locally made agrodulce, an olive medley, homemade vegan mushroom pate, prosecco cheddar spread and white bean sage dip.
The salad was a beautiful spread of Mixed Greens, Local Apple, Shaved Celery, Red Onion, Golden Raisins, Spiced
Pecans with a Lemon-Thyme Citronette.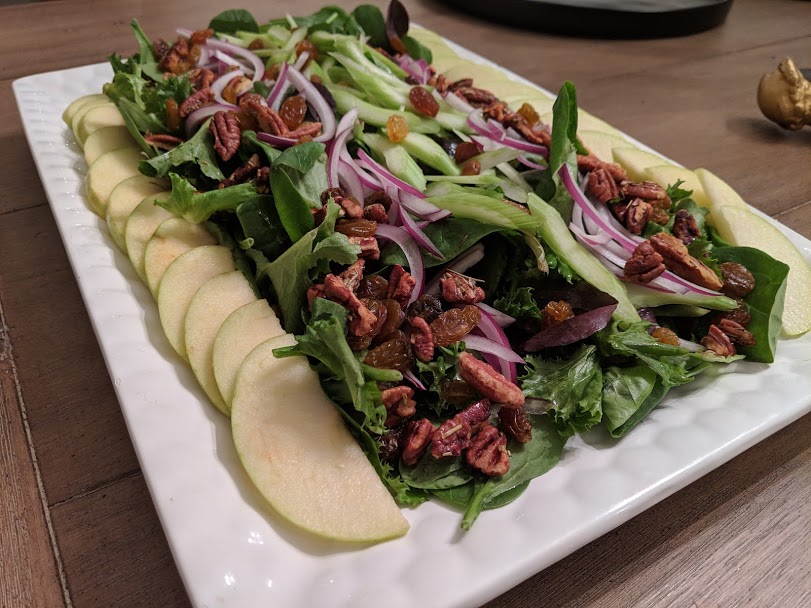 The soups we chose were the Chickpea Spinach Minestrone with Homemade Organic Parsley Pesto and Parmesan and a Vegan Potato Leek Soup. They also included fresh, homemade bread as well as gluten free bread options & rolls.
For the Potato Leek Soup, we had the option of adding bacon (which DUH I did) so I made it non-vegan, but that's okay. It was crazy to me how creamy and thick the soup was without having any dairy in it.
Our meal finished off with a super low-sugar, gluten free Berry Crumble with Cinnamon Whipped Cream.
I've honestly never felt better after a big meal like this, and was really satisfied at the end of the night. The best news? LEFTOVERS! Everything we didn't finish, they packed up in tupperware for us to enjoy the next day. BIG WIN.
In addition to their Sunday Suppers, they have crafted two signature sipping broths that are specially formulated with clean, nutrient rich ingredients, offering unique and delicious flavor profiles ideal for health conscious people. Let's just say they're the perfect start to the New Year – eating healthy without hassle.
Soups4You will have a variety of healthy soups available frozen in pints ($7.50) that can be ordered separately or as soup samplers – 3 pints for $20. The vegetable versions are all infused with organic, decaffeinated, fair-trade green tea broth and the chicken soup options are infused with their own organic bone broth.
To see all of their products, visit their website at www.soups4you.com. They're planning their official launch in January 2019 and will offer all of their soups to be ordered online and picked up at a variety of retail and food sites (TBD) as well as a limited home delivery option.