If you haven't heard about Solevo Kitchen + Social, it's time to listen up. Since opening in October, they've gained quite the reputation around Saratoga, and have been packing their small(ish) dining room and wrap around bar area with locals practically every night.
Right after they opened, I didn't have the chance to dine there because I was in Italy (blog post coming soon about that!) and for obvious reasons, didn't want to give my review of an Italian restaurant right after returning from the country where the food is based around.
But the time came to eat there, and I'm ready to talk about it.
First off, the space is really beautiful. They did a great job turning what was a pretty sterile, brand new space into something with character. The subway tiles, the accents, the old pictures on the wall – all of it lends itself to a classic Italian restaurant with decor you'd find hanging in the hallways of your grandmas house.
I kicked things off with a Classic Salad while Tim ordered the Suffritto (beef heart slow cooked in a san marzano plum tomato sauce).
The salad was a salad, so I don't really need to speak to that. But the Suffritto was super interesting.
I know… beef heart may be a lot for some of you to stomach. I can tell you that the texture was tender, similar to a slow simmered beef stew. The san marzano tomatoes offered a slightly acidic, yet semi-sweet flavor profile that was the perfect compliment to the beef heart. What I loved about this was its simplicity – allowing the ingredients to speak for themselves.
There were many takeaways from eating in Italy, but one of the biggest things I appreciated about the food there was the simplicity of it. This dish nailed that philosophy.
For dinner, Tim ordered the Bolognese and I chose the Sunday Sauce.
First, let's talk about the bolognese.
Made up of rigatoni, ground pork and beef ragu, this sauce had many layers of flavors. I reached over and tasted a bite from Tim's plate, and almost forced him to trade with me because it was so good. Perfect balance of salt, too, which is something I've noticed a lot of local Italian restaurants can overdo.
As for the Sunday Sauce, I felt like it could have used a little more work.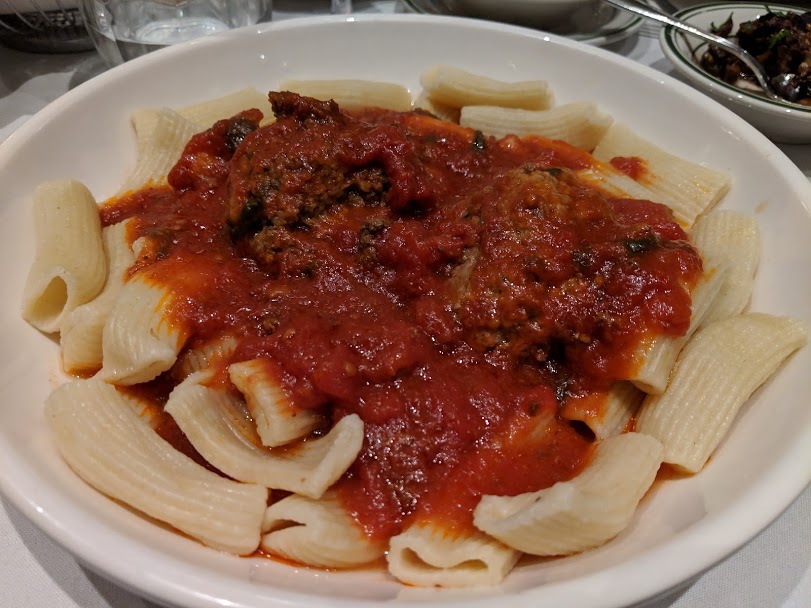 There are a couple of things I would have changed about this.
First – I always think pasta should be tossed with the sauce vs. served this way. Those divets in the rigatoni are meant for sauce to cling to them, and by simply ladling the sauce on top, there's no marriage of sauce and pasta. They kind of just remain separate on the plate (or bowl.)
Second – The sauce itself didn't necessarily taste like it had been simmering all day like the name "Sunday Sauce" implies. Was it a bad sauce? Not at all! But after growing up in a family that made sauce, or gravy as my grandma referred to it as, every single Sunday, I know the difference between a two or three hour simmer and an eight hour simmer. This just didn't hit the marks for me.
What I do want to call out though, are the meatballs. Those bad boys were super moist, full of flavor, and a really great texture. That alone made ordering this dish worthwhile.
Before I end this, there's one thing that I have to call out, and that is the noise in this space. Aside from the food (which really was great) the noise was a big distraction for me. Whether you're with just one person or at a four top, it's almost impossible to hear the person next to you when the restaurant is full.
To me, that's a big problem. When I go out to eat, the food is obviously important, but getting to spend time quality time talking to whoever I'm with is probably the most important factor.
As I mentioned in the beginning of this article, the aesthetics of the space are beautiful, but I would highly recommend they find some options to help absorb sound in there.
With all of that said, I'm really pumped to have a new restaurant that's putting out great food right in town, and aside from the noise, I really look forward to returning and trying some other menu favorites!
Have you been to Solevo? What's been your favorite dish on the menu?