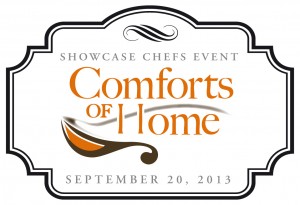 As per usual, my Thursday article is usually directly related to my Thursday segment on 101.3 The Jockey, which by the way, is playing today at 7:20am, 12:20pm and 7:20pm!
Now that we have that out of the way, let's talk food for the week.
Today, I decided to get a little ahead of myself and jump to not this weekend but the weekend after, September 20th.
Maybe this is because I'm a little bit tired tonight or maybe it's because I'm really excited, but next weekend is full of events surrounding my favorite topic – food!
Next Friday, September 20th marks the Showcase of Homes Chef's Event, a night dedicated to showcasing not only the beautiful homes in the area but also the talented chefs we have in our city and the comfort foods we all love to eat.
Starting at 5:00pm, eight participating showcase builder homes throughout Saratoga County will be serving a sampling of comfort food as listed below:
Lily and the Rose – Chef Kim Klopstock, serving grilled cheese and tomato soup
Maestros – Chef John LaPosta, serving asian sloppy joe sliders with classic red potato salad
Zest Cooks – Chef Carla Kuchar, serving meatloaf bits and mini stuffed baked potatoes
Lakeridge – Chef Scott Ringwood, serving 7-hour braised short ribs
Prime at Saratoga National – Chef Jason Saunders, serving red wine braised short ribs, parsnip potato puree, crispy fried shallots, topped with micro greens
Capriccio – Chef Franco Rua, serving ragu with polenta
Druthers – Chef Sean Comiskey, serving mac and cheese
Sperry's – Chef Dale Miller, serving maple leaf farms duck sausage sliders with fried onions and peppers in an herbed tomato sauce
Tickets will be $40 each which includes a 2013 Saratoga Showcase of Homes ticket or tickets can be purchased separately for just $25 each. While tickets are currently on sale, they're limited so the sooner you purchase them, the better!
If you're dying to catch up with me, you can expect to see me at this event next Friday. I mean really, you think I'd miss mac and cheese and braised short ribs? Puh-lease.
For information on the event, visit: http://www.saratogashowcaseofhomes.com/chefs-saratoga-style/
Don't forget to follow me on Google+ , Facebook and Twitter for updates!