If there's one thing I'm unable to get over, it's my undeniable fear of needles. I've been struggling with this since I can remember, passing out after getting the simplest of shots and refusing to get blood drawn unless it's completely necessary. Unfortunately for me, I have hypothyroidism, so I'm supposed to have my blood drawn every 6 months. Ugh.
So why am I telling you all of this?
Well, today I decided to give acupuncture a shot (HA!) and see if it could potentially change how I feel about needles.
Before I really get into it, here's what acupuncture's all about:
According to Wikipedia, Acupuncture is a collection of procedures involving penetration of the skin with needles to stimulate certain points on the body.
By stimulating specific acupuncture points, it helps to correct imbalances in the flow of qi through channels known as meridians.
Acupuncture dates back to over 2,000 years ago, where the Chinese believe the practice began during the Stone Age when stone knives or sharp edged tools were used to puncture and drain abscesses.
As acupuncture has developed over time, needles of stone and pottery began being used, which is how we got to the metal needles that are commonly used in acupuncture today.
Now I'm ready to talk about MY experience —
First off, when I sat down, the acupuncturist (Sam) from High Peak Acupuncture had me fill out a variety of questions, many focused on my body and previous injuries or pain I've experienced.
Immediately I told her about my muscle spasms in my shoulder blades which I developed when I was 15, as well as my knee issues from running, ballet and everything else I did growing up. It's not great that I have these problems, but it is great that acupuncture can help to combat them, and eventually even remove them my body completely.
***Prepare yourself for some graphic photos. And no, I'm not referring to the needles, I'm talking about my feet.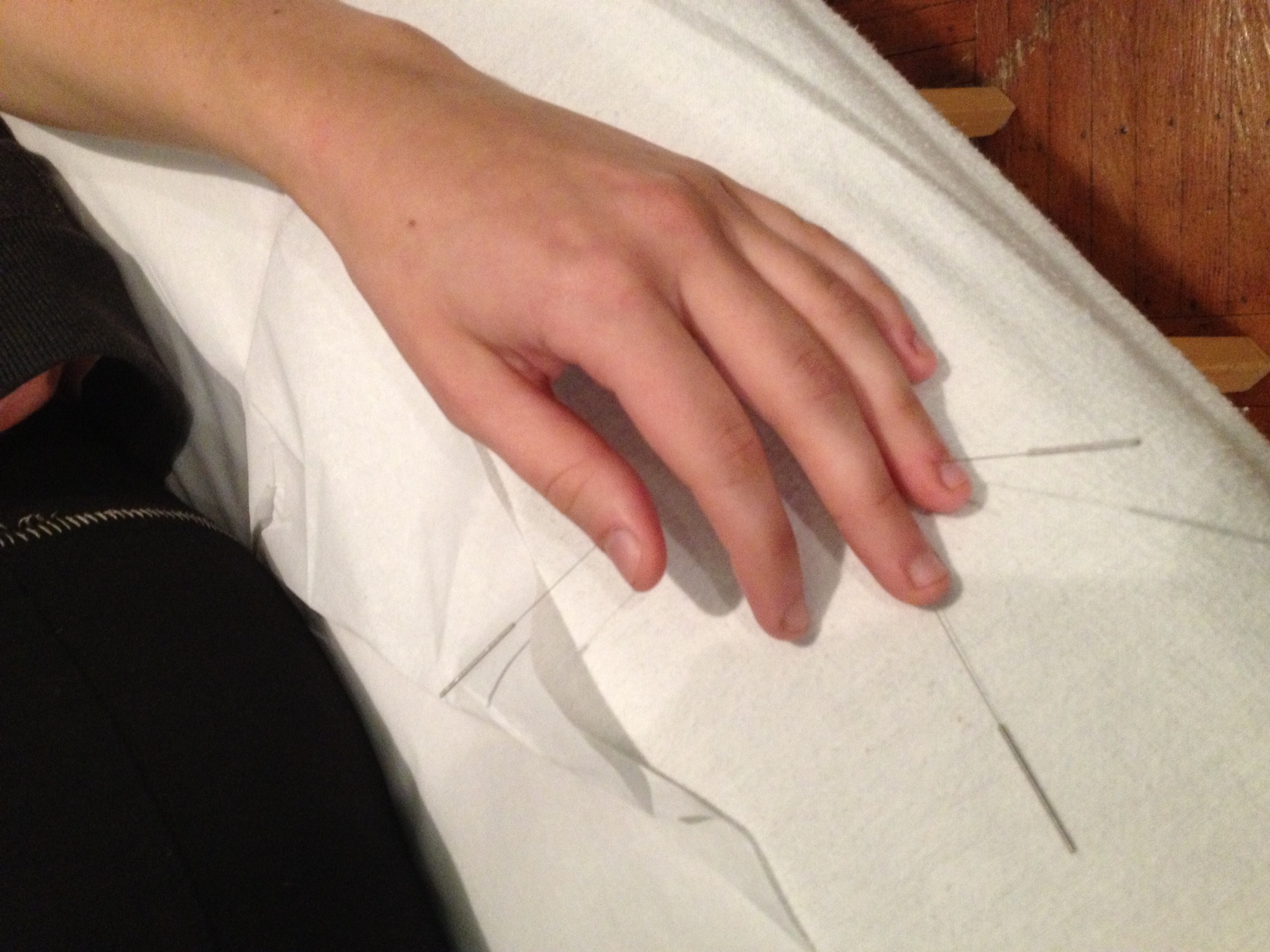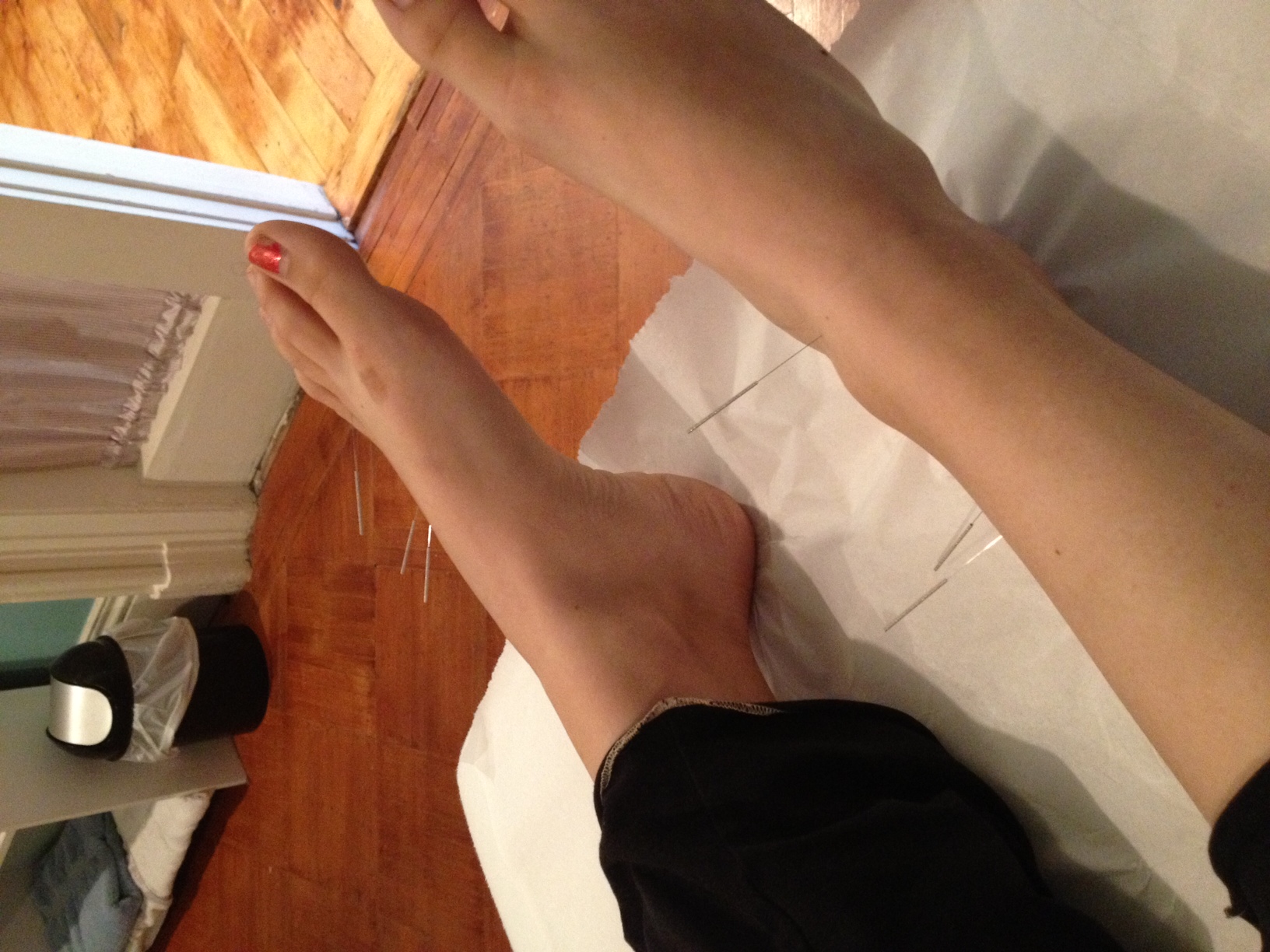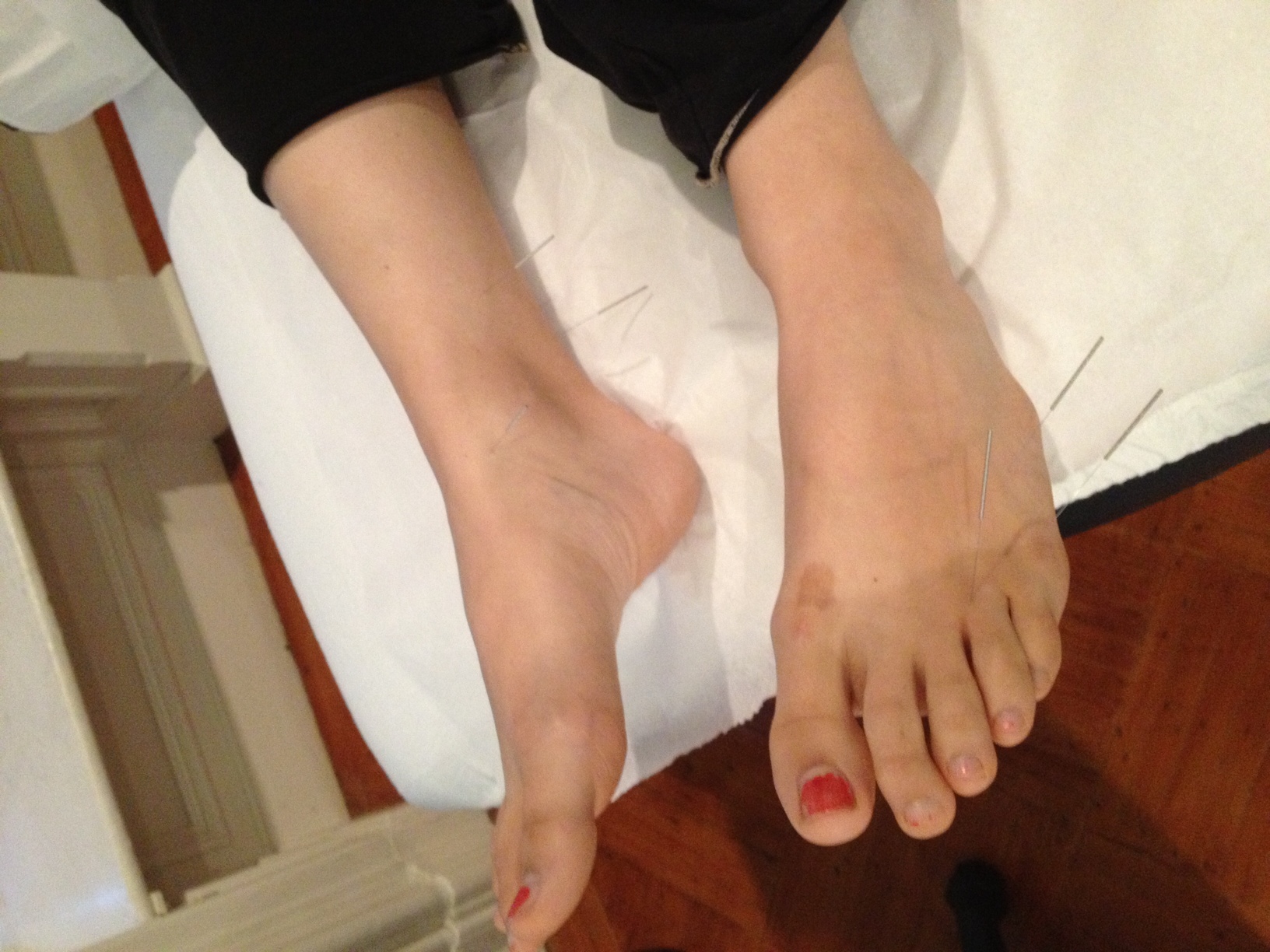 Aside from the fact that I'm in serious need of a pedicure, you can see that I had needles in my feet, ankles and hand.
Honestly, the needles in my hand hurt like a mofo when they were first put in. Okay, it really wasn't that bad, but if you don't like needles, it was definitely the most difficult part of the whole thing.
After the first 5 minutes, I started feeling a little bit of tingling in my hand and arm, which continued throughout the 45 minute session. Once all the needles were in, Sam turned the lights off and left me to relax, which I certainly did.
When it came time to remove the needles, my entire body felt rejuvenated, and the removal didn't feel uncomfortable whatsoever. As I sat up, I tried to communicate with Sam to let her know how I was feeling, and I couldn't help but notice the fact that I couldn't stop smiling.
If you've ever had a really great massage and then afterwards had this weird/awesome euphoric feeling, that's exactly what it felt like. I couldn't control it – I just wanted to smile.
When it comes down to it, acupuncture isn't for everyone. But I will say this. I went into the session HATING needles, and leaving the session, I still hated them, but guess what? I'm going back. I'm going back once a week actually, and I can't wait to feel that happy, totally relaxed feeling all over again. With that said – it was so worth it. Give it a shot and see for yourself!
Have you ever had acupuncture? What is/was your experience like?
Don't forget to follow me on Google+ , Facebook and Twitter!