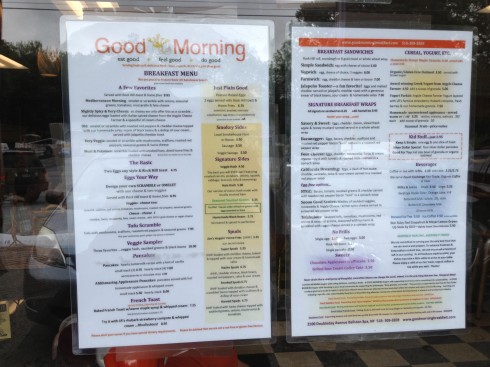 As many of you already know, I'm a breakfast junkie. I love myself a good breakfast, whether it's in sandwich form, omelet, or even a little sweeter like a pancake or waffle. Unfortunately for Saratoga, we lack a lot of GOOD breakfast spots, with the exception of Triangle Diner, and I've been keeping my fingers crossed that another restaurant would join the scene and fulfill my breakfast needs. And then there was Good Morning Cafe. Although it's located a little outside of Saratoga on Route 50 in Ballston Spa, I can say with confidence that it's absolutely worth the extra few minutes.
Good Morning Cafe is unique to the area in that while the food they produce is pretty fantastic, everything they use is local, organic and fair trade, which means they're serving up some of the healthiest and best tasting breakfast foods you can ask for in this area.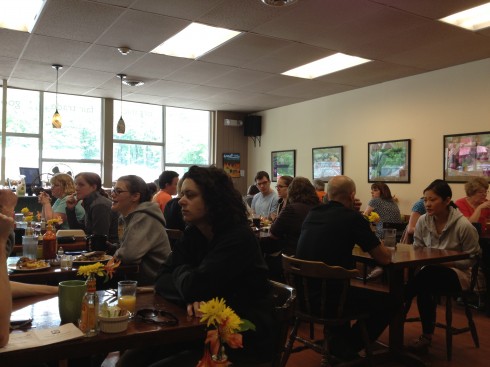 What really stood out to me just based on the menu was the plethora of options they have available for those with vegan and gluten free diets, which is a huge plus in my book. With pretty much everything you could ever ask for in a breakfast cafe, the menu might be a little too much, but the bright side is you never have to order the same thing twice.
Starting off with some freshly brewed equal exchange fair trade, organic coffee, it's only natural for me to jump to the breakfast sandwich section where I feel at home. As my eyes scanned the menu, I abruptly stopped at the Jalapeno Toaster Sandwich served on my favorite – Rock Hill Bakehouse jalapeno cheddar toast. Although I wasn't totally in the mood for black beans and sour cream at 10am, I asked the waitress if I could have a bacon, egg and cheese sandwich on the jalapeno cheddar toast.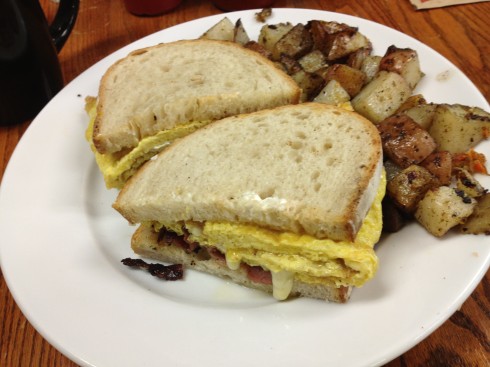 **NOTE: This sandwich above is an identical sandwich to what I ordered, but on the regular, white bread because I lost my original picture of my Jalapeno Cheddar… 🙁
If you doubted my decision, shame on you. The choice to add the jalapeno cheddar bread was genius, and the flavors that came from the bread alone gave me the satisfaction I was looking for from a breakfast sandwich. But that isn't all. Between the melted cheddar cheese and the thick cut slices of crispy bacon, I was pretty much in breakfast sandwich heaven.
Oh and I haven't even gotten started on the homefries. Normally at breakfast restaurants, you're served with a boring plate of homefries with little to no seasoning and in desperate need of some S&P (salt and pepper). These homefries laugh at that idea, which is probably why they're described on the menu with only "our secret recipe". Amen.
Good Morning Cafe has a lot to offer the area for breakfast, and I'm starting to think that Ballston Spa is becoming my go-to area for different, out of the box and genuinely good breakfast. With Beverley's opening in the future further down Route 50 in Ballston Spa and Iron Roost sitting tight on Front Street, we might have ourselves a little breakfast nook if you will in the great Village of Ballston Spa. What are your thoughts?
Don't forget to follow me on Google+ , Facebook and Twitter for updates!