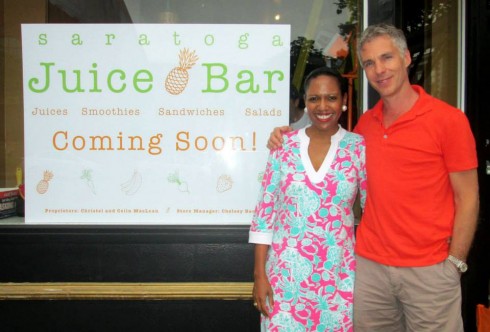 So I was pretty excited this morning when I opened my email and saw that very soon, Saratoga will be getting our very first cold pressed juice bar, right downtown!
The benefits of juicing are fantastic, from weight loss to clearer skin to better mental clarity and greater sleep patterns. For any of you who follow me on Twitter, you know that I'm a big vegetable juicing advocate. In fact, I juice 4-5 days a week for breakfast and have been for about 8 months now. I have to admit, not only has juicing helped me maintain my weight (and even drop a few pounds), it has overall improved my health.
Anyway, back to the news! Christel and Colin MacLean, owners of both Circus Cafe and Crown Grill, announced that they'll be taking over where The Chocolate Mill previously was at 382 Broadway and re-opening it as Saratoga Juice Bar in the next week or so. I will be sure to keep you all updated as I receive information, but for now you can go like their Facebook page here and for more information, the complete press release is below.
Saratoga Juice Bar Opening Just in Time for Track Season
Christel and Colin MacLean, owners of Circus Café, The Crown Grill, and Realty Saratoga are at it again and this time they're opening Saratoga Juice Bar. "Cold pressed juicing has been an evolving trend for a couple of years now and has hit its stride in NYC with many operators opening multiple locations due to high demand. Colin and I have been waiting for the perfect space to bring this trend to Saratoga and in June we were happy to come across an available storefront where The Chocolate Mill was formerly located. We are so excited to be the first cold pressed juice bar in Saratoga. Saratoga Juice Bar will allow everyone to have a great tasting and healthy drink or meal at any time of the day," says Christel MacLean.
Saratoga Juice Bar will offer a variety of cold pressed juices, smoothies (with the option of adding supplements and/or boosters), "grab and go" healthy sandwiches and salads, as well as juice cleanses. The MacLean's look forward to working with local farms including Kilpatrick Family Farm, a mainstay of the Saratoga Farmer's Market for fresh fruits and vegetables. Chelsey Backus who currently teaches yoga at Chelsey Yoga Everywhere and Saratoga Hot Yoga, has been named the Store Manager of Saratoga Juice Bar. "I am very excited to be a part of this project because not only am I passionate about nutrition and maintaining a healthy body, but this is something Saratoga doesn't have yet and I feel honored to help bring such a wonderful up and coming trend to my hometown," said Chelsey.
"We have had a blast traveling all over Manhattan to gain inspiration and knowledge about juicing. During our trips we made friends with many successful juice bar owners, managers and staff that have given us great advice and ideas. We have also hired one of the top juicers to come to Saratoga while we prepare to open and train our staff," said Colin MacLean.
Cold pressed juice is widely considered to be the most nutritionally complete juice, containing 3 to 5 times more vitamins, minerals, and enzymes than juice extracted any other way. Cold pressed juice extracts the juice hydraulically and not with a traditional centrifugal juicer which creates heat and significantly decreases the beneficial nutrients. Cold pressed juicing protects the enzymes and nutrients that are living in the juice. Some benefits of drinking cold pressed juice on a regular basis are said to be balanced pH and sugar levels, clearer skin, weight loss, increased mental clarity, diminished aches and pains, better sleep patterns, and better liver function. The MacLean's have invested in state of the art juicing equipment including the latest model of the famed Norwalk Hydraulic Press Juicer.
The MacLean's plan to open the juice bar late next week, an official date is still being determined. Saratoga Juice Bar is located at 382 Broadway. Coming soon website and email: www.saratogajuicebar.com / juice@saratogajuicebar.com. For more information and updates please visit our Facebook Page: www.facebook.com/saratogajuicebar
###
Don't forget to follow me on Google+ , Facebook and Twitter for updates!