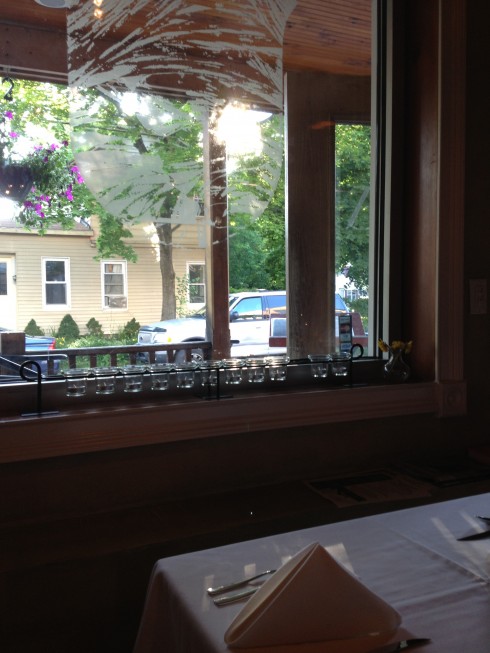 And so it's here. I know there's been a lot of anticipation leading up to this article, so I hope to be as informative as possible for my foodie friends! After two failed attempts, last week I finally caught Restaurant at 62 Beekman on a day they were open! A quiet and quaint atmosphere, we were greeted at the door by the hostess and were quickly seated at the table of our choice. Since the restaurant is brand new, like many other new restaurants, they have yet to have their liquor license, but politely let you know when you walk through the door that you may bring in a bottle of wine if you'd prefer.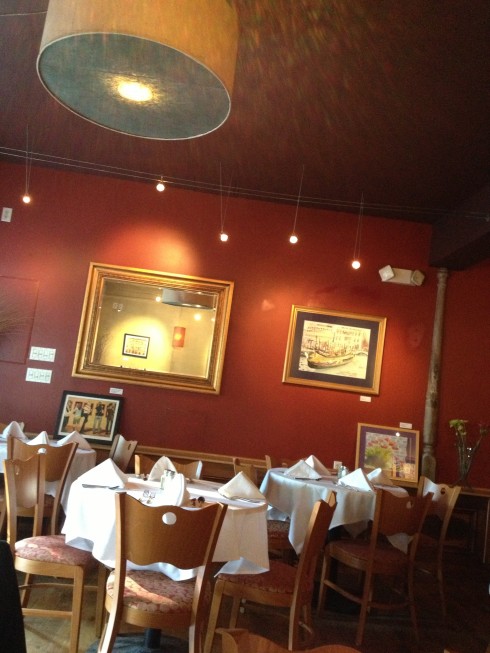 From what I've read about the restaurant, it's something unique to the area and definitely a trend that I see becoming more popular as time progresses. While there are many restaurants in Saratoga that offer farm-to-table meals, the cost of the meal usually reflects this. That's the initial difference between those other restaurants and Restaurant at 62 Beekman. With a menu that is incredibly reasonably priced, it almost makes you wonder… how?
As I pondered over the menu, we were brought over some lightly toasted bread with olive oil marinated olives.
With such a light and simple drizzle of olive oil, it really allows you to taste the quality of the bread. Crusty and slightly nutty from the olive oil, it was obvious that the bread had been freshly baked earlier that day.
From the looks of the menu, I became fixated on the 'Pasta of the Sun' ($14.95), cappellini pasta tossed with asparagus, pine nuts, chevre, and a roasted red pepper cream sauce. Based on the description alone, I thought it might be one of those pasta dishes where the pasta sits in a pool of cream sauce. To my surprise, it was nothing like that.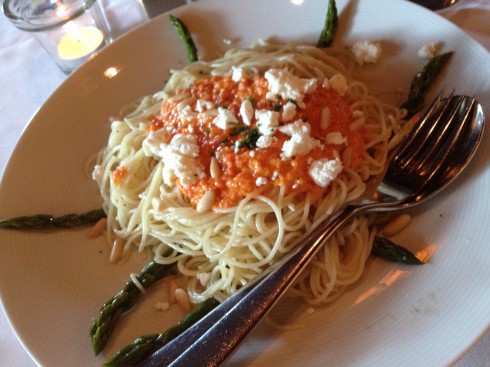 As you can see, the pasta is acting as a pillow to the roasted red pepper cream sauce, and there was just enough of the sauce to evenly disperse throughout the pasta. With such simple ingredients in a dish, the flavors were all highlighted in each bite, and it made perfect sense why there wasn't any additional sauce topping the pasta. My pasta did need a slight seasoning of salt, but that was all I could have asked for to be different.
Our other entree was the salmon special, which included fresh atlantic salmon with mashed potatoes, seasonal roasted vegetables and pickled cucumbers ($15.95).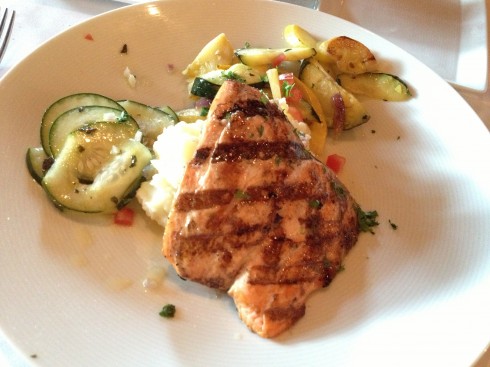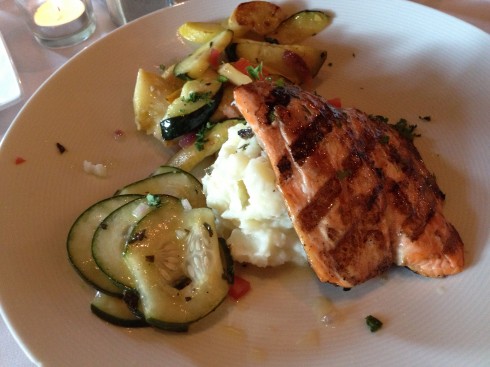 The salmon tasted fresh and well-seasoned, although again I was missing salt in this dish. The mashed potatoes were smooth and buttery while the roasted vegetables were full of flavor with the perfect crunch on them still. I especially liked the pickled cucumbers, which weren't actually soaked in too much vinegar, leaving it with a more subtle vinegar taste. I would have preferred the salmon to have been cooked just a little less, but again, that's ultimately my preference.
Finally, it was decided that we had to do dessert. Being a big cheesecake fan and especially of homemade cheesecakes at restaurants, my eyes lit up when the waitress mentioned that they had homemade New York style cheesecake.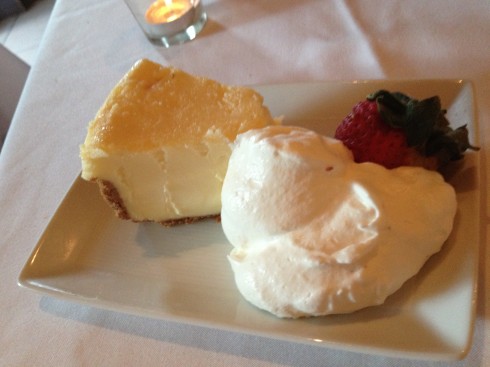 You see that big pile of whipped cream? You better believe that was homemade too. Oh right, and the cheesecake was absolutely delicious. I went into this dessert thinking I'd just take one or two bites and then push it away, but once I took my first taste of the creamy, thick slice of cheesecake, there was no looking back. My mom was lucky I even shared this slice, it was THAT good!
Here are the reasons why I think Restaurant at 62 Beekman will thrive:
1. They're doing something unique by making their prices reasonable while still delivering quality farm-to-table food.
2. Their focus is on keeping dishes simple, which I LOVE and I think makes being a chef more challenging when you're working with fewer ingredients.
3. The Chef is super passionate and excited for what track season is about to bring.
Here's what you should know:
-The Restaurants at 62 Beekman is only open Wednesdays through Sunday, 11:30am – 9pm
-It's located at 62 Beekman Street… but I hope you had figured that out by now
-Their website is linked here!
-They'll be closed from the 27th until their grand-opening party on July 6th! I hope to see everyone there 🙂