What a picture-perfect weekend it was for the 2-day Adirondack Wine & Food Festival. Even though Saturday morning started with rain, it turned into an absolutely gorgeous day.
While the event spanned Saturday and Sunday, I wanted to get there the first day to check it out and get a taste for what the 3rd annual event was all about.
When we pulled up, I was super excited to see tons of people walking around, checking out the vendors, and everyone seemed to be having a really great time.
Especially this guy.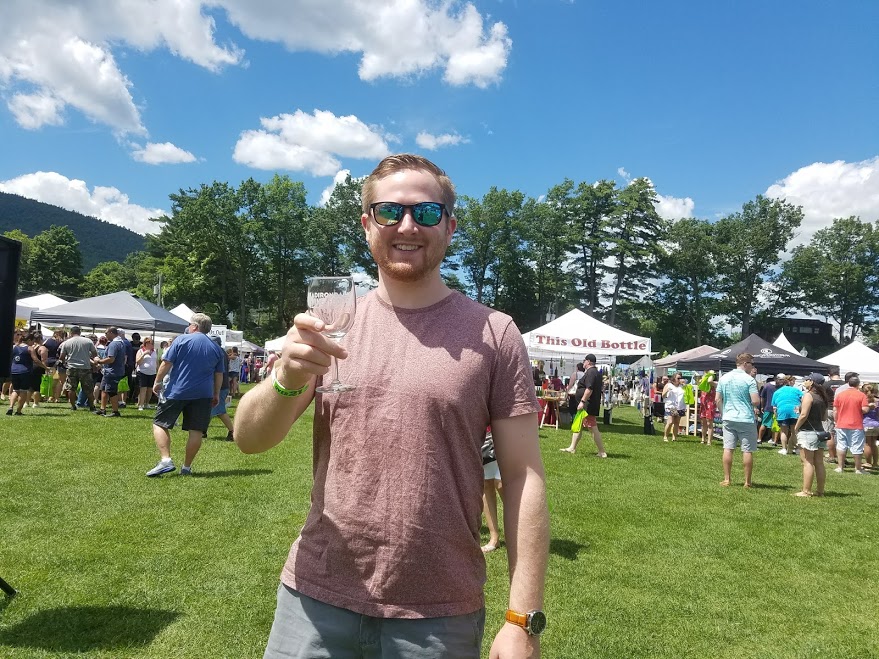 As always, food was my number 1 priority at the time, and wine of course came in second.
Tim's eyes caught someone eating ribs, and quickly we walked around to see that Capital Q Smokehouse was on the premises.
The line was crazy long, but we braved it in an effort to get some amazing BBQ.
BTW – their pulled pork is off the CHAINSSSSS.
After filling my belly, it was time to check out the wine/liquor/product vendors.
This is an event where there is seriously something for everyone. Don't like wine? There's beer. Don't like beer? There's liquor. Don't like liquor? Eat your face off!
What I love about the most about the Adirondack Wine & Food Festival is that you can buy anything you want from the vendors inside, so if you like a bottle of wine, you can get it on the spot. You can fill growlers. You can even get a six pack and drink it right there if that's more your style.
It was pretty cool.
If you didn't make it this year, definitely stay tuned for them to announce their dates next year! This is certainly an event you should mark on your calendar.