The 2nd annual Adirondack Wine and Food Festival has passed and I have to say, this year was bigger and even better than last year!
With tons of great local food and wine vendors, it was hard not to have a great time at the event.
Sure, it was like a million degrees outside that weekend (June 25-26), but that didn't stop thousands of people from showing up and enjoying a day in the sun with drinks and snacks.
Speaking of drinks, we kicked off this festival with some moscow mules served by the Yankee Distilleries tent, and boy oh boy did these drinks help us fend off the heat.
In my opinion, a moscow mule is one of the most refreshing drinks for the summer (or winter if you're into that), and it doesn't hurt that I'm kind of obsessed with ginger beer.
Oh and you see that glass? We got to keep that – all attendees get themselves a complimentary wine glass with the purchase of a ticket. And let's be honest, you can ALWAYS use an extra wine glass around the house.
Moving on, we wandered through the crowds to check out some of the spectacular "specialty" vendors they had at the festival this year, including AC Woodcraft, Sweet Rama's Soap, and This Old Bottle.
Additionally, I was pretty pumped to see Dutch Udder Ice Cream there, as well as Cheese Filled Company, among many others.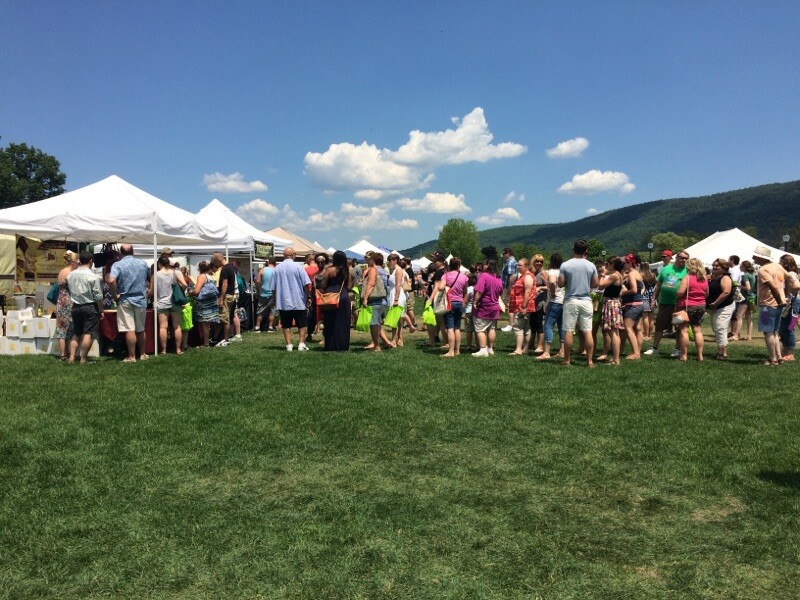 Yikes, looking at those lines gives me flashbacks. But let me tell you… on a beautiful summer day in June, there's no better way to kick off the summer.
If you're considering going next year, just keep this view in mind and I'm pretty sure you'll be pre-ordering your tickets whenever they come available.
Thank you so much for having me again this year, Adirondack Food and Wine Fest! Can't wait to join you again next year!