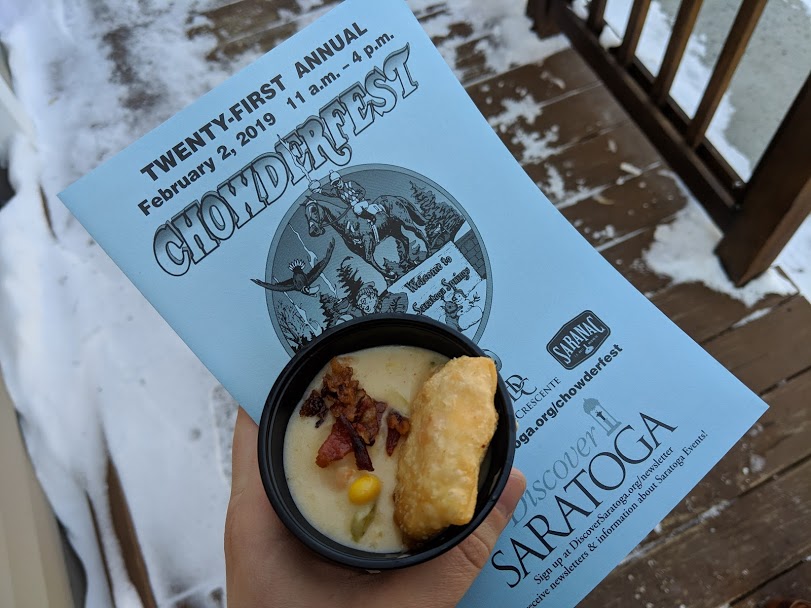 Chowderfest is THIS Saturday, and if you're anything like me, you're prepping your stomach for copious amounts of dairy.
As usual, I've been checking the Discover Saratoga website over and over again to see the most up to date listings of what participating restaurants are serving and trying to figure out which spots will make my MUST-TRY list of 2020.
After much review, I think I have finally reached my top 10 chowders that I think everyone should try.
Here we go:
Solevo Kitchen + Bar – Clams Casino Chowder
Comfort Kitchen – Clams Casino Chowder (Yes… I know they're serving the same thing, but excited to see how they do things differently!)
Farmers Hardware – Everything Bagel New England Clam Chowder
Brook Tavern – Brook Tavern Burger Chowder
Ribbon Cafe (and winner of 2019 Chowderfest) – Southwest Shrimp Corn Chowder served with Tequila Lime Bacon & Crab Wonton Popper
Seneca – Wood-Grilled Shrimp & Corn Chowder

Olde Bryan Inn – Mexican Street Corn Chorizo Chowder
Boca Bistro – Chicken and Chorizo Chowder

Chianti – White Bean and Potato Ciao-der
Dizzy Chicken – House Smoked Bacon & Poblano Chowder
Honestly, there weren't many standout chowders on the list this year. I know it's probably hard to give much of a description, but 90% of the chowders are chorizo-based, and I really like to have diversity during my Chowderfest tastings.
Regardless of where you go, I hope you all have a safe & fun time out this weekend! Don't forget to follow along on Instagram and Facebook as I stuff my own face with chowder on Saturday.