Since my birthday fell the day after Father's Day this year, I chose to take advantage of the fantastic specials as my pre-birthday dinner. Out of all of the area specials, there was one that especially caught my attention – The Wishing Well's $29 Lobster Dinner. Now I've gotta be honest with you all. Until this year, I've never been a lobster fanatic. In fact, I never truly understood the craze. That was until Christmas Eve, when my mom decided to attempt the "Feast of the Seven Fishes", and guess what the grand finale was? You guessed it! Lobster. It was that night, however when I had my first bite of the most succulent, flavorful, juicy lobster and I haven't felt the same about it since.
Anyway, getting back to The Wishing Well, I was excited to enjoy a 3-course lobster dinner for less than $30, and that's exactly what I did!
As my first course, I chose the lamb lollipops – Grilled Herb Crusted Lamb "Lollipops," over a bed of polenta: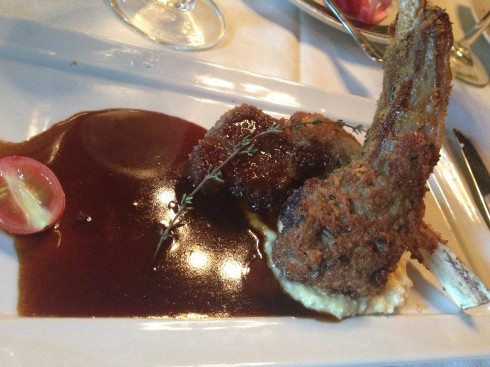 The crust on the lamb was really nice. Crispy enough but still full of moisture and flavor. The lamb itself was tender and cooked nicely. My one qualm with this dish was that the polenta was a little too rich for my liking. At first bite, I thought it was delicious, but as I continued eating it, I was quickly overwhelmed with the sweetness and richness of it and it was challenging for me to finish.
But alas, there was the lobster!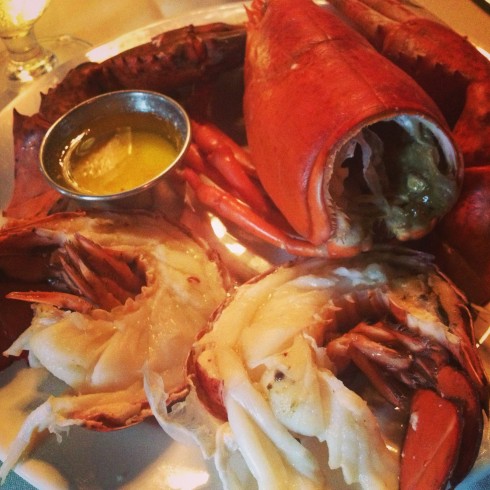 As many of you probably saw on my Facebook page, this lobster was everything I wanted it to be. Steamed and served with lemon and butter, I was like a little kid in a candy store cracking this thing apart. The only concern I had was cracking a shell the wrong way and having it fly onto someone else's plate! Luckily, I handled the lobster with care and was rewarded with it's sweet sweet tasting meat.
Finally, I ended my meal with the cheesecake with raspberry sauce, which I actually didn't even take a picture of because I dug in so quickly. The cheesecake was so flavorful and creamy, and the raspberry sauce added that element of tartness that you sometimes need with a rich cheesecake. With or without the raspberry sauce though, this cheesecake was amazing. At first glance, I thought I'd take a few bites and be done but by the time I finished the crust, I was shocked to see that I had consumed almost the entire piece. Oh well, it was my birthday and I could do whatever I wanted!
As I've said before, The Wishing Well is an exceptional option for dinner. Even if there hadn't been a Father's Day special, I still would have be inclined to go there to celebrate my birthday because I can always count on a consistent and well-prepared meal. Additionally, the waitstaff is trained well, offering a delightful dining experience. If you're traveling to Saratoga or you've lived here for as long as you can remember, The Wishing Well is a MUST for dinner.
For real-time updates, connect with me on Google+, Facebook and Twitter!