Take a deep breath and fill your lungs with air. What do you feel?
When I took my first deep breath in Ireland, it was like a high… and I couldn't get enough of it.
The crisp cool air and fresh oxygen that is quite abundant in that country is something I'll never forget from my travels there. Also, the food.
Leading up to my trip to Ireland, I had quite a few people tell me not to expect anything from the food there. After many hours of research, I refused to believe what other people told me, and I'm glad I did.
Flying in and out of Dublin, we had 7 nights to experience the best of what Ireland had to offer. We set out with a plan to travel by car from Dublin to Kilkenny, Cork, Killarney, Dingle, Aran Islands, Galway and then back to Dublin.
I don't know if you were paying attention to International news last week, but Ireland experienced their worst storm in over 50 years, and it was set out to hit the south western region, aka where we were.
So… we made it to Killarney before we had to swiftly change plans, which led us to Limerick for the night before the storm, and then up to Galway earlier than expected.
Sadly, Dingle and Aran Islands were out, and we had to make new plans after the storm caused flooding and plenty of damage due to fallen trees and power lines.
Regardless of the storm, we still managed to have a pretty spectacular experience, and I can easily say that I had some of the greatest meals of my life.
I'm still dreaming of the brown bread and vegetable soups I had pretty much every day. They full Irish Breakfast was just perfect, even if black pudding isn't my jam.
Here's a recap of where we went and what we tried during our vacation!
Day One: After we landed, we were wandering Dublin like zombies due to lack of sleep (we left at 8pm and arrived at 8am Ireland time which is 5 hours ahead of us).
As soon as I spotted a doughnut shop, I sprinted.
I came out with a beautiful cappuccino and a dark chocolate and baileys cream doughnut. YAS.
Some other shots from around Dublin: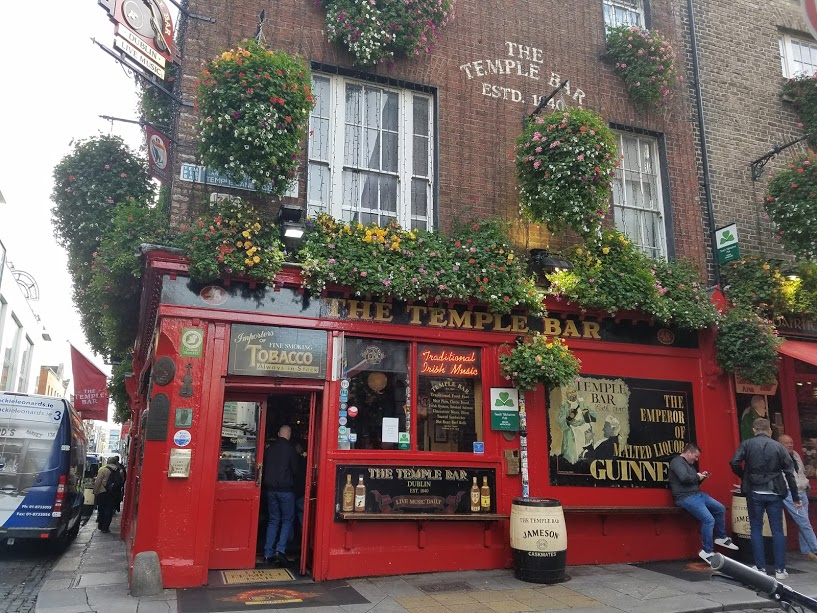 After wandering around the city on what happened to be a beautiful day, we made it to Guinness to do the whole tour thing and have a beer at the top of the building.
Also, I fell asleep like 10 minutes after this picture was taken.
I probably didn't get to enjoy this as much as I might have with a regular nights sleep, but I survived and still found it to be pretty cool.
Dublin reminds me a lot of NYC, but obviously much smaller. It's a busy city, with plenty of tall buildings and small shops and restaurants.
Day Two: Kilkenny & Cork
Before heading out for the day, our hotel had the most glorious buffet I've ever witnessed in my life. This was only 1/16th of what they had to offer, and while I have every intention of going back up for more, I was totally and completely stuffed after this plate of food.
If you want to enjoy the finer things in life, might I suggest staying at the Powerscourt Hotel for just one night during your trip. It was divine.
We were so lucky to have another beautiful day of weather. I mean… blue skies in Ireland? It couldn't have been more perfect.
Off to Kilkenny Castle we went, and damn this place was cool.
AWWW.
After touring the castle we headed out for a beer, still kind of full from breakfast (but never too full for beer).
I couldn't stop taking random pictures of beautiful buildings.
After Kilkenny, we headed towards Cork but stopped for lunch before leaving Kilkenny at a little cafe called Mocha's Vintage Tea Room.
This is just about when I fell in love with the soup in Ireland. This carrot and parsley soup was so complex, but was made with the simplest ingredients. They really allow the food to speak for itself, which made me appreciate it even more.
Headed to Cork, I finally turned my phone on because we were lost and couldn't find a B&B. By the time we got a place, it was starting to rain and we found a nearby restaurant with good reviews.
We sat at the bar and ordered a shepherd's pie and enjoyed conversation with the bartender.
I asked him about the so-called hurricane headed our way and he said "there's no such thing as bad weather, only bad clothing."
I liked him.
Day Three: Ring of Kerry & Limerick
The next morning, we had breakfast at the B&B and then headed on our merry way.
I learned my lesson from the previous day and ordered a "mini Irish breakfast" this time around. Still filled me up like crazy.
The weather was a little more cloudy, but still pretty warm.
We took the drive around the Ring of Kerry, a scenic drive around the Iveragh Peninsula in southwest Ireland's County Kerry.
The views were breathtaking. I mean pictures really don't even do it justice.
After the long drive and windy roads, we grabbed lunch in Killarney as anticipation of the big storm was building up. We decided it was time for fish and chips, so I looked for the best and that's where we went.
Quinlan's Seafood Bar in Killarney.
This place was really cool – reminded me of Fish at 30 Lake a bit the way their decor was inside. I ordered the cod fish and chips and devoured every bite. The french fries were so thick and fluffy, too.
After stuffing our faces and stopping for another pint of beer, we headed towards Limerick to stay at an Air B&B.
Upon arrival, the woman we were staying with sat us down and asked us what our plans were for the storm the next day. She suggested we get up at 8am before the storm was set to hit Limerick and travel north to Galway so we could enjoy the day there, at least before it was set to hit there.
We took her advice, but before going to bed she recommended this awesome pub in Limerick called The Locke Bar for dinner and live music.
I didn't take pictures of the food but Tim said he had the best lamb stew he's ever tasted. So there's that.
Day Four: Galway & Hurricane Ophelia
Bright and early we got up and drove north to Galway to escape the start of the storm. Checked into the hotel right at 9am, we then headed around town to grab breakfast and see how the locals were dealing with what was expected to come.
There was a super calm in the air, I suppose the "calm before the storm".
We stopped for a light breakfast at a little cafe that I can't remember the name of for the life of me and then walked around some more.
It was a totally beautiful morning.
What was even more beautiful was the lunch we had at Ard Bia just before the storm hit.
Holy hell. I had slow roasted pork and Tim had a ham sandwich with a bowl of soup. I think this was my favorite meal of the whole trip. It was crazy good.
Also, please enjoy the awkward picture above of us.
After this meal, we pretty much had to stay inside for the rest of the afternoon as the storm hit. The streets flooded a bit and I know that other parts of Galway were hit pretty hard, but fortunately we didn't experience the worst of the storm and were safe!
That night, the city (and most of the country) was pretty much shut down. There were probably four bars total that were open, and only one place was serving food.
Day Five: Cliffs of Moher
Breathtaking. And those blue skies? Couldn't have asked for a more perfect day to go to the Cliff's.
Then, lunch.
At this point, I felt like I was starting to gain weight. But that didn't stop me. Pictures above is a cauliflower and potato soup and then a Guinness Beef Stew.
Later that night we tried to get to Bunratty castle, but they had just stopped tours when we got there. So we ended up staying in Shannon for the night and headed back to the castle in the morning.
Day Six: Bunratty Castle, Gort, Burren National Park & Galway
Looking at how much we did this day, I'm exhausted. What's better is that this particular day had the grossest weather overall. But that didn't stop us!
Lunch in Gort was fabulous. We stopped at the Gallery Cafe.
Not picture is the seafood chowder Tim ordered, which was exceptional. In America, a seafood chowder will have one fish (MAYBE two) with corn, potatoes, etc. This chowder was straight up fish, and like five different types of fish. This is a MUST stop if you're driving through this part of Ireland.
Once we got back to Galway, I had my sights set on an irish coffee, and that's precisely what I got.
This beauty was from a bar called 1520, and I obsessively watched as they made it in their beautiful espresso machine and topped it off with some beans. This was the best irish coffee I had the entire trip.
Finally, dinner. This was one for the books. We had dinner at The Pie Maker in Galway, and I was swooning.
This here is the chicken and mushroom pie, and since it was day six of the trip, I got the side salad.
Hand pies are just the best, aren't they?
We actually found this place when we were walking around before the big storm when we were in Galway earlier in the week, and knew we had to go back at some point before the trip ended to actually eat. It was worth the wait.
Day Seven: Dublin
And so here we are at day seven, and our final full day in Ireland.
Of course, we did what tourists do and hit up the Jameson Distillery for a tour.
The tour was really cool and totally worth it. I definitely preferred it over the Guinness tour, but I also like whiskey more than beer 🙂
On our final night, we stayed at the Shelbourne Hotel in Dublin, which was absolutely beautiful inside.
I had read somewhere about a mexican restaurant in Dublin and after seven days of Jameson and Guinness, we both decided we were ready for a change.
777 was like Ama Cocina (in Albany) on steroids. First off, their tequila selection was pretty phenomenal, but their food was off the charts.
Maybe it was the lighting or maybe it was the tequila, but I did not manage to get any pictures of food here. We did have lamb barbacoa tacos though, and those were another highlight of the whole trip. Definitely recommended if you're headed to Dublin any time soon.
Day Eight: St. Patrick's Cathedral & Dublin Airport
Ahhh, the final day. You didn't think I'd just leave Dublin without one final meal and excursion, did you?
We hit up Hatch & Sons for one last breakfast in Ireland, and of course I got the Irish Breakfast Skillet.
By the end of the trip, I already accepted that my arteries were probably clogged, so I went for all the butter I could stomach. It was glorious.
After breakfast, we walked through the park in Dublin and headed to St. Patrick's Cathedral before the airport.
To be in a building that dates back to the 1200's was unbelievable. So pristine and beautiful, the details in every corner of this church were absolutely gorgeous.
And from there we headed to the airport, to say goodbye to Ireland and back to America to see our pup and end our vacation.
I honestly could not have asked for a better first experience abroad, and traveling has seriously opened my eyes to how much there is to experience of other cultures and FOOD. All of the food.
My biggest takeaway was that the food was SO much better than people gave it credit for. Sure, some places kept it simple, but sometimes simple is good.
As for my next trip, I'm thinking Italy. Time to start planning! 🙂