Sure, it's possible you retrieved all of your gifts by the end of Black Friday this year, but it's also even more likely that you haven't finished your holiday shopping. If you're in the latter category and you're shopping for foodie friends, there's some things you should know.
In my opinion, having a food-lover in your life might be the best thing that ever happened to you. They know where all the good restaurants are, they love to cook you delicious meals, and they're always trying new things in the kitchen.
Okay, maybe I'm biased, but I totally think the statement above is accurate.
If you're looking to buy the perfect gift for the awesome foodie in your life, I have some easy suggestions for you. And yes, they're also on my wish list, so feel free to be generous! 😉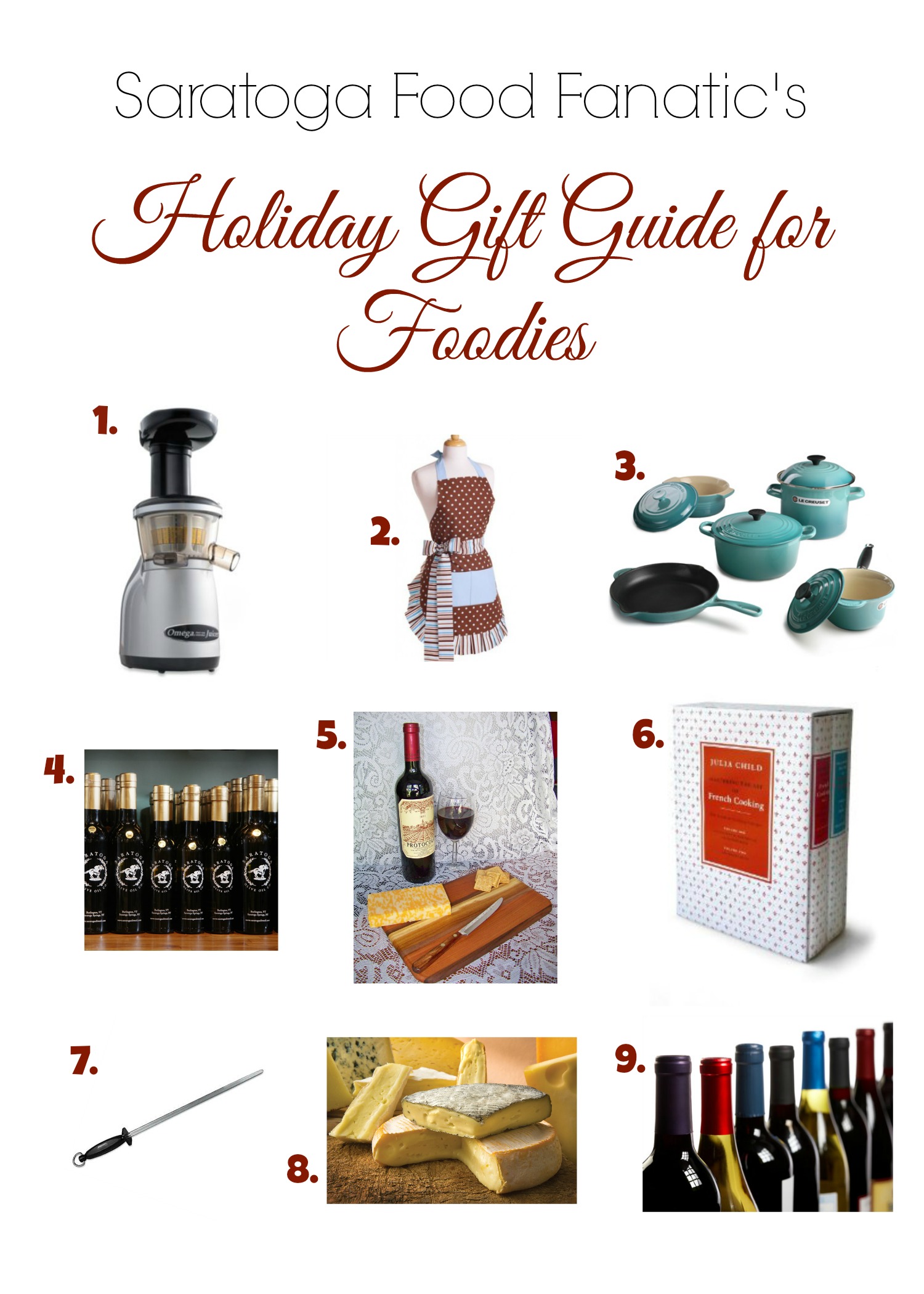 1. Omega VRT350HD Vertical Masticating HD Juicer
The Omega® VRT350HD Vertical Masticating HD Juicer is like a heavenly gift from God. If you or your foodie friend has ever considered juicing or already does, this is the jackpot of all gifts. The VRT350 Low Speed juicing system processes at 80 RPM, which prevents oxidation and allows juice to be stored for up to 72 hours without degradation. So if you like to think ahead like myself and hate having to clean the juicer EVERY day, you can make up to 3 days worth of juice in one day. It's $379.99 at Bed Bath and Beyond, but with the 20% off coupon they love to send in mailers, it's knocked down to just around $304.00.
2. Aprons
No one likes when they splatter something on their clothes while cooking! That's why ordering an apron (male or female) is a great gift for the person in your life who loves to cook. Flirty Aprons is a great website full of cute and different aprons, for both men AND women, and even kids! They run at around $35.00, which makes it the perfect stocking stuffer item!
3. Le Creuset Cookware
I've had dreams about having a Le Creuset collection. I'm not kidding. Le Creuset cookware is the best of the best, in my opinion, and an amazing Christmas gift. Just keep in mind that this cookware is NOT cheap. In fact, for just the signature round dutch oven, it'll cost you between $105 and $465. Williams Sonoma has a huge variety of them here, but I've actually seen them quite a few times at TJ Maxx and Marshalls for a heavily discounted price.
4. Saratoga Olive Oil
When you want to be an excellent home chef, you've gotta be cooking with some of the best ingredients. Start with some Olive Oil from Saratoga Olive Oil Company and you'll definitely be on the right path. Named 1 of the top 5 stores in the World for their olive oil selection, you can find anything from your traditional EVOO to infused and fused olive oils here, such as fused blood orange oil and tuscan herb organic olive oil. While you're there, take a look at their balsamic vinegars as well. Oils and vinegars range in prices, starting at $10.95 a bottle.
5. Custom Handcrafted Wooden Cheeseboards
Carolina Blue Woodworking, which also happens to be owned by my father, has some beautiful handcrafted wooden cutting/cheeseboards. Made in North Carolina, these boards are handcrafted from some of the finest quality woods, including maple, cherry, walnut, sapele and more! They come in a variety of sizes and styles, and can be found on Etsy, starting at just $25.00/board.
6. Mastering the Art of French Cooking
Julia Child was an icon in the food world, producing an unparalleled recipe collection published over 50 years ago. If you or someone in your life is inspired by the culinary world and isn't afraid to take on a few challenges in the kitchen, Mastering the Art of French Cooking will be their bible. You can find it at our local Northshire Bookstore for $29.99.
7. Knife Sharpener
This one's easy. Who doesn't need a knife sharpener? It's like the worlds easiest gift for people who love to cook, and they're relatively inexpensive and easy to find. Here's a J.A. Henckel Classic Honing Steel, on sale for $24.99 at Macy's. Depending on how fancy you want to get, there's a variety of these bad boys available at department stores as well as local culinary shops in the area, such as Compliments to the Chef in Saratoga.
8. Cheese
Give the gift of cheese this holiday season. Need I say more? Support local and visit Healthy Living Market for all of your cheese needs. Sourcing all local cheeses, they have an incredible selection of specialty cheeses. *Expert tip: They package their cheese scraps for purchase too, so if you're unsure of what types of cheeses your foodie might like, these small portions of cheese range from $1.00 to $6.00, and allow for a huge variety when gift giving!
9. Wine
The finale of course has to include some wine! And what goes better with ALL of the items above than a bottle or two of wine. There are so many different ways you can gift wine, but I'd recommend doing your research and finding out the types of wine your friend enjoys. White, red, sweet, dry, etc. If you don't feel like asking and really don't want to work hard for this gift at all, you can always order a variety of them from a wine club such as Gold Medal Wine Club. But personally, I'd suggest visiting your local wine store, such as Purdy's and asking for assistance in choosing your wines.
Have any suggestions you'd like to add to the list? Comment below and let me know!