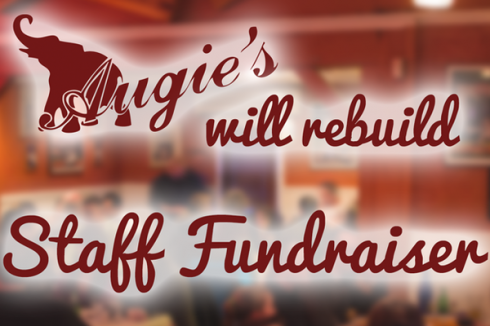 On Monday morning, we lost a very big staple restaurant in our community – the infamous Augie's Italian Restaurant. After a grueling fire, the building was condemned and the owners lost everything that was inside. Luckily, no one was hurt and they have informed the public that they do plan to rebuild.
With that said, Augie Vitiello is concerned for the welfare of his employees, and has created a donation program for them. Since it's still unknown how long it will be until Augie's will be rebuilt, Vitiello is looking to raise money that will go towards the service staff's hold-over budget. This will be split as they would with tips and the money that would normally be raised during a normal business day.
According to the official fundraiser page, it states: "We will use the funds to assist our employees while they are out of work during rebuilding. Any remainder of the funds (in case we rebuild faster than estimated) will go towards local homeless shelters in the 518.
Those who assist will receive a one-time coupon good for a percentage discount off of their bill upon reopening – applicable for in-house dining. We will also have a page built on our website showing who loves and supports the Augie's staff."
To help donate, please visit: http://www.indiegogo.com/projects/augie-s-employee-fundraiser
Remember – EVERY dollar helps, so please, help this local restaurant rebuild and recover!
To hear my recorded radio segment, click here: FoodFanatic-Augie's