I'm sure you've heard the buzz around the newest fishmonger in town, but for those who don't know the whole background of Fin, now's the time to listen.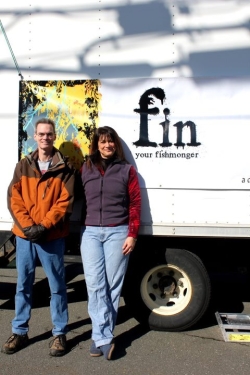 When Dora and Pete began selling fresh seafood at Delmar's Farmers Market, they never could have anticipated the response they received. Three years, several Farmer's Markets and one location later, they've made the plunge to join the Saratoga Springs community over at 3057 Route 50 in Wilton, where Bon Ton Fish Market used to be.
For Peter and Dora, owners of Fin – Your Fishmonger, it's never been about the quantity of what they sell. Rather, it's about the quality of the seafood and even more importantly, the quality of relationships that they build with their customers on a weekly basis.
During my conversation with Dora, she told me a little story that really resonated with me. Her parents came to America in 1956 during the Hungarian Revolution, and every week she remembers visiting the local butcher with her parents to get their weekly meats. Still to this day, Dora can remember how personal the butchers relationship was with her father, as well as all of his other customers, and Dora herself is determined and dedicated to having those same types of relationships with her own customers.
Having an outstanding product while still establishing that old time feel was Peter and Dora's goal, and I think it's pretty safe to say they've established that already, at least within their Guilderland location.
Okay so let's talk about their product for a second:
Fin – your fishmonger offers a variety of fresh, sustainable seafood from the world over that is premium, Grade A, top-of-the-catch. The quality assurance team at Fish Pier in Boston supplies fin with only the best. Using the Monterey Bay Aquarium Seafood Watch, the National Oceanic and Atmospheric Administration, the World Wildlife Federation, the Marine Stewardship Council and other scientifically and environmentally-reputable sources as guides, fin – your fishmonger truly brings the highest quality sustainable seafood to the region, and now to Saratoga Springs!
I love that they only use the premium, top of the catch fish. What this means is that when fishermen go for a 12 day catch, it's not the fish they catch on the first or second day. Not even the fish from the 6th or 7th days. They only source fish that's caught on the last 2 days of the trip, providing their customers with the absolute freshest seafood possible.
Within the Saratoga store, they'll also have a number of other products, all from local mom and pop shops!
I am BEYOND excited to have such a wonderful group of people joining the Saratoga food community, and cannot wait to try some of their fresh fish.
The ribbon cutting ceremony will be held tomorrow at 10:30am and from then on, they'll be open for business! Again, they'll be opening at 3057 Route 50 in Wilton. Stop by tomorrow and give them a nice warm welcome!
Here's a little sneak peek of the store as they were beginning to get things ready for tomorrow: