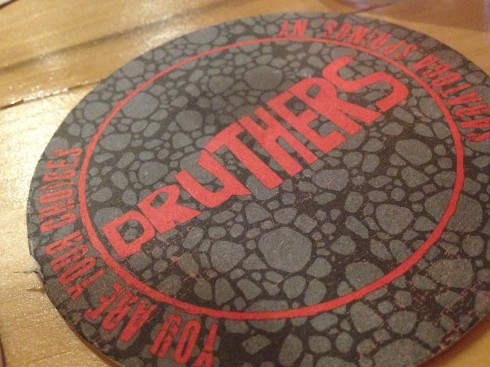 So the time has finally come, and after a year of being a regular Druthers patron, I've decided it's about time that I tell you all my feelings about the restaurant. Druthers Saratoga, located at 381 Broadway, is the only brewery downtown Saratoga has to offer and in my opinion, has the best outdoor seating around. When it comes to drinking, Druthers is a no-brainer. They have great beer (All-in-IPA is my fav.), a very nice wine selection and an overall great atmosphere for having a good time. As far as food, let's discuss this topic in greater detail…
The menu at Druthers is very versatile, with a great variety of vegan and vegetarian options as well as a huge selection of meat heavy dishes. Throughout my time there over the past year, I've had so many different menu items, including the Something Spicy burger, chicken wings, steak and spinach salad, shrimp and lobster chowder (Chowderfest 2013 winners!), CLT, etc. Can you tell I eat there a lot?
Tonight I went in with one menu item on my mind – the Greek Chopped Salad. Oh I know, salad is lame, but when it comes down to it, a girls gotta find a way to keep her figure, especially when she eats out as often as I do. This salad includes romaine, baby greens, couscous, kalamata olives, bell peppers, chick peas, feta, smoked chicken, cucumber, onions, and Meyer lemon mustard dressing.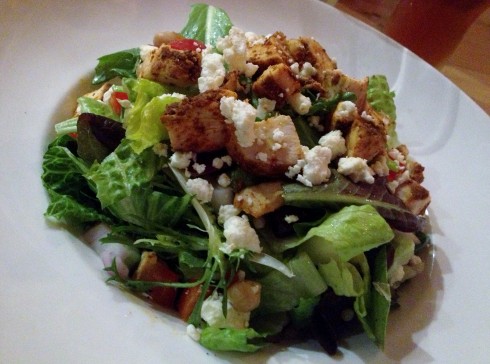 This salad might sound a little funky, but oh my God it's good. You know those nights when you're thinking to yourself "wow, I should really get a salad… but they are never satisfying!" Well guess what? This one is bound to fill you up and fill you up fast. Between the juicy smoked chicken, the pearled couscous and the chickpeas, this salad is healthy and filling – a salad lovers dream!
My only complaint with this salad is that I normally get the dressing on the side, however this time I forgot to ask. I noticed the salad was slightly dry, so when you have control over the amount of dressing you can put on it, it's always best. Plus, the lemon mustard dressing is delicious, so I suggest asking for it on the side!
For all you meat lovers, don't fret – I've got what you're looking for in this review too. Enter the 'Ugly Burger', a burger topped with bacon, cheddar, onion rings, a fried egg, and Druthers sauce.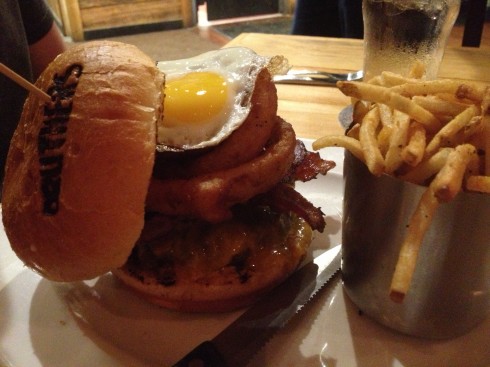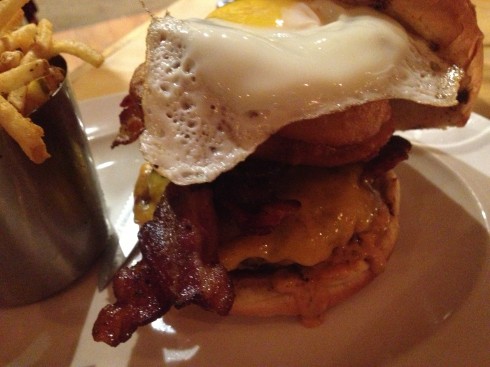 This burger is pretty intense. There are so many textures to it that you almost don't know what to expect when you're eating it. The bacon is a traditional add on, and really the fried egg has become wildly popular, but bacon egg AND onion rings? Well that's just straight up cray. This burger has salty, sweet, creamy, crunchy… when it comes down to it, it really has every texture you could want. If you're appetite is over the top and you need something that's going to put you in your happy place, this is the burger to do it.
Another thing I would like to add is that because I went to Druthers for dinner on a Tuesday night, they run their $3 pint specials all Tuesday long. That means I got to have my favorite local IPA half off. Win and win! And don't worry, just because it's about to be track season, that doesn't mean they're changing their happy hour. They care about us locals, and guess what Druthers… we care about you too.
Don't forget to follow me on Google+ , Facebook and Twitter for updates!