*Thank you to Hannaford for sponsoring these two fabulous pizza recipes!
When my family moved to Saratoga in 1994, I was 4 (about to turn 5) and it was a much different place compared to what it is today. Most of my memories don't revolve around downtown or the beautiful city we all know and love in 2017. Instead, my memories actually mostly revolve around my weekly grocery shopping trips to Hannaford with my mom and sister.
Hannaford was our grocery store through and through – I've seen the Wilton location go through several facelifts, including when they first put up the Hannaford sign outside (the old one and the new one!) My parents always found their prices to be unbeatable, and the products from their own brand to be the best available.
Today, I can say that I still feel the same way about the quality and prices – offering great quality store brand products for a fraction of the cost compared to name brand products.
Another thing I remember from growing up was my affinity for Friday nights. Sure, it was a great day of the week because it meant the weekend was here, but more than that it was because Friday night was pizza night.
And we're not talking a regular "let's order some pizza on a Friday," it was make your own pizza night in the Dingeman household.
I loved that so much.
In fact, I still try to do that now as an adult.
It's no secret that pizza is my favorite food, so when I was asked to partner with Hannaford on this project, naturally my idea was to make pizza using their awesome Hannaford brand products.
The great thing about making your own pizza is that you can make it as fancy as you want, with the ingredients that you trust.
Earlier this summer, my sister found this recipe from whatsgabycooking.com that combined a basil vinaigrette with burrata and broiled tomatoes and I've never wanted any other pizza ever again.
So today I'm going to share that recipe, as well as my own for a simple pepperoni and mushroom pizza with shredded basil using Hannaford brand products.
Let's get started.
First of all… you see all of these ingredients above? All of this cost me less than $25.
We're talking two Hannaford pre-made pizza dough's, 4oz package of mushrooms, pepperoni, fresh mozzarella, burrata, pizza sauce, and a shallot.
That's a great deal.
So as many of you know, I'm terrible at writing my own recipes. I'm more of a "pinch of this and a pinch of that" kind of girl, so I'll be sharing ONE of my own recipes and the second recipe from one of my favorite food bloggers!
First up, my own Pepperoni & Mushroom Pizza.
This one I really had the opportunity to use almost all Hannaford brand products, from the dough to the sauce to the toppings.
The Hannaford brand pizza sauce was really delicious. Unlike a lot of other bland pizza sauces I've tried, this one had lots of flavor, similar to a good pasta sauce with plenty of garlic and herbs to give it a nice tang. Definitely a recommended product to use at home.
Recipe follows!
Classic Pepperoni & Mushroom Pizza with Torn Basil
Ingredients:
1 Hannaford Pre-made Pizza Dough
1 Container Hannaford Pizza Sauce
1 Package Hannaford Pepperoni
1 4oz Package Hannaford Mushrooms
1 Ball Fresh Mozzarella
Drizzle Olive Oil
Salt and Pepper to taste
Fresh Basil
Instructions:
Preheat oven to 400 degrees. Roll out pizza dough on a floured surface at room temperature until it fits the size of your pan or pizza stone. Transfer dough to greased pan or pizza stone and add drizzle of olive oil on top of dough. Spoon pizza sauce on dough. Top with fresh mozzarella, pepperoni and mushrooms. Sprinkle with salt and pepper (to your liking.)
Pop in the oven for 15-20 minutes or until cheese is melted and dough is crispy and golden brown.
Once finished, remove from oven and top with fresh basil.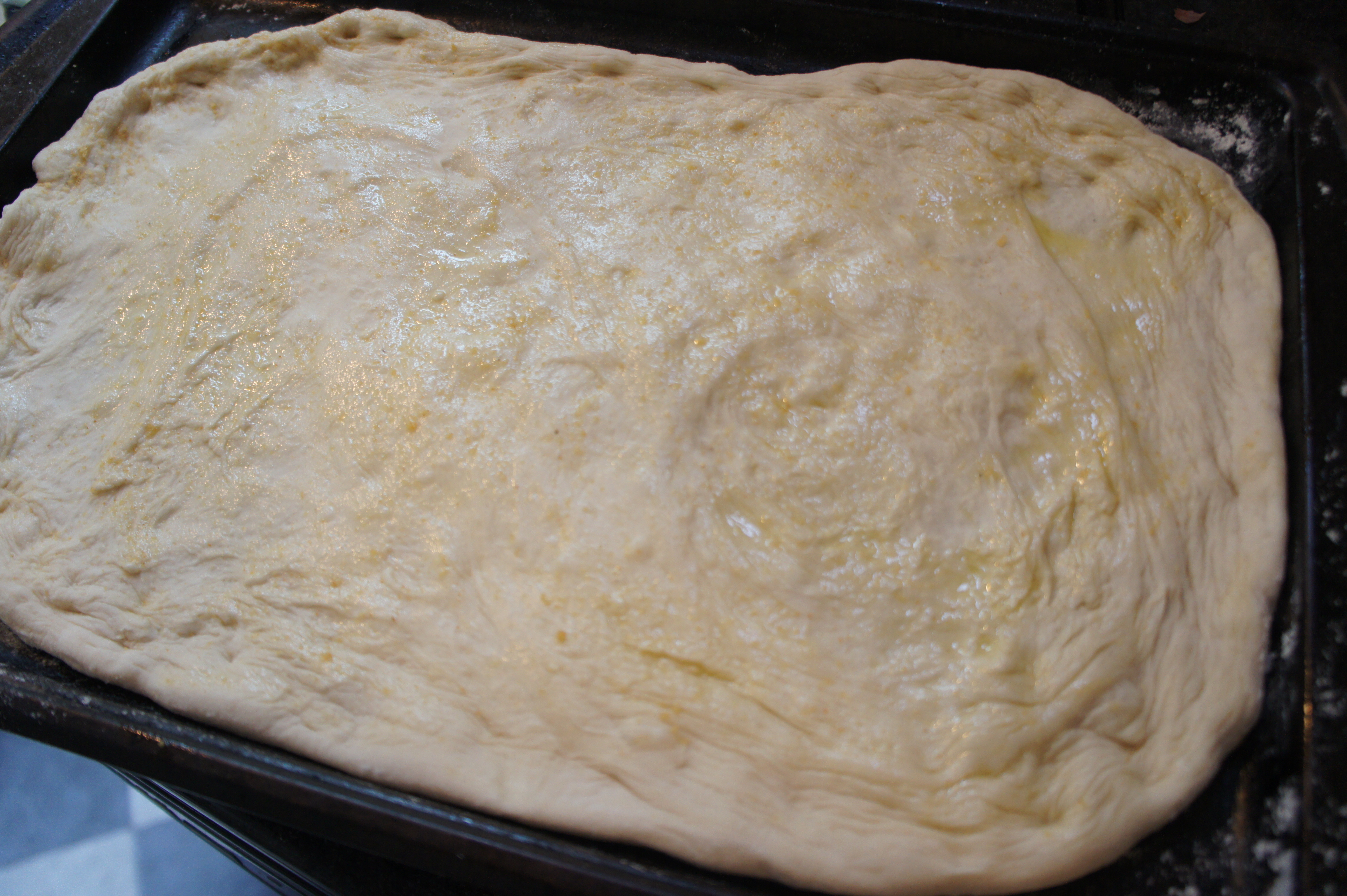 Charred Tomato and Burrata Pizza
*RECIPE FROM WHATSGABYCOOKING.COM –
INGREDIENTS
For the Pizza
1/2 pound pizza dough
2 cups fresh burrata cheese, torn
1/2 teaspoon crushed red pepper flakes
½ cup basil vinaigrette (recipe below)
1 cup charred cherry tomatoes (recipe below)
Maldon sea salt and freshly cracked black pepper
For the Charred Cherry Tomatoes
1 cup cherry tomatoes
2 garlic cloves, thinly sliced
1 shallot, thinly sliced
2 tablespoons extra-virgin olive oil
Salt and freshly ground pepper
For the Basil Vinaigrette
1/2 cup Basil Vinaigrette
INSTRUCTIONS
Preheat the broiler. In a medium baking dish, toss the cherry tomatoes with the garlic, shallot and olive oil and season with salt and pepper. Broil 6 inches from the heat for about 5 minutes, or until the tomatoes pop and brown lightly.
Preheat oven to 450 degrees F.
On a lightly floured surface roll the dough thin. Transfer to an oiled baking sheet, drizzle with olive oil. Bake 8-12 mins till golden. Remove from oven and top with the basil vinaigrette and fresh burrata and red pepper flakes. Let the burrata melt a bit before topping with the charred cherry tomatoes. Slice and serve immediately.
For sharing this amazing recipe, you are all welcome.
There you have it – two homemade pizzas, made with simple ingredients, for a great price. You try getting two pizzas with that many toppings for that price from a pizza place. NOT GONNA HAPPEN.
This fall, spend some time with the family or your significant other and give one of these homemade pizzas a try and take advantage of the low prices and great quality products listed above from Hannaford. You won't regret it, I promise.
*I received compensation in exchange for writing this review.