After giving away advice to a reader recently to make a visit to Max London's, I realized that it's been a REALLY long time since I've eaten there, and never reviewed their dinner service.
Because of this, I took the liberty of treating myself to dinner there and as usual, report back to all of you today!
So what is it about Max London's that's so alluring?
Farm to table
Relaxed, yet sophisticated atmosphere
Happy Hour Specials
Quality/creativity of food
As you all know, I love when restaurants make an effort to source their ingredients locally. Supporting local farms not only helps our local economy, but the quality of the produce is generally much better than what you'd gather from big grocery store.
I also love being able to go out to dinner on a whim, so having a place where I feel comfortable both dressed up or in jeans is stellar.
Happy hour is great, especially on the weekends when I'm feeling like getting my drank on. When restaurants offer happy hour specials on Saturdays, it makes me very happy.
Max London's offers happy hour from 3-6pm 7 days a week. Here's a little secret — they have ALL NIGHT happy hour on Sundays. Ohhhh yeah.
Finally, the quality and creativity of food is obviously an important factor in dining out. If I go somewhere and eat something that I could have easily made at home for a fraction of the price, it really irritates me.
I've never had a meal at Max London's that I could have easily made at home, regardless of whether it's brunch or dinner.
Now that we've gotten that out of the way, I want to chat about what I had to eat!
My favorite appetizer in town is found at Max London's – the Chickpea Polenta Fries ($9.50)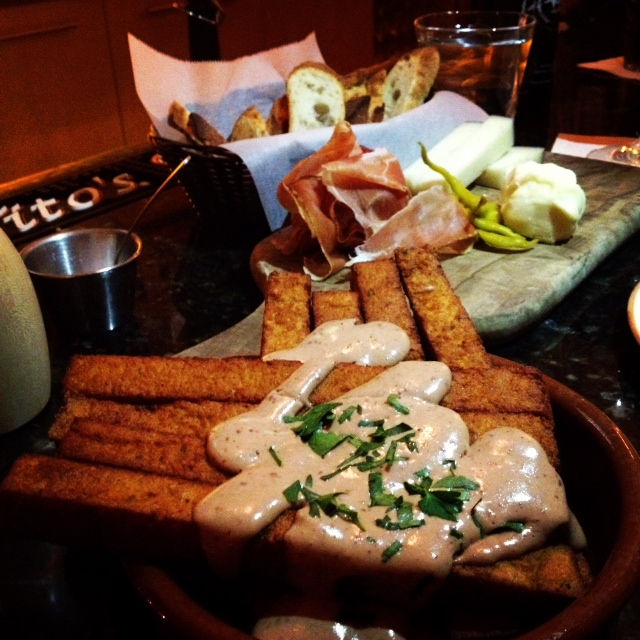 With a black olive aioli, these crispy little devils are the perfect way to start a meal. I also really appreciate polenta fries after a summer of cutting trays of cooled polenta into fries and understanding how annoying it is to do so. These rock.
I'm always interested to try carpaccio at different restaurants, and knowing that Chianti reigns supreme in my mind for it, I added it to my tab here.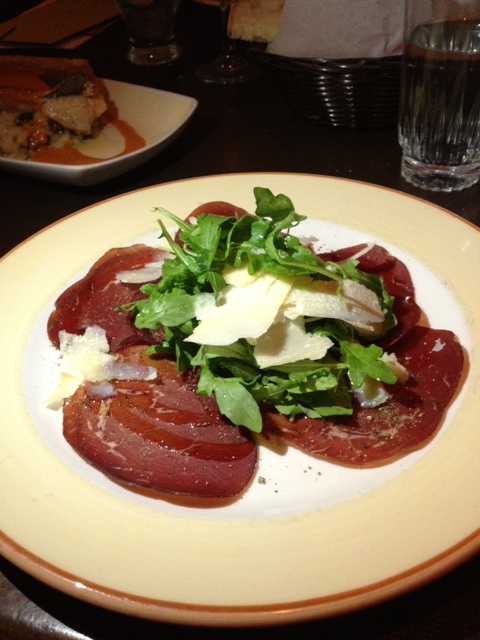 When they brought it over, I was a little surprised to see that it was cooked, as it's normally raw and cold. Although they do specify on the menu that they prepare it with dry cured beef, I wasn't overly impressed with this choice. The flavors fell flat with this one, and I don't think I'd order it again.
Since they change up their menu almost on a constant basis, for my entree I got the seafood special – an Arctic Char on a bed of cauliflower and spinach risotto.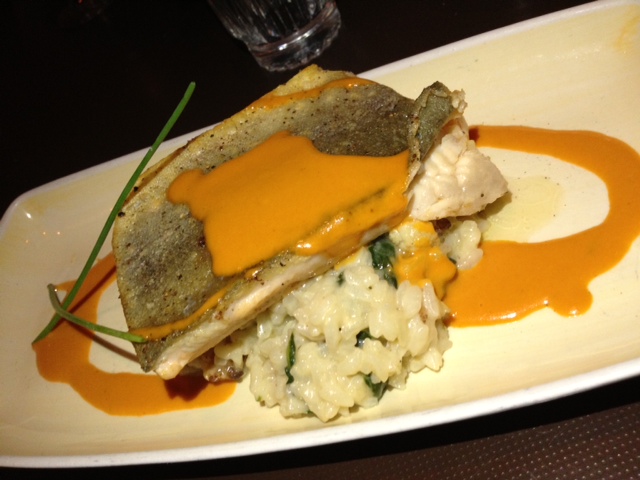 The risotto was perfect. Creamy, just enough salt, and what really got me was that the flavor of the cauliflower was very prevalent in this dish.
The fish was tender and juicy, cooked really nicely and paired with the sauce, the components of the dish were all there. If this was a regular menu item, I'd definitely order it on a regular basis.
Overall, I'm always pretty happy with my experience at Max London's, and this time was no different. Aside from the carpaccio, everything was fantastic, and it's absolutely worth a try if you've never been.
If you have been to Max London's, what's your favorite menu item or special you've ever had at Max London's?