Contrary to popular belief, healthy food doesn't have to sacrifice taste.
9 Miles East, located at 64 Excelsior Ave in Saratoga, has no issue proving that philosophy to be true, with a health-focused menu that is bursting with flavor.
Open 7 days a week from 7am-10pm, they're serving up everything from breakfast sandwiches and chia pudding (in the am) to dinner entrees like Schuylerville Hot Chicken and Grass-Fed Skirt Steak with chimichurri.
For those who aren't ready to eat indoors, they've got you covered. Their outdoor dining area is totally open and airy, which makes a paranoid person like myself feel comfortable.
During our visit, we kicked things off with the Appetizer Platter, which is a curated selection that's plated for sharing ($9 for one, $8 pp for two or three people, $7 pp for four or more.)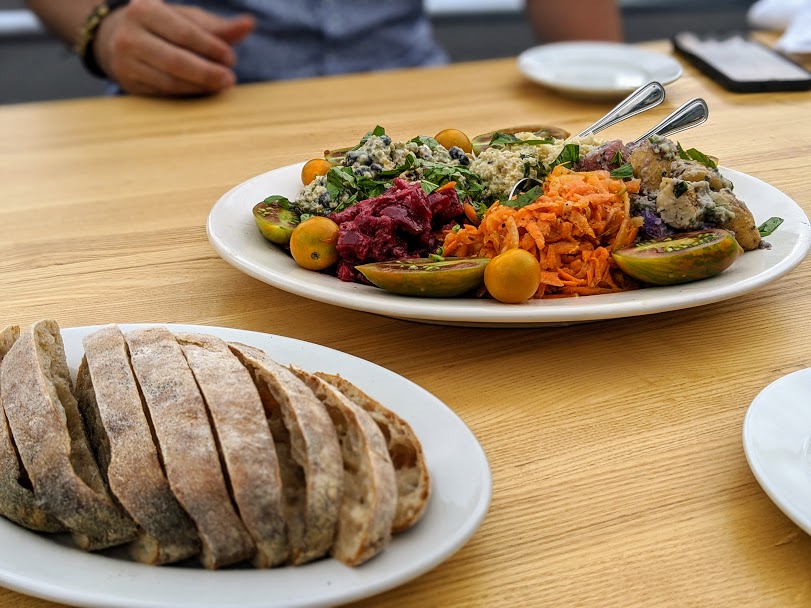 The platter also came with their house-baked sourdough, which was just perfect. FYI – I'm a sucker for good bread, and will eat it all.
Next up, we tried the Scandinavian Poke Bowl, with local Steelhead salmon and a dill vinaigrette.
This. was. amazing. The tangy vinaigrette paired so nicely with the salmon to create delicious bites with or without the accompanying bread. If you like salmon and you like mustard/dill, GET THIS.
Now on to the meats!
Both the Schuylerville Hot Chicken and Herb Pesto Chicken were served over a garlic mashed root vegetable that I could eat tubs of for the rest of my life.
Both types of chicken were exceptionally moist (yeah, I said it!) and juicy. If you don't like spicy food, I'd steer clear of the hot chicken, but just know that it's not overwhelmingly spicy.
The herb pesto is also delightful, and sometimes they have it available in the grab-and-go section of their restaurant!
Finally, we tried the Grass-fed Skirt Steak, topped with house-made chimichurri, and sauteed root vegetables.
Personally, you can put chimichurri on anything and I will eat it, but on a beautifully cooked skirt steak, I was in heaven. Thinking about it just makes my mouth water all over again.
Also, the sauteed root vegetables were so very good, it makes you forget entirely that you're eating something that's healthy.
And for dessert?! We tried a few of their baked goods (pictured below!)
These were all great, but those brownies were my favorite. They were rich without being TOO rich, moist and gooey, and not overly sweet. In fact, none of the desserts were too sweet, utilizing ingredients like dates and fresh fruit to add natural sweetness.
Whether you're a breakfast person or prefer grabbing dinner out, 9 Miles East offers the perfect variety of health-conscious menu items with flavors that'll blow your mind.