I don't get out of Saratoga nearly as much as I should, but when I got the invitation to visit Creo' and sit down with the new executive chef, I jumped at the opportunity.
Creo' is located in Stuyvesant Plaza in Albany, NY, and prior to this week, I had only visited the restaurant once about two years ago for lunch.
The interior is really unique, with really cool lighting throughout, and a middle dining section that's separated from the others by bright and bold greenery.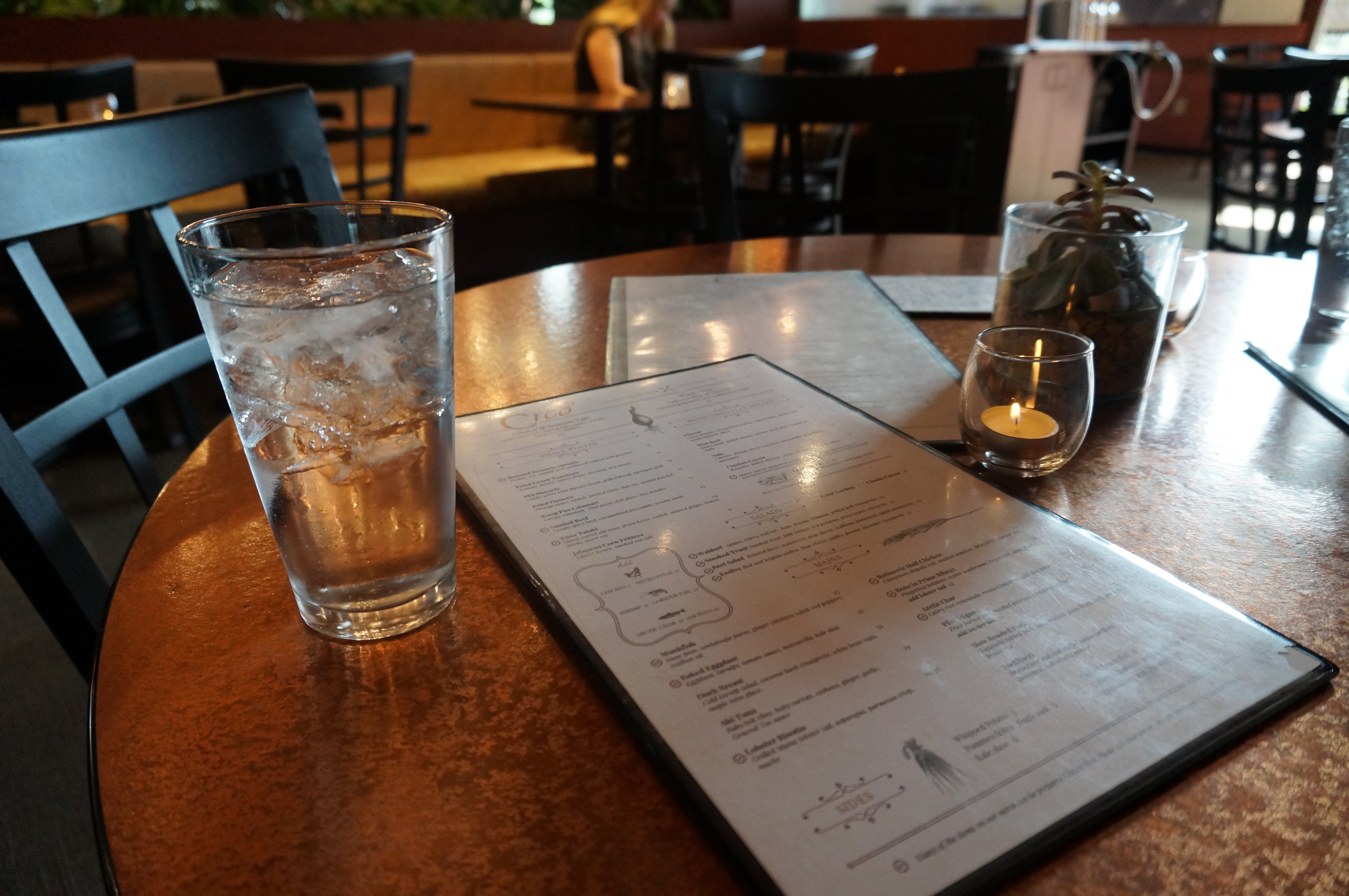 The new chef, Eric Sell, might sound familiar to you Saratogians, as he was once the executive chef at Javier's. Sadly, as Javier's closed, Sell found his place in Albany as a Sous Chef at Creo' in Albany. Ultimately, his talents shined through, becoming Executive Chef in just a few short months.
Having the opportunity to sit down and chat with Chef Sell, I learned all about his background and story. After growing up in Hong Kong, Sell is all about experimenting in the kitchen and trying to come up with unique dishes that push the limits and entice diners.
And it's that experience that helped him craft this new seasonal menu, which features both new creations of his own as well as keeping some of the menu favorites from frequent patrons.
As far me, I started with two appetizers, the Lobster and Avocado Tart and the Kung Pao Calamari.
Lobster and Avocado Tart – crispy lobster tail, creamed leeks, tomato, avocado, and mango honey mustard ($22)
Yaaaasssss this tart deserves to be a staple at this restaurant. First of all, presentation is beautiful.
Second of all, that fried lobster, man. You look at it and it kind of resembles a fried chicken tender. When you cut in, instead you find a delicate piece of fish. Frying preserved the juices within the lobster, which only made this experience better.
You get crunch from the breading, softness from the lobster, and then a creaminess when you get a bite with avocado.
Yowzas… and then add the buttery tart and that mango honey mustard? Amen.
Kung Pao Calamari – crispy calamari, tossed with a Thai sweet chili glaze ($12)
I do recall having this the first (and last) time I was at Creo', and there's definitely a reason it's still on the menu. I love any calamari with a kick, and this certainly had it. While I'd say that it was still more on the sweet side, you can still pick up a little punch with the chili flakes sprinkled throughout.
Ahi Tuna – baby bok choy, baby carrots, cashews, ginger, garlic, General Tso sauce ($29)
If you're into the Asian flair, this ahi tuna dish should be right up your alley. Not only was the tuna perfectly cooked, but the vegetables were just plain good.
You see the words General Tso sauce and you think of that thick, sugary sweet sauce you get with chinese take out. Nope, not at Creo'. The sauce was subtle, yet satisfying, and just lightly covered the vegetables to add just a touch of sweetness.
Rotisserie Half Chicken – cinnamon chipotle rub, garlic Parmesan whipped potato, broccolini, apricot chicken jus ($22)
After the first bite, I tried to convince Tim into us getting a rotisserie for our kitchen. Unfortunately, he shot my idea down, but I'm telling you guys… that rotisserie makes a HUGE difference with chicken.
Don't get me wrong – there are definitely places in Saratoga where you can get a really nicely cooked chicken (The Wine Bar & The Brook Tavern), but a rotisserie chicken is like a different ball park.
Okay so I contemplated bringing this up, but it must be done.
If you ever had Boston Market as a kid, you know how that juicy, fall off the bone chicken tastes like. This chicken was reminiscent of those childhood experiences, but elevated like 1,000%. Not only was the cooking method on point, but the cinnamon chipotle rub was off the charts. The cinnamon came through the skin and into the meat of the chicken, and it offered a warm, yet bold flavor that you don't often get with chicken.
In addition to Chef Sell, Creo' also recently brought on a new pastry chef, so of course I had to do my due diligence and try some desserts.
This here is the chef's take on a classic s'more, with a dense, brownie-like cake accompanied by torched melted marshmallow, finished with a graham cracker dust.
Honestly, the meal itself was phenomenal, but this dessert was the kind of dessert that literally just makes you giggle. The first bite sent me straight into my happy place, and nothing could change that.
The chocolate cake was so concentrated, just like a thick piece of chocolate that you stick into a s'more. Dipped in the marshmallow, it was so dreamy. The chocolate cake kind of melted in my mouth as well as my tastebuds, but because it was more of a darker chocolate, it worked really well with the sweet, creamy marshmallow.
If you dream about s'mores in the summer, I'm telling you right now this will change your perspective on the whole s'more situation.
I don't think I could have asked for a better experience at Creo'. From the incredibly kind waitstaff to the quality of food put in front of me, it's definitely a place worth the trip from Saratoga. Wishing the best of luck to Chef Sell and I can't wait to return for some more of that chicken!
To learn more about Creo', visit their website here: http://creorestaurant.com/