There's no better meal better than brunch. Brunch can include food items that you'd normally have for breakfast, combined with anything you'd regularly have for lunch or dinner.
I don't care what you say… it's the best meal ever!
When I recently had the opportunity to visit Creo' to try their brunch menu, of course I got excited.
As some of you might recall, I wrote about my experience at Creo' several months ago when I had dinner there, and my mouth is still watering over that cinnamon spiced rotisserie chicken I consumed.
This time around, my focus was more on eggs and potatoes as opposed to chicken and calamari.
So let's get right into it. I ordered like a beast and requested Wood Fired Farmers Eggs, Tostadas, Wood Fired Frittata, and Corned Beef Hash.
First, the Wood Fired Farmers Eggs ($14) – 2 eggs baked in marinara, grilled bread
Eggs in purgatory, shakshuka, or whatever you might call this dish, eggs baked in marinara sauce is the bomb.
I'm not sure why I've never had eggs this way, but it's next level. The savory combination of acid and creaminess from the yolk really works together and makes for an excellent breakfast. Simple and satisfying.
Tostadas ($14) – over easy eggs, chorizo, crispy corn tortilla, cheddar cheese, salsa roja
Oh hello, beautiful. One of the best brunch foods I've ever had? Yupp. I said it. Everything about this screamed perfection in my mouth. The salsa roja had a nice kick to it, which was easily extinguished by the sour cream. The many many textures on the plate fulfilled all of my needs, with lots of crunch to keep my jaw working.
The yolks poured onto the plate upon inserting the fork to create a creamy bath to dip the crunchy, salty tortillas in.
You MUST get this for yourself.
Wood Fired Frittata ($12) – truffled mushrooms, asparagus, goat cheese, arugula, pickled red onions
This frittata was definitely more of a lighter and fresher option on the brunch menu. I liked the arugula on top as well as the pickled onions which added some acid to the relatively mellow flavors baked in the eggs. The truffled mushrooms didn't come through quite like I had anticipated, so if you're ordering this just for the truffled mushrooms, you might want to consider something else.
Corned Beef Hash ($15) – house corned beef, peppers, onions, potatoes, over easy eggs, balsamic cherry ketchup
While I'd still categorize this as a hash, I would say it's a different take on a traditional hash. It definitely gave me the potato fix I was looking for, with a southwestern flair.
And then, there was dessert. Dessert for brunch? In this case, YES.
Behold, the Apple Wellington –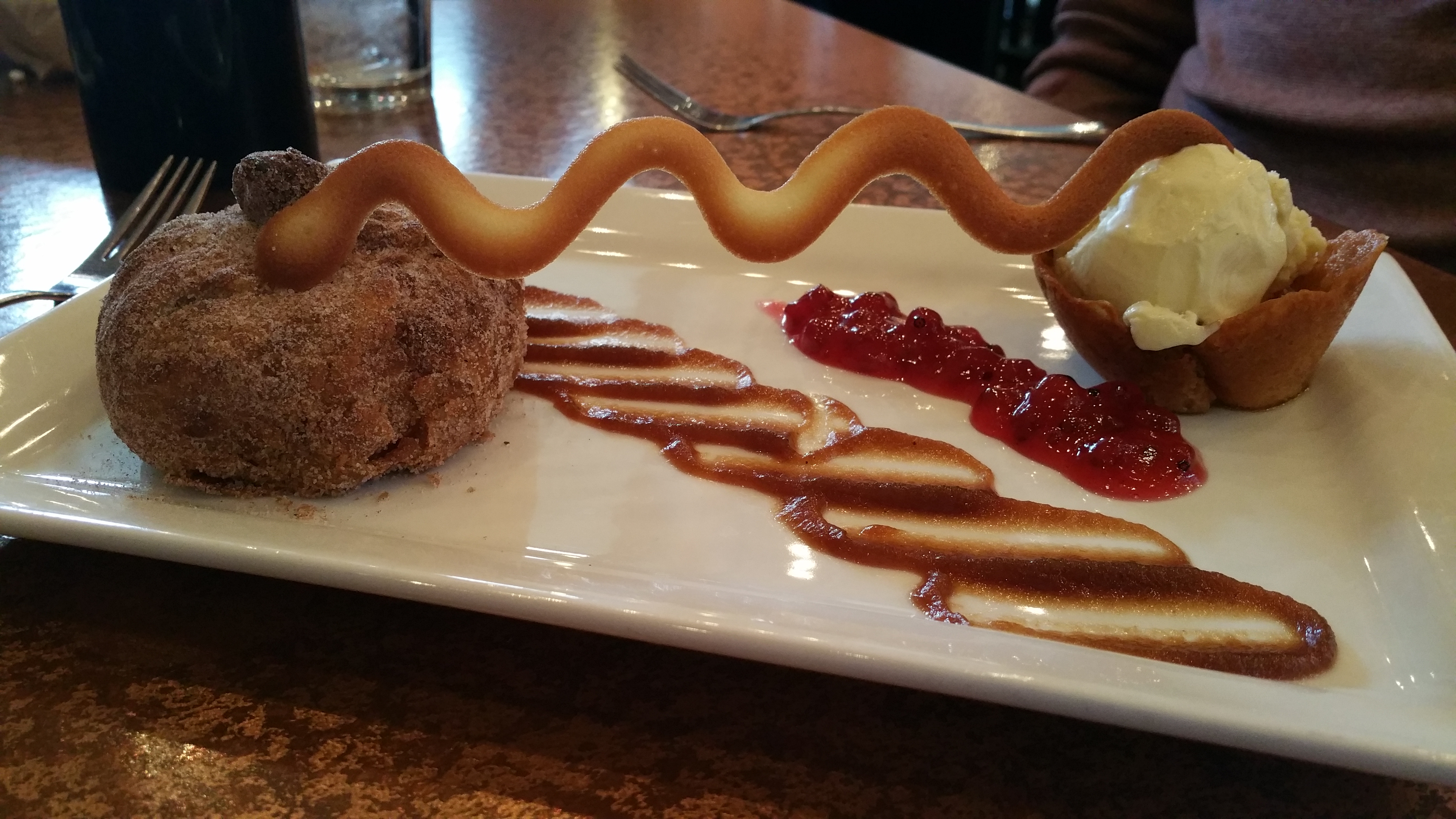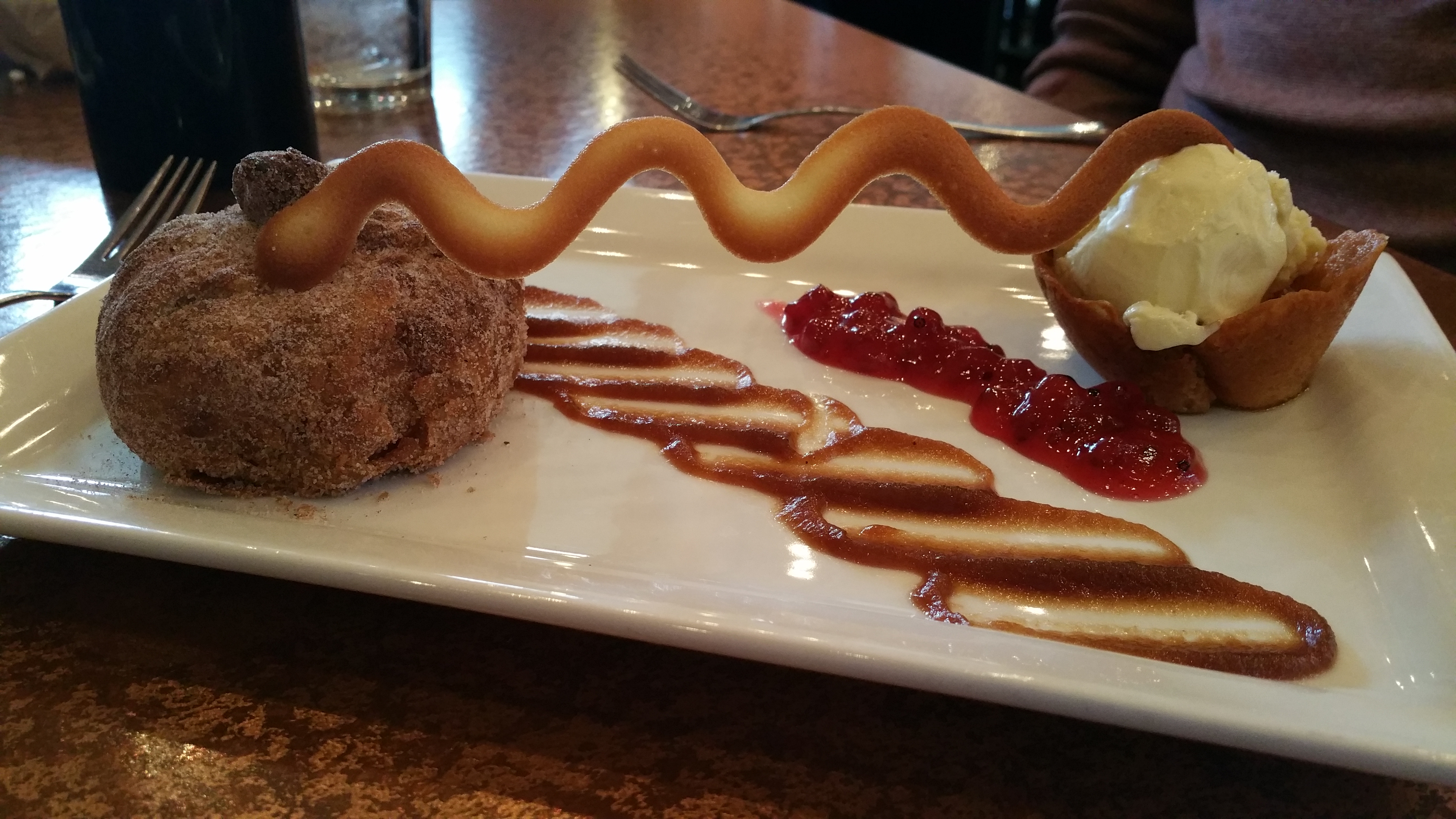 Just when I thought I couldn't fit another single thing in my stomach, this was brought out.
Holy crap. This is the second time I've been blown away by the pastry chef at Creo'. This apple wellington BLEW MY MIND.
It was so incredibly soft and super light. It actually reminded me of a zeppole made with ricotta, resembling that light as a feather texture in the center. The simple dusting of cinnamon sugar was the perfect addition of sweetness, but that pomegranate jam? Life changing. Need to jar that up and put it on everything I eat.
Believe it or not, after all of the other food you saw above, I still managed to finish this dessert.
They basically needed to roll us out of the restaurant, but that's okay, because it's a meal I'll be thinking about well into the new year.
If you haven't been to Creo' recently for brunch or dinner, I highly recommend getting your butt out there. And for all you Saratogians, I promise it's worth the 35 minute drive. Just consider a designated driver for when you're in a serious food coma for the drive home. Just saying.