I know it's unusual for me to do a preview for something in Schenectady, but every once in a while there's a restaurant that's worth recognition.
I'm sure many of you are familiar with Old Daley Catering, which is the exclusive caterer at Saratoga Polo. They also have a beautiful event/wedding venue at Crooked Lake.
I have to say, I'm never 100% sure what a blogger tasting is going to be like. I've been to a lot, and they're all different. Some are great, some not so much.
Well this one I went to last week to taste some of the menu items that'll be offered at Old Daley's newest venture, Daley's On Yates, was by far the best I've ever been to.
Here's why.
To kick things off, we started with some of their specialty cocktails: The Cucumber Refresher and the Fuzzy Bulleit. Both incredibly refreshing, both equally delicious.
The cucumber refresher was crop organic cucumber vodka, muddled cucumber, splash of St. Germaine, topped with club soda. Talk about the perfect summer drink! I could sip this mixture alllll day long.
The Fuzzy Bulleit was of course, made with bulleit bourbon, fresh ginger, peach puree and topped with a splash of prosecco. It was the perfect fall cocktail, especially for bourbon lovers.
While we mingled and sipped our drinks, there was a table full of amazing appetizers.
Pictured below is the artisanal cheese & charcuterie board, filled with all natural locally crafted tuscan cured meats and fine cheeses, mediterranean olives, and marcona almonds. Well, and you can't forget the grilled bread.
There was also a surf and turf carpaccio and an edamame and radish crostini.
The surf and turf carpaccio was SUCH an interesting take on the traditional carpaccio, made with CAB tenderloin, ahi tuna, caper berries, haricot vert, mediterranean olives and chimichurri. Love love loved it. They were split down the middle, so you could take one bite of the tenderloin, and then a bite of the ahi tuna separately.
Once we were seated, we started with the first course: Black + Blue Salad.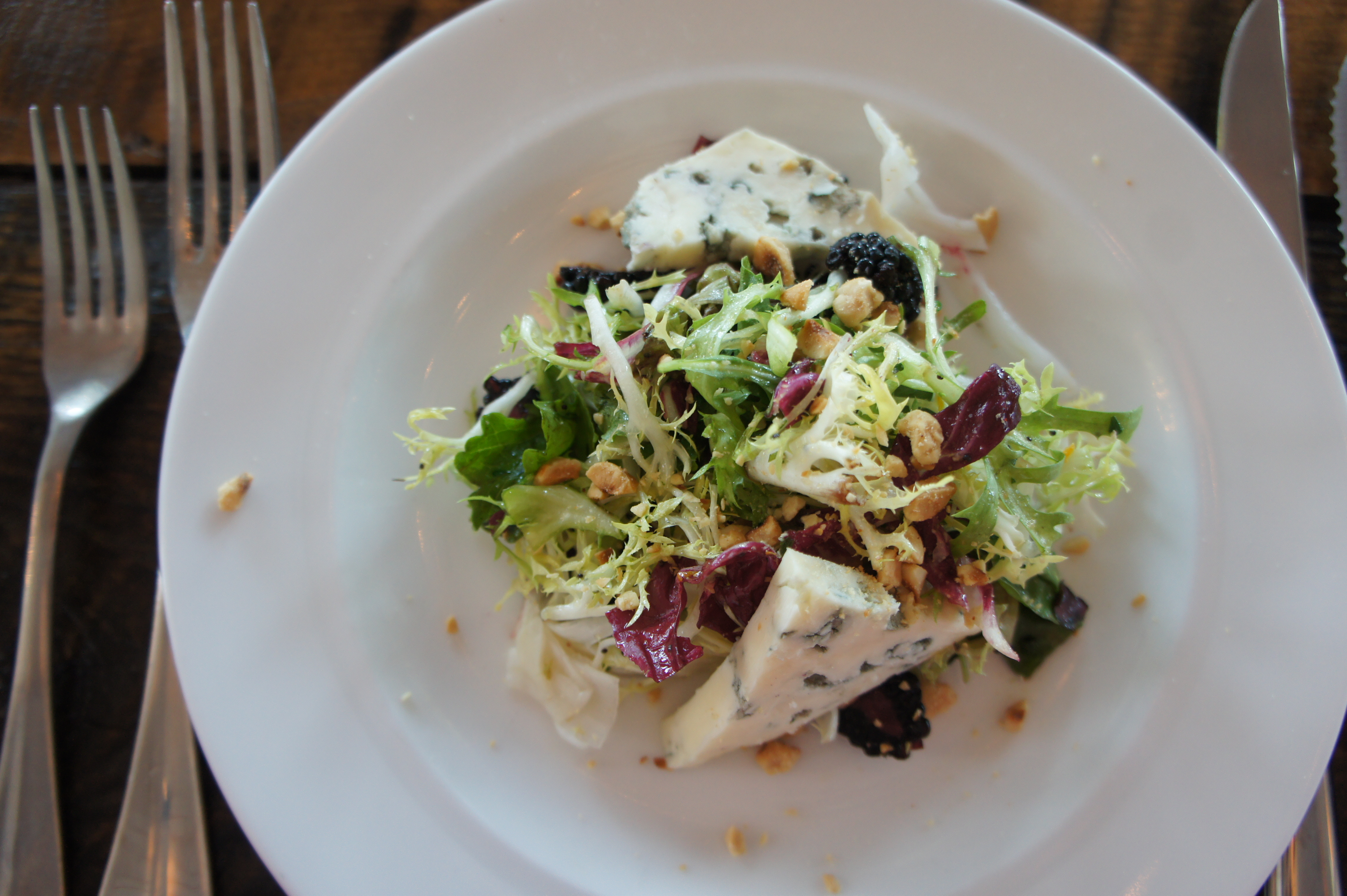 Prepared with gorgonzola dolce, blackberries, arcadian greens, toasted hazelnuts and an orange poppy citronette, this salad had a great balance of flavors. Plus, can you ever hate on a salad with an enormous chunk of gorgonzola on it? I think not.
The second starter they served was the Four Cheese Eggplant.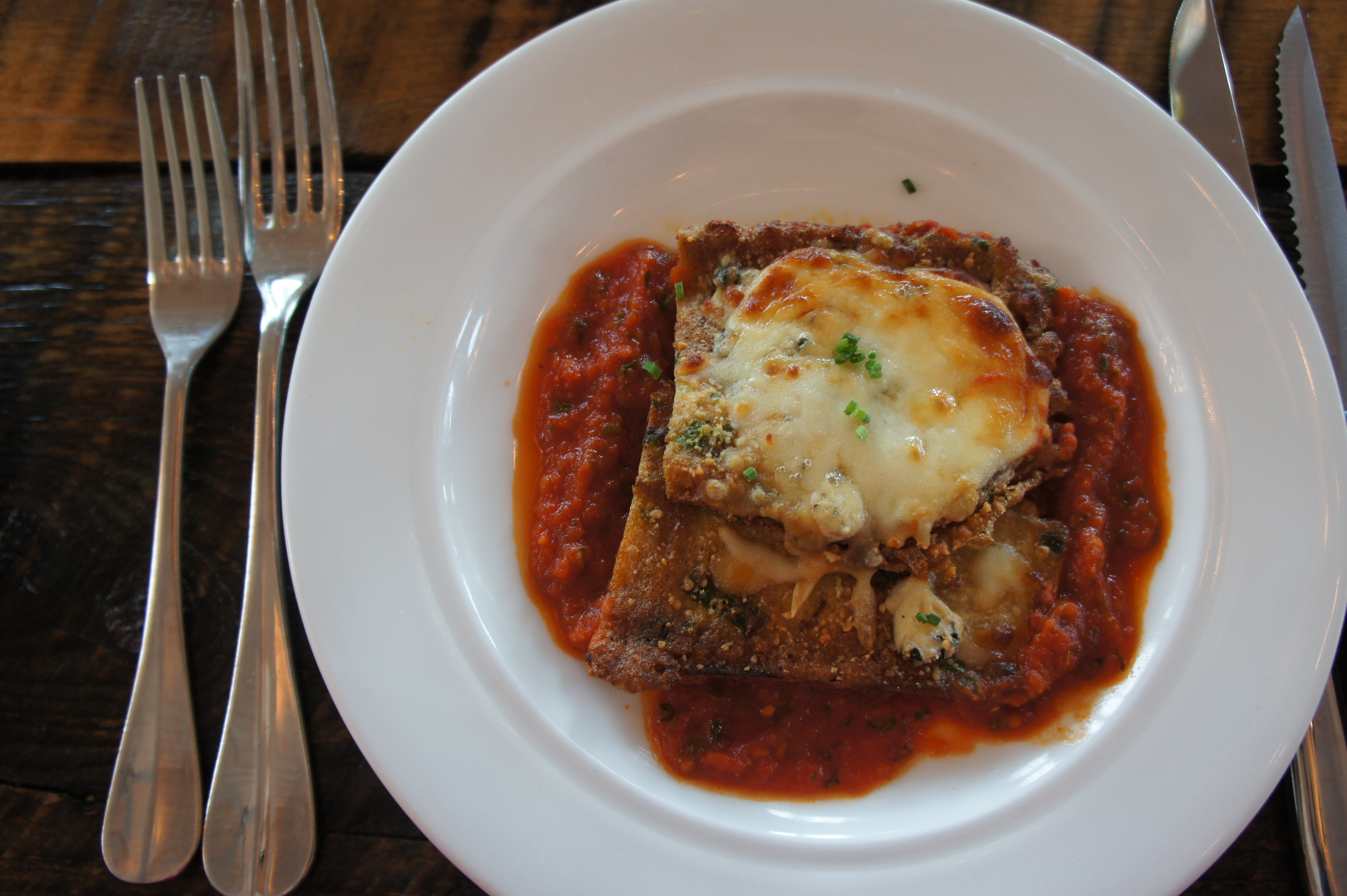 Hellooooo healthy portion of eggplant. This honestly looks like it could be a full meal, but it is one of their starters. It's made with lightly breaded and fried eggplant, smoked gruyere, pecorino romano, gorgonzola and pomodoro.
Moving into our main courses, we sampled four of the entrees they'll have on the menu.
First, the NY Strip Steak.
Oh my, just looking at these and remembering gives me butterflies.
The CAB-certified angus beef was accompanied by a gorgonzola butter (which you see above) or a selection of their signature sauces, including a bordelaise, hunter, financiere, and robert.
The steak itself was served medium rare and it was PERFECT. I'm such a picky eater when it comes to steak because it's one of those things that's hard to mess up. If you do your research before cooking and know what to look for and how to feel for the right cooking temperature, you're golden.
So when they put out this steak and it was perfectly cooked, I melted a little.
Anyway, we got to try the steak with ALL of the different sauces, and holy moly was I in a food coma after that. They were all so great and unique in their own way, and an awesome selection for any palate. My personal favorite was the robert sauce, which was a white wine demi-glace. Added the perfect accompanying flavors without overpowering the steak.
Next up: Faroe Island Salmon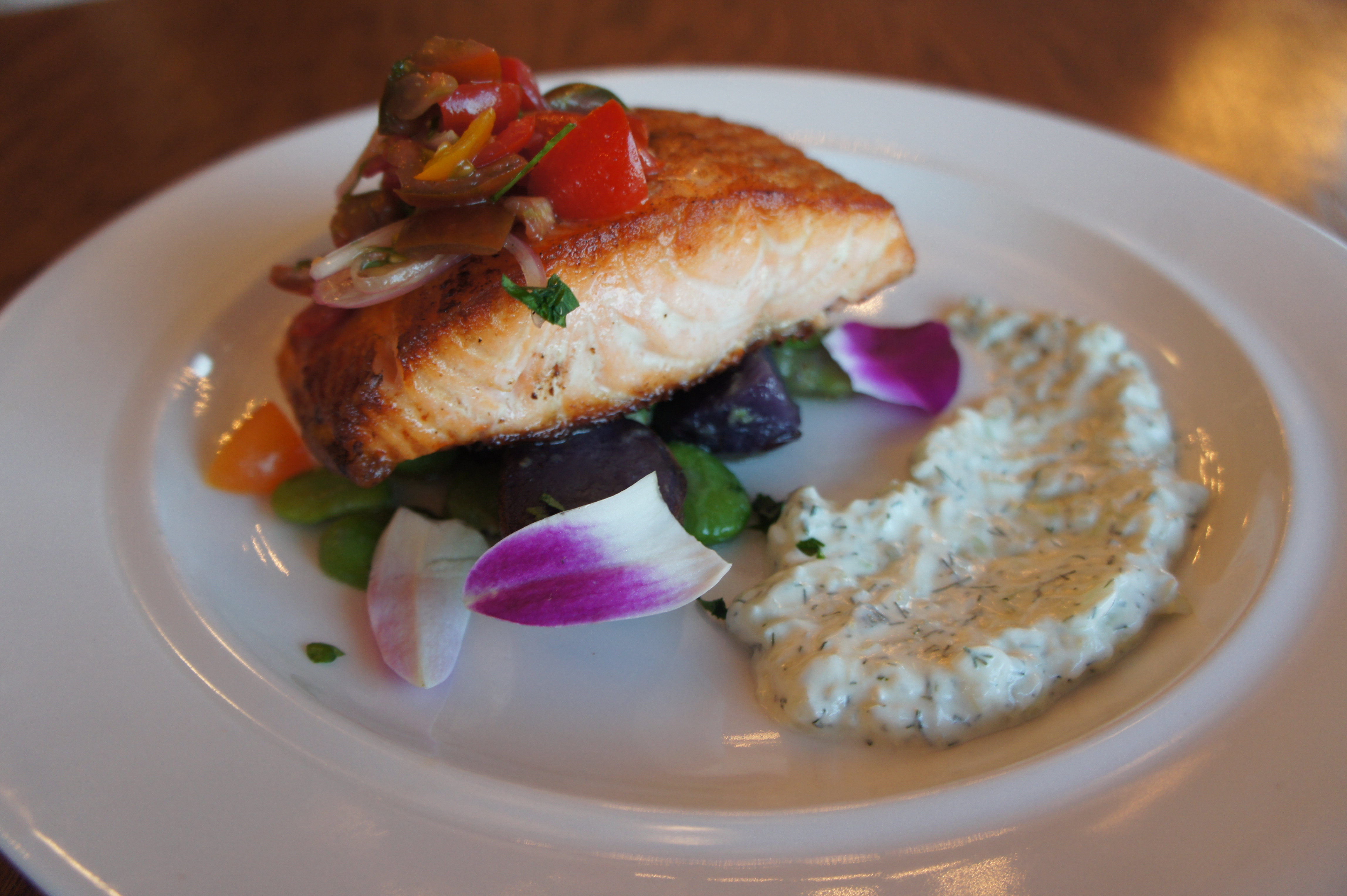 Made with petite tri-color potatoes, tomato and basil salad, brown butter edamame beans, and a dill raita. That tomato and basil salad on top of the salmon provided some acidity to the dish to compliment the fish, but the real star of this was the dill raita. I could have brought that home and eaten it with practically everything.
Two more entrees to go!
The Herb Crusted Organic Chicken Thighs, which consisted of confit cherry tomatoes, bacon, castelvetrano jus with garlic mashed potatoes is comfort food to the extreme.
Imagine eating all of this food, and still making room for more than half of this dish. It was absurd, but so delicious. Definitely an indulgent menu item, but I could totally imagine eating this on a cold day in the winter and feeling like a million bucks after.
Finally, the White Water Mussels and Crab Americana, prepared with fettuccine, cognac lobster bisque, and tarragon butter.
I'm a big mussels fan, and these mussels definitely hit the spot. My one suggestion with this dish was to perhaps change out the pasta, because the fettuccine felt a bit too heavy with the delicacy of the mussels. But then again, I also ate like 3,000 calories worth of food prior to eating this, so that could have had something to do with it.
Just when you think we're done, we're not. Two desserts hit the table and I almost hit the floor.
At this point the sun had clearly set and I was doing my best to take quality pictures, but these are the best I got. The dessert on the left is a Molten Lava Cake and on the right is a Lemon Blueberry Cake.
As much as I'd love to talk about the lemon blueberry cake which was really sweet and a good dessert for sugar lovers everywhere, the molten lava cake was my everything.
The worst part about it was how small it was. And that's not the real portion size (FYI) when you order it at their restaurant.
This molten lava cake was everything I love about chocolate in a small serving dish. If I could have one dessert for the rest of my life, this would be it hands down. Best thing I've eaten this year? Yes.
Executive Chef Elliot Vogel, a CIA grad, is one SUPER talented guy. To be able to prepare this food for all of us so flawlessly was incredibly impressive. Like every single dish was stellar. That's a great indication for what you should expect when the restaurant opens.
Speaking of opening, they don't have a definitive date set yet, but they're looking at Fall 2017 (so… soon!) to be open to the public. They'll be serving dinner Wednesday-Saturday, with brunch on Sundays. The restaurant will be located at 10 Yates Street, Schenectady, NY 12305.
Again, I know you guys don't typically come here to learn about restaurants in Schenectady, but I can guarantee you that this trip will be well worth it once they're open!
To keep up-to-date with what's happening, visit the website or like them on Facebook.