**GUEST BLOG POST by Tim Schmidt:
I am what some affectionately call a curmudgeon.  That does not mean that I am picky when it comes to eating, I will eat just about anything, but it does mean that I am very selective in what I rave about.  So it may come as odd that one of the foods I most often and passionately boast about is a hot dog.  In fact, I feel as though calling this specific hot dog a hot dog just isn't right because all of those other wieners that we refer to as "hot dogs" have sullied that good name.
Growing up in Central New York, there were few things that resonated with summer time like a Hofmann hot dog, also known as a German Frank.  Now I know what you're thinking, "Hot dogs? From Central New York?" But this is Saratoga Food Fanatic, and I believe it's my civic duty to introduce all of you sorry saps that have not had the pleasure of biting into a Hofmann Hot Dog to this summer's real blockbuster.  For the first time, Hofmanns, hailing from Syracuse, are now available in Saratoga and throughout the Capitol Region.  Trust me readers, this is a BIG deal, everything you have ever thought about a hot dog will be completely revolutionized by this development!
If you think I'm making too big of a deal about a new hot dog brand in the area  then you clearly have never sunk your teeth into the natural casing of a Hofmann and have only eaten the over processed tastes of Ball Park Franks, and that is just bologna. HA!  Hofmanns, as I said, are made with a natural casing, and inside that snappy goodness is an actual meat taste, because get this – their actually made with real meat! That's right, pork, veal and beef make up 98% of what is inside of a Hofmann, all that other stuff just accounts for 2%.  Now compare that to your Nathans, well actually don't, it may make you sick.
With a Hofmann you can actually taste how natural the ingredients are.  You taste meat, not salts and overly processed flavors.  Pretty soon your grill and your mouth will have a new best friend, and burgers will have a life-long partner at all of your cookouts, because once you try a Hofmann there is no going back to those other hot dogs, and I use that term loosely.
Now do yourself a favor and buy the big packs as pictured below, don't buy the shrink pack, that's just a rookie mistake as the flavor is not at all the same, you're just doing yourself and every single one of your taste buds a disservice if you go with the shrink wrap pack.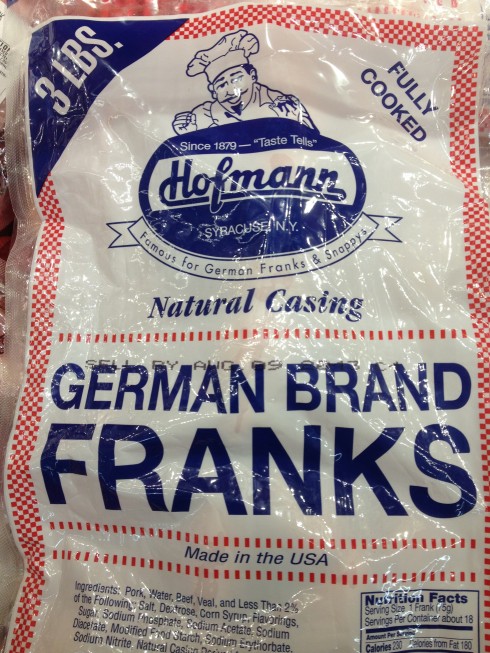 I like my Hofmanns with nothing but yellow mustard, sometimes I may get crazy and throw some relish on it, but to be honest the less you put on a Hofmann the more taste you get out of it.  But no matter what you put on it, understand that it will be a hot dog experience like you have never had before.  They may be called German Franks, but they taste 100% American, and soon they will go hand in hand with summer time for you just like baseball and Crackerjacks.  Happy National Hot Dog Day, America!