Anyone who knows me knows that I love one thing about the weekend… brunch.
Even though I enjoy making myself breakfast at home, on the weekends I'd just prefer to have someone else do it for me as I sip on a bloody mary and make lists in my head of all the things I want to accomplish over the next 48 hours.
For whatever reason, The Local was calling my name on Sunday, so we headed over there for brunch and drinks.
I used to love going to The Local for brunch when I lived right in town. It was convenient, usually somewhere we could get into pretty quickly, and the bloody mary's are some of the best in town.
But it's been well over a year since we've been there, and it was definitely time.
Moving on… I ordered a bloody mary and was pleasantly surprised to find that they switched over to paper straws. Yupp, I'll throw it out there – I'm definitely on board with paper straws over plastic.
As far as breakfast options, I have always found The Local to have a pretty decent selection of breakfast foods. From your simple eggs and toast to irish eggs benedict and corned beef hash, they have a little Irish flair on a lot of their menu items.
For me, I have always LOVED their ciabatta, and when I saw the Mushroom Tartine, (2 eggs, any style, over sautéed mushrooms on ciabatta, ale mustard cheese sauce, tomato & scallions) I couldn't deny myself from it.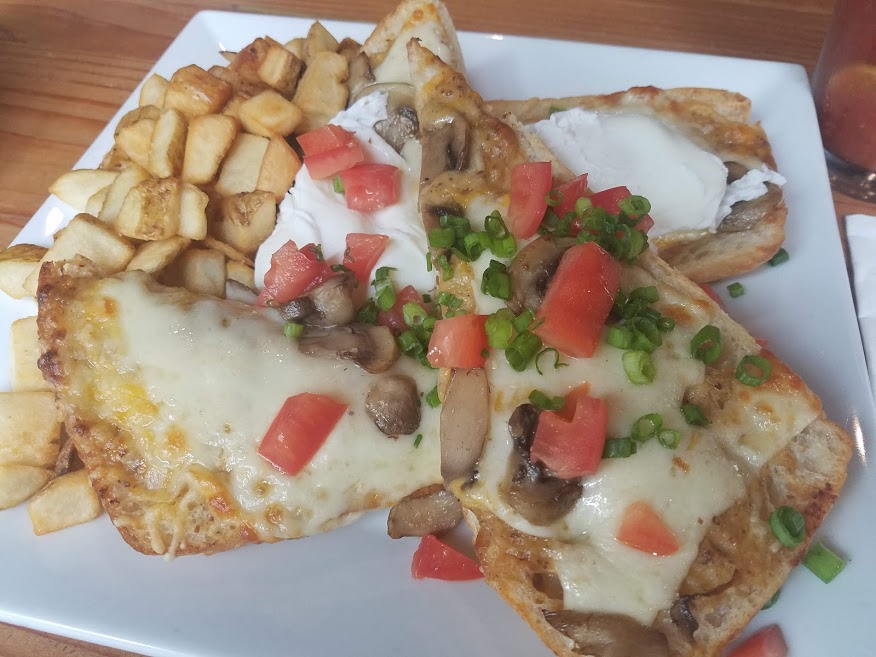 That mustard ale cheese sauce is a sharp, tangy partner to the meaty, earthy flavors of the sauteed mushrooms. The ciabatta is broiled to a crisp and the fresh green onion and cold diced tomatoes add a nice bright contrast to the heat of the bread & cheese.
I chose to have my eggs poached, and I feel like it was a solid call. In this type of breakfast, I really want an egg primarily for the yolk, so the poached egg approach gave me exactly what I was looking for.
If you're looking for a solid way to start the day, The Local is a great option for brunch. And don't forget – the bloody mary's are worth the trip alone.
Okay okay, one more thing. The Local just opened a cafe in the entrance of their restaurant for quick breakfast sandwiches and they're featuring Kru Coffee. This is awesome news!