When a new restaurant opens in Saratoga or anywhere in the area, I usually try to get there within the first 2 weeks of their opening.
Very often I find that when I do this, the business is still working out the kinks and the experience is generally disappointing.
Sweet Mimi's was no exception to this, as I visited them their second week of operating, and without question they were still working on training the staff, dealing with the pressure of a busy kitchen and a packed dining room.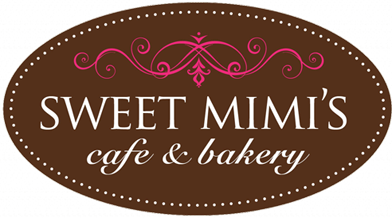 I've found in the past that a month is usually what a business needs to get to smooth sailing, and then are optimal for a fair review.
With that said, I visited Sweet Mimi's for breakfast (or a late lunch) after an early morning workout this week, when I knew I'd be hungry and my taste buds would be at their peak.
It was a little slower than the last time I was here, being that it was the Monday before New Year's, and people were either still on vacation or staying out of the freezing cold weather we've had all week.
We sat down and were immediately greeted by a lovely waitress, who was quick to bring us our coffee and water.
Let's talk about the coffee here real quick. After I tasted it, it was one of those moments where you think woah… that's a really good cup of coffee.
It took very little sugar or milk to be exactly the way I like it, which is pretty unusual. I mean, most restaurants offer coffee that's fine, but not many are so good you'd go back specifically for the coffee (besides Good Morning Cafe).
After that sip, I noticed a note on the table: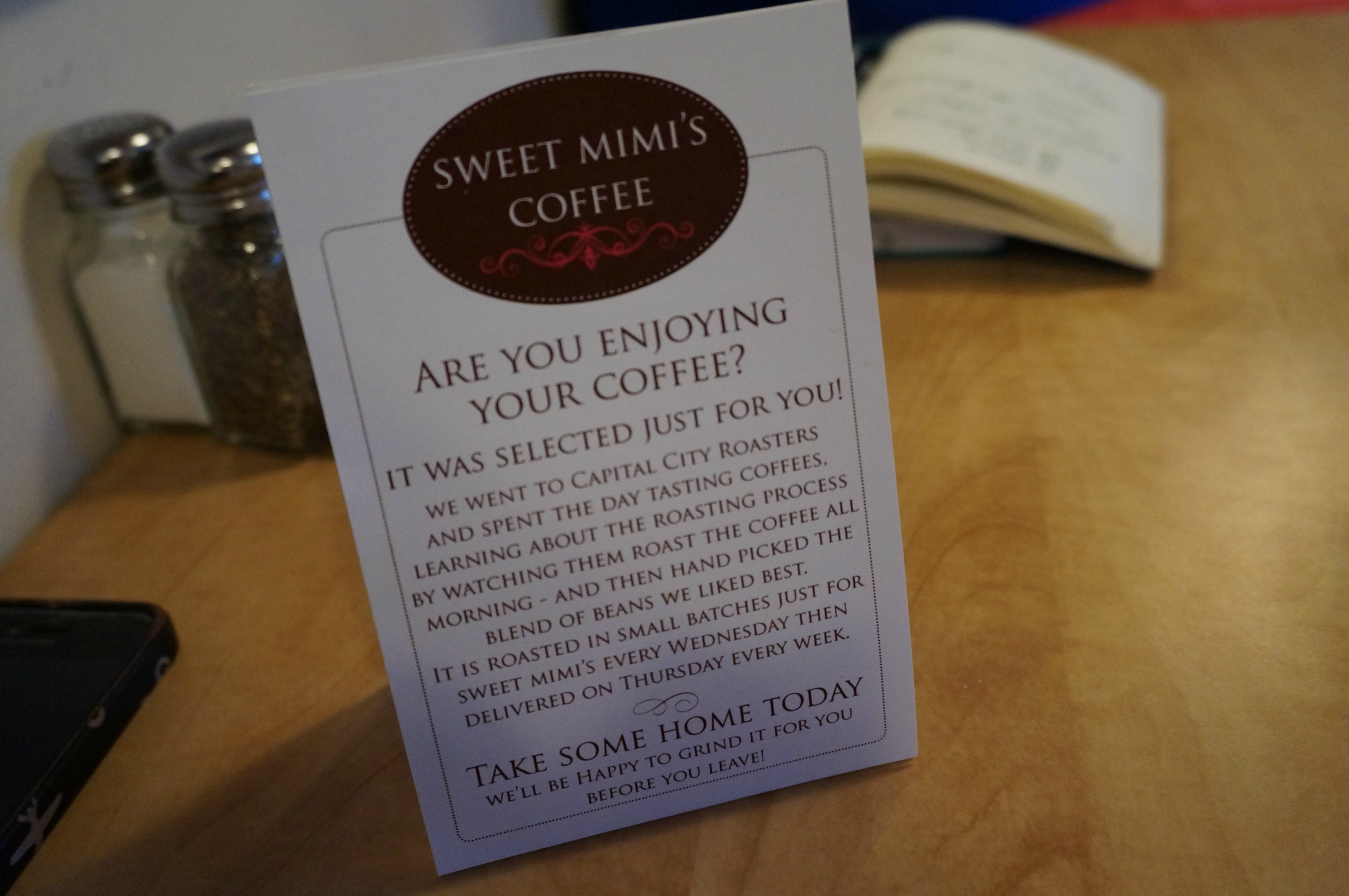 That's right, they took the time and effort to find the best coffee they could, sourcing it locally from Capital City Roasters and tasting what was available before choosing this specific blend.
I love this. They actually care about their coffee, which in my opinion is a big part of a morning breakfast or early morning brunch.
As far as the menu goes, it isn't huge but offers a nice variety, with simple breakfast staples such as eggs, toast, omelettes, pancakes, etc, all made by products from local farms including Stuzenstein, Thomas Poultry Farm, Parillo's Sausage, Garofalo's, Rock Hill Bakery, Kinds Dairy, and more.
I was in desperate need of some protein this particular morning, so I went for the classic omelette, with onions, mushrooms, spinach, and bacon.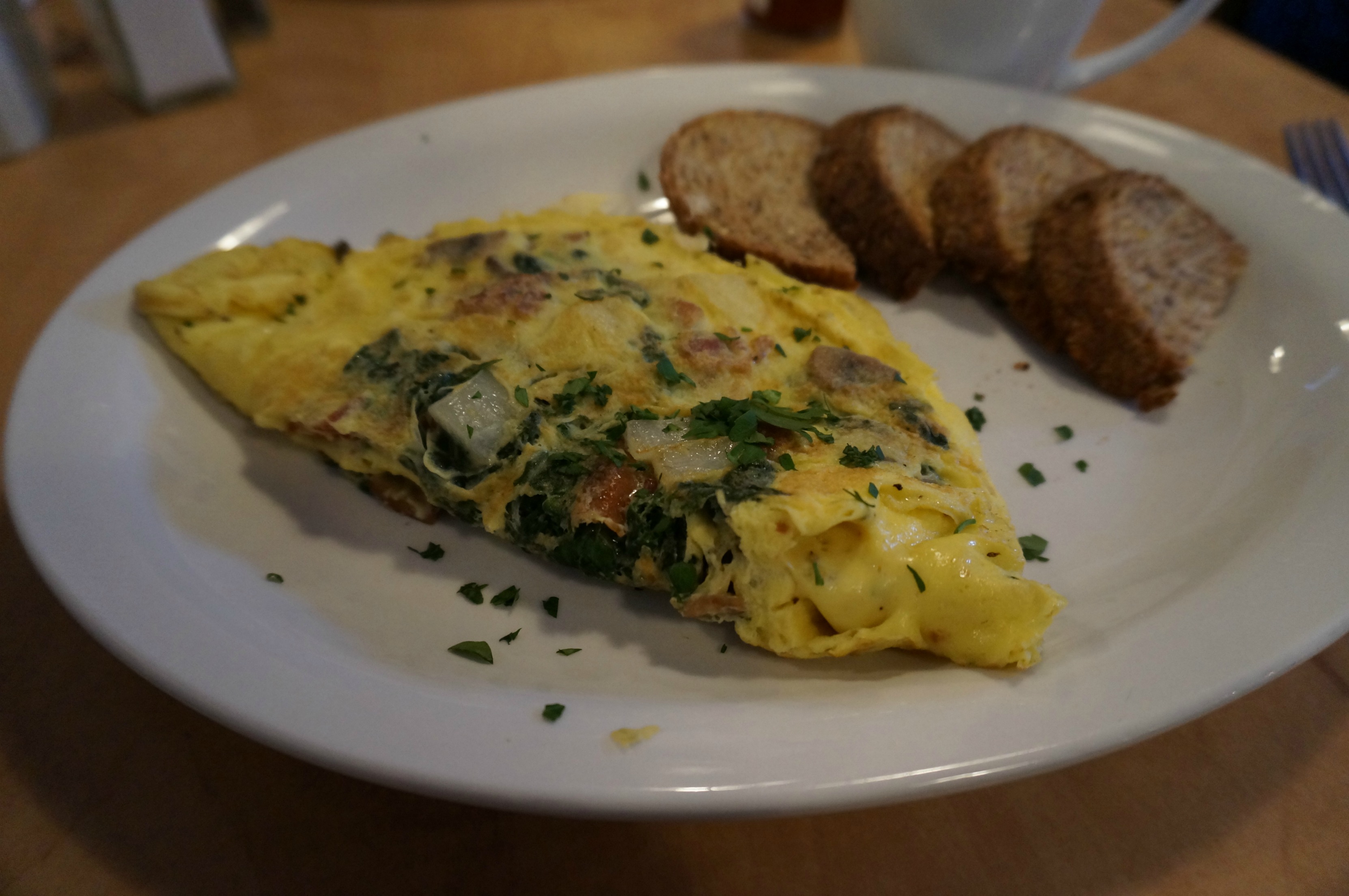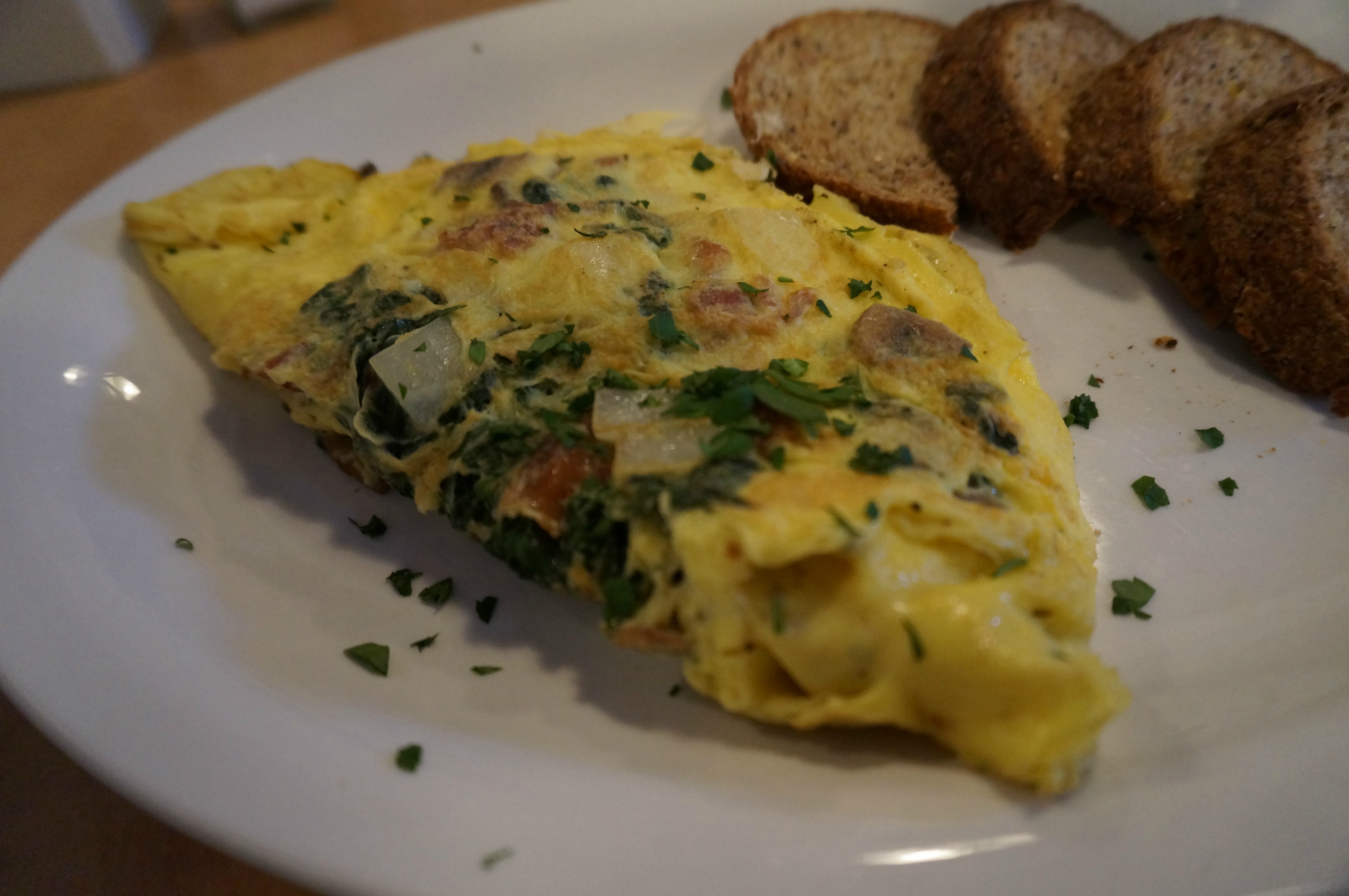 With eggs, I'm a stickler. They can't be too runny, they can't be too rubbery. It's like the easiest thing to screw up, but also the easiest thing to make really really well.
As you can tell by the above pictures, this omelette was made really REALLY well. The egg was great, the texture was just right, and the vegetables and bacon were evenly distributed.
You could absolutely taste the difference with the fresh ingredients, which truly made it that much better. The prices are a little higher than your typical breakfast spot, but I would assume with better ingredients, comes a slightly higher food cost. My 3 egg omelette was $11.70, coming with the choice of any 3 fillings and then an additional .75 cents for any extra fillings.
My one complaint? No Sriracha. Comeon guys, nothing goes better with eggs than some Sriracha. But alas, they did have Tabasco sauce, which inevitably set my mouth on fire, and was totally worth it for the extra punch of flavor.
In all other aspects, they've definitely redeemed themselves from the initial visit I had there. They've absolutely worked out the kinks and I'm happy to report I thoroughly enjoyed my experience.
So my friends, get out there this weekend and give Sweet Mimi's a try – Let me know what you think after you do!