The Iron Roost is one of the most eclectic and unique places to eat in Saratoga County. Not only do they source their products locally as often as they can, but they also incorporate waffles into practically everything they make. Whether you want breakfast or lunch, Iron Roost can still appeal to whatever you're craving.
The menu is separated into two sections: sweets and savory. Since I'm a stickler for a good breakfast sandwich, of course this is what I looked for when I first glanced at the menu. The Iron Roost Egg Sandwich comes with one fried egg on a savory waffle, a side of syrup and cheese of your choice and meat of your choice. In addition to this almost traditional breakfast sandwich, there's also the southwestern fiesta sandwich, which looked pretty interesting with scrambled eggs, cheddar cheese, sour cream, avocado, tomato, green onion and hot sauce on… you guessed it – a waffle wedge!
Here's a look at my bacon egg and cheese breakfast sandwich: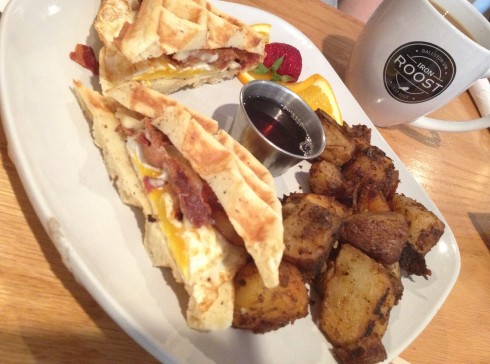 What I like about it is that the waffle wedges aren't enormous, causing them to overpower the eggs and meat. Rather, they just add another element to the sandwich, making it more enjoyable than it would normally be on two slices of bread. The homefries are also a huge plus, as they're pretty massive pieces of potato seasoned well and cooked to perfection! As usual, I added some salt and pepper, but nothing major needed to be done to make these bad boys taste great!
I also ordered a greek yogurt parfait, which to my surprise was big and extremely filling.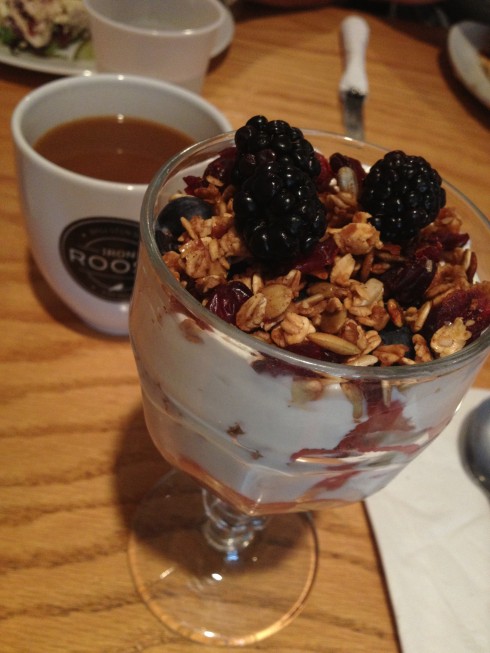 The granola was fresh and flavorful, but not too sweet – adding the perfect balance of sugar to the tart greek yogurt.
If you haven't been yet, The Iron Roost is a really fun and different place to try, especially if you're looking for something a little out of the ordinary for breakfast or lunch. While it is on Front Street in Ballston Spa, it might seem like it's a little out of the way if you're a Saratogian, but don't let this discourage you – it's worth the drive!
Don't forget, for real-time updates, connect with me on Google+, Facebook and Twitter!