2019 has been a pretty crazy year for me. From getting into full-on wedding planning mode (5 months and counting…) to my dog becoming a tripod (she's fine) & everything in-between, it's been a year.
When I reflect on what kept me going, it always comes back to great meals and time spent eating with the people I love.
Now that it's the 30th of December, I thought it was time I wrote up a little something about some of my most memorable meals of 2019 and what I'm looking forward to in 2020.

Locally, I have to say that the Bolognese at Solevo really won my heart in 2019. Maybe it's the fresh pappardelle. Perhaps it's the touch of pecorino cream. Or could it be that this meal is the MOST comforting, delicious, and cozy meal you can get out at a restaurant? I think all of the above. Sadly I don't have a photo, but you can imagine its beauty in your head.
I know they just got a big shout out from the Times Union for being one of their top-rated restaurants in the Capital Region, and I wholeheartedly agree with that. They are a blessing to the local restaurant scene!
As far as outside of Saratoga/Capital Region goes, I didn't do any outstanding traveling this year like in years past, but I did go on a trip to NYC a few weeks ago and I'm so glad one of my last meals of 2019 was at Don Angie. Talk about a meal to cap off the year, this was just that.

While it's really challenging to get reservations, I did my due diligence (with the help of my brother) and managed to get in with a party of 8 for my mom's birthday. It was hands down one of the best meals of my life.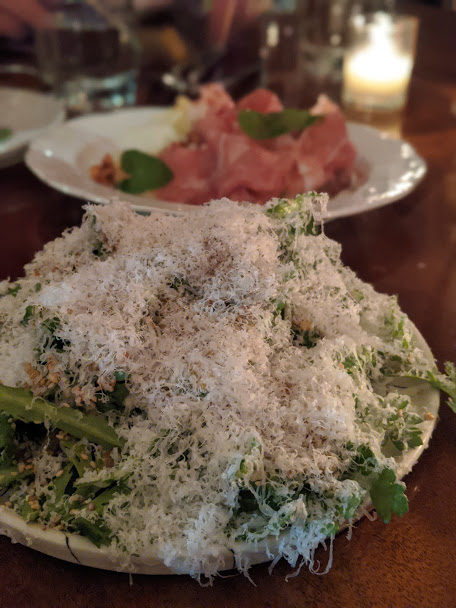 The lasagna that's pictured ALL over Instagram, the Chyrsanthemum salad that is more cheese than lettuce… The cocoa tiramisu. Holy moly. Changed my life and I'm not afraid to admit it.
If you ever have the opportunity to visit this restaurant in the city, I highly highly suggest it. It might even change your life, too!
Overall, 2019 has been good to me. I'm so grateful for my friends and family who support me with positivity all year long, and those of you who still check in to read the blog when I have new posts up! I'm hopeful that in the new year I will get my groove back and start writing again more regularly, and appreciate all of you who give me this outlet for self-expression and a place to write about my love of food.
Wishing you all a safe & happy New Year! XOXO