Panza's Restaurant is celebrating their milestone 75th Anniversary in a big way – offering a special celebration to their customers on Wednesday, November 13th!
But what does this little celebration entail exactly? Well, from 11:30am-1:30pm on Wednesday, Panza's is offering a FREE Italian Feast to thank their customers for their continued patronage throughout the years.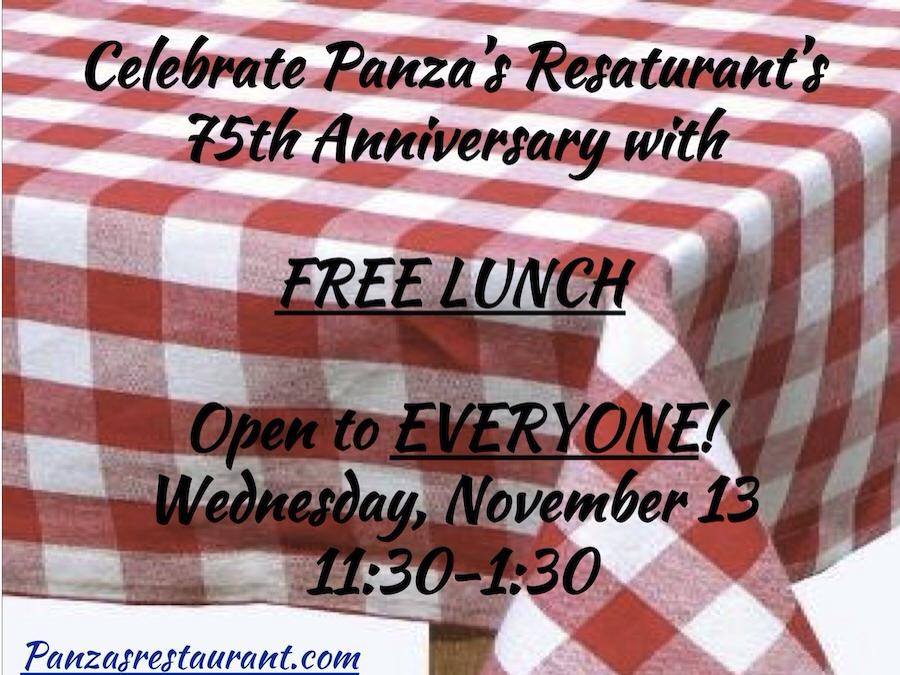 When I say free, I mean free. The lunch includes family specialties such as Panza's famous pizza, homemade pasta dishes and homemade meatballs and sausage. There will also be complimentary coffee and soft drinks as well. All you have to do is show up and sit down, and BAM you have a free lunch of amazingly delicious food from Panza's.
Talk about showing their appreciation for their patrons! How great is this? Make sure you get it on your calendars and arrive as early as possible on Wednesday to reserve your spot (first come first serve). Space is limited.
For more information, I've included the press release below. Join Panza's in celebrating their 75th Anniversary on Wednesday, November 13th! Hope to see you all there.
————————-
PANZA'S RESTAURANT TO CELEBRATE MILESTONE 75TH ANNIVERSARY
SARATOGA SPRINGS, NY – Customer Appreciation will be the focus at Panza's Restaurant 75th anniversary celebration on Wednesday, November 13th as they thank their customers for their continued patronage during the last seventy-five years.  From 11:30 am – 1:30 pm on November 13th, Panza's Restaurant invites the Capital Region to a free – yes free – Italian Feast.  This free lunch is no small offering.  It will include family specialties such as Panza's famous pizza, homemade pasta dishes and homemade meatballs and sausage just to name a few!  Complimentary coffee and soft drinks will be served.  During this special celebration Panza's will also launch their new Fall menu and guests will receive a complimentary copy of the new menu.  Please be sure to arrive early for this special occasion as space will be limited.  Again, this lunch is absolutely free for everyone to honor Panza's 75th Anniversary celebration.  (Please note this free event is for eat-in customers only.  There will be no takeout available.)
In 1897, in Mechanicville, NY, Panza's Bakery officially opened its doors to the public.  That was the first time Upstate New York experienced the delicious Neapolitan style brick oven baked pizza and other secret family recipes the Panza's brought with them from the old country. Ma Panza and her husband Joseph were unable to speak English when they first arrived from Napoli, so they allowed their cooking to do the talking for them.  75 years later their authentic brand of home style cooking continues to be a staple in the Capital Region.  "On this special milestone for Panza's Restaurant, we want to express our sincere appreciation to our customers, staff members and suppliers for their continued support," said Owner and Head Chef Tony Panza.  Mr. Panza went on to say, "Our family remains committed to the traditions originated by my Grandmother and Grandfather.  We are proud to carry on their legacy and look forward to serving patrons for many years to come."
Panza's Restaurant, located at 510 Route 9P on beautiful Saratoga Lake is open for lunch and dinner Wednesday through Sunday (closed Saturday for lunch).  Panza's on-site ballroom can easily accommodate 250 guests or can be divided for smaller events.  Panza's is also available for all of your off-site catering needs – no party is too small.  For more information call Panza's Restaurant at (518) 584-6882, visit the Panza's website at www.panzasrestaurant.com or find us on Facebook at www.facebook.com/panzas.restaurant.