Hey friends, it's me again. Because this weekend was so eventful for me (and totally destroyed my diet), I figured it would be easier to share my photos than write a long blog post.
Here's a recap though, in case you really do care to hear what I did!
On Friday, I started my holiday weekend at Max London's for my favorite brunch item – Salt Cod Potato Cakes.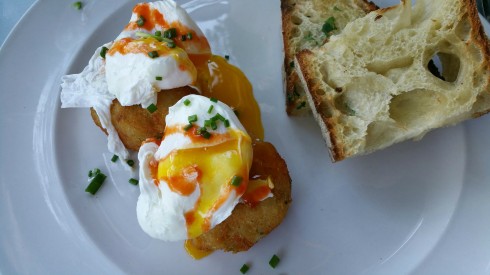 Then, I spent the day soaking up some sun and preparing myself for Dave Matthews Band at SPAC.
Saturday I woke up with a light headache, but got myself out of bed and headed over to the new Bitter Sweet Cafe in Ballston Spa, which will be getting a review of it's own this week. Here's the Good Morning Burger –
Saturday evening I hit up SPAC one more time for Dave Matthews Band. YAY 4th of July!
Sunday was pretty eventful as well, starting with judging the Bon Appetit competition at the Circus Smirkus kick off event, where Park Side Eatery's marshmallow fluff filled doughnut topped with bacon and a lemon caramel sauce took home the prize.
The other competitors (in order: Circus Cafe, Peabody's, & Harvey's) all came very close with the amazing circus inspired foods they created for us!
Finally, I like to spend my 5th of July celebrating the 4th of July, and that's exactly what I did. With a plate of grilled noms and some adult beverages, I rounded out my long weekend just the way it should be – plus it didn't hurt that I dominated in some can jam.
Needless to say, I was asleep on the couch by 9:30 last night, and I will have to rewatch True Detective if I want to have ANY clue what went on in last night's episode.
I hope you all had a beautiful weekend despite the rain on Saturday!