As you all may know, I'm a pretty big food truck advocate. I've written a number of articles on the amazingness of food trucks and as time has progressed, I've seen more and more trucks pop up in and around the Saratoga area.
If you've never had the pleasure of eating from a local food truck, then you're in luck my friends.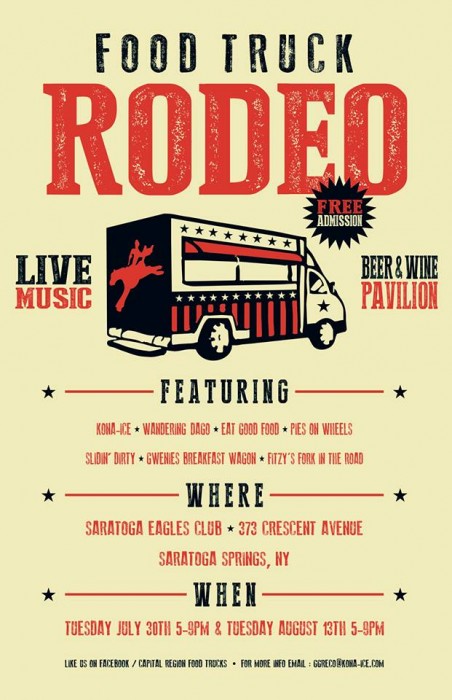 The Food Truck Rodeo, being held next Tuesday, July 30th from 5-9pm and Tuesday August 13th from 5-9pm will feature 7 of the most popular food trucks around. Who exactly will be there?
Out of these 7 food trucks, it just so happens that two of them (Slidin' Dirty & Gwenie's Breakfast Wagon) have recently been featured on LIVE with Kelly and Michael, competing for the top spot in their Truckin' Amazing Cook-off. They are currently awaiting the results from their live segments on the show, which will determine whether they've made the top 4!
The Food Truck Rodeo will be held at Saratoga Eagles Club at 373 Crescent Ave in Saratoga Springs and will include live music and a beer and wine pavilion.
The best news of all? It's FREE admission! Just come and join in the fun and most importantly – get an idea of why food trucks have become all the rage in big cities and now in our Capital District!
I'll be there stuffing my face, I hope to see you all there too!